Somehow, somewhere in the early '80s, various individuals sporting sharp-looking 100% genuine fiber double-breasted suits with linebacker shoulder pads congregated together in a boardroom dreaming up ways to ensure that their brand spanking new and entirely convenient home office printers would yield a steady income stream. Oh, how they brainstormed, discussed and even pounded fists defiantly on a sleek desktop until they came upon a brilliant conclusion: Seduce consumers with a dirt-cheap piece of equipment and then make them pay through the nose with wildly overpriced ink cartridges throughout the lifespan of their product. They triumphantly cackled in unison while continually playing, rewinding and replaying The O'Jays' "For the Love of Money" in their cassette player.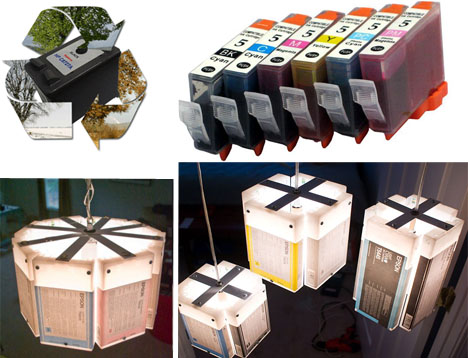 This scenario may seem wildly dramatized for your entertainment, but it's not too far from the truth. According to
Yahoo! Finance
, the average consumer shells out well over 500% of the purchase price of a printer solely on ink cartridges alone, which happens to equate to 71 cents per milliliter of fluid (that's 31 cents higher than the same amount of blood, a liquid that has been proven to sustain and even save lives). We've been held financially hostage by Hewlett-Packard, Brother and company (which is bad enough), but we've also inadvertently played into a vicious cycle of consumer waste every single time we kick one of our empties to the curb. How bad is our collective eco-sin? Well, you're not going to like the answer. For starters, when your printer notifies you that your ink runneth dry, in actuality, approximately
50% remains in the cartridge
, which is then prematurely disposed of. Largely made of plastic (aka highly refined "solidified oil"), experts suggest that cartridges ultimately take from
200 to 400 years to fully break down
in typical landfill conditions. It's rather unfortunate that 80% of printer owners continue to
ditch their empties
(at a rate of approximately
13 every second
or a full 1 million on a daily basis) when there are so many recycling programs available, some of which even offer
financial compensation
.
Interested in refilling your own cartridge?
Contact
Walgreens
for a simple drop-off/pick-up solution or buy your own
DIY kit
.
Want to make a little extra cash?
Believe it or not, your somewhat-empty printer ink and toner cartridges are worth up to $5 and $20 (respectively) at
Advantage Cartridge
.
Do you go gaga for discounts?
Perhaps you're the kind of person who guffaws over petty cash refunds but your eyes grow wide at the promise of a discount on a future purchase.
Staples
and its office supply brethren offer empty ink/toner recycling programs in exchange for varying discount levels.
Fancy the charitable side of life?
Remarkably, the empty printer cartridges that once seemed garbage can worthy can actually help you to be a better environmental steward while also infusing nonprofits with a much-needed
dose of cash
. No worries — the money you might have been paid to recycle each unit will instead be reserved for organizations such as Habitat for Humanity International and the Prevent Cancer Foundation.
Want an instant gratification drop-and-go recycling solution?
If you merely want to do right by the planet without being forced to complete paperwork, online forms or shipping labels, then you can swiftly deposit all of your empties into convenient collection boxes located inside nationwide
Best Buy
stores. Surely there must be something else that can be done with old printer cartridges. That exact conundrum was presented to artist Faith Pearson and she managed to exceed all expectations by incorporating plastic ink cartridge skeletons into perhaps the most imaginative three-dimensional
science fiction-inspired models
ever to grace film. From Godzilla tearing through a cityscape and King Kong asserting his dominance while perched atop a skyscraper to a picture-perfect replica of the Starship Enterprise, do any of us need another reason why we should remember to cast an artful gaze upon all materials before we relegate them to the trash bin?