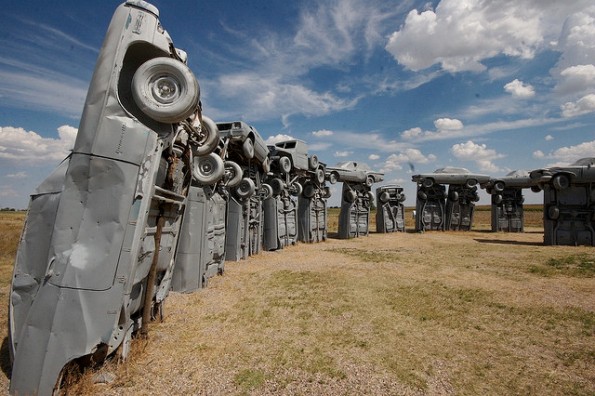 Image: Steven Tyrone
Stonehenge, the prehistoric monument made of massive standing stones in the heart of England, has inspired many an artist. For decades, people have been making their own reconstructions of the ancient site of worship, with whatever materials are at hand. The craze, however, hit a new pace in the summer of 1986, when Stonehenge became a world heritage site and was fenced off. Since then, various 'Henges have cropped up all around the world, their spirit unbroken — and some of the greatest take the druid's credo as their own, reusing and recycling materials to create truly green creations.
7. Foamhenge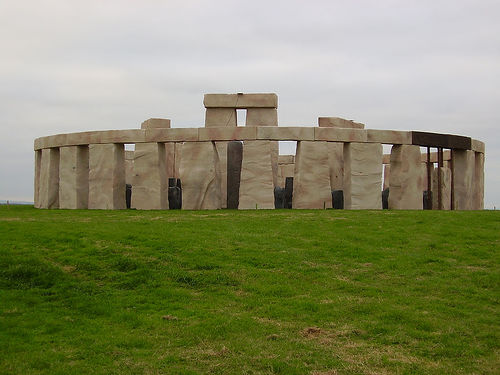 Image: Alun Salt
Though perhaps not spectacular sounding, Foamhenge probably comes the closest to recreating the real thing, because foam, if painted and cut to the right size, can emulate almost any material. Grey-colored foam does in fact look surprisingly like the real rock. This full-size replica of Stonehenge is located in Natural Bridge, VA.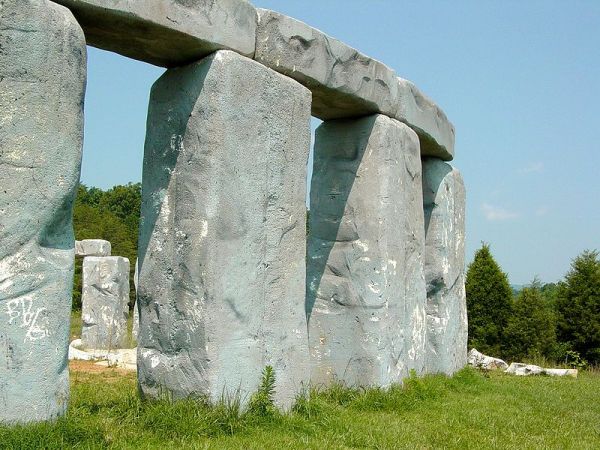 Image: Ben Schumin
Creator Mark Cline of Enchanted Castle Studio made it entirely out of Styrofoam, even opting to include the Altar Stone behind the Great Trilithon — a construction still debated by historians.
6. Phonehenge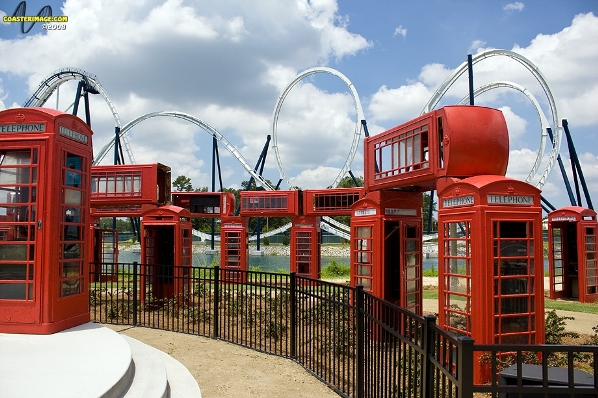 Image via coasterimage
In a similar vein is Phonehenge, a performance area made from red British-style phone booths. The installation is part of Hard Rock Park, a 140-acre rock 'n' roll theme park located in Myrtle Beach, SC, now called Freestyle Music Park. After a grand opening on April 15, 2008, the park has remained closed since the 2009 season. If only they'd move Phonehenge off site and let us admire it year round!
5. Fridgehenge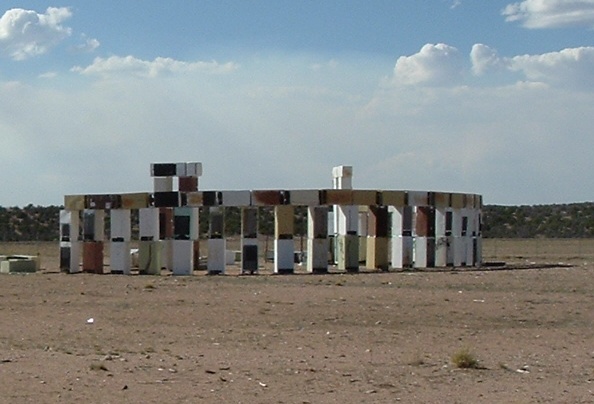 Image: Jim Rosebery
Fridgehenge in Santa Fe, NM, is made up of dozens of unwanted white fridges that have been arranged in a circle. The lower ones have since been decorated with graffiti, making Fridgehenge a true contemporary counterpart of the ancient mystic place.
4. Tankhenge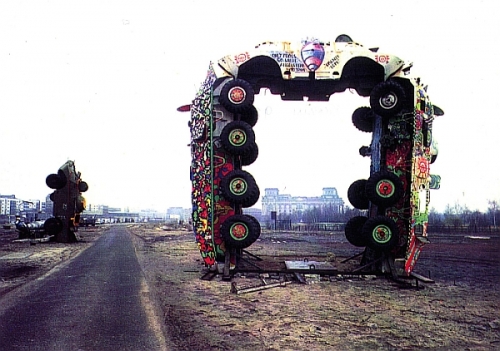 Image via zoneofthefree
Tankhenge was built by guerilla art group Mutoid Waste in Berlin in 1992. Just three years after the fall of the Berlin Wall, its location, close to the Reichstag, was more than symbolic. Decommissioned German tanks were painted bright colors and then stacked one on top of another to form Stonehenge's trademark arches. Speaking about the project at the time, the artists said, "If you want the stones, you can keep them… We'll build our own!" And thus the worldwide motto of 'Henges was born: "Mutate and Survive."
3. Banksy's Port-a-potty-henge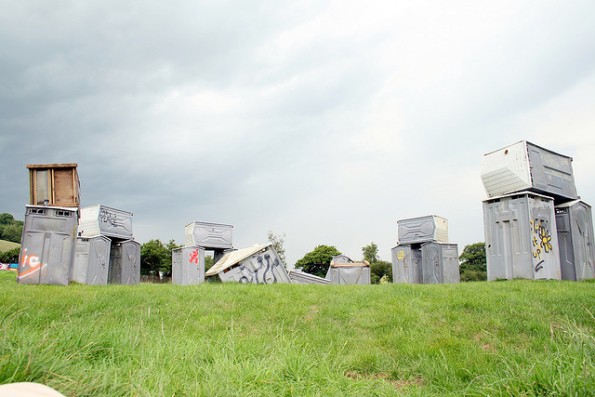 Image: Mark Crossfield
Who but guerilla artist Banksy would dare erect a mock Stonehenge so close to the real thing, in the Sacred Space field of the Glastonbury Music Festival? To top it off, he chose reclaimed chemical toilets as his medium. Ingenious, no doubt, and we're wondering if the energy field created might help one's bowel movements. If so, this discovery might have gastroenterologists flocking from all over the world…
2. Snowhenge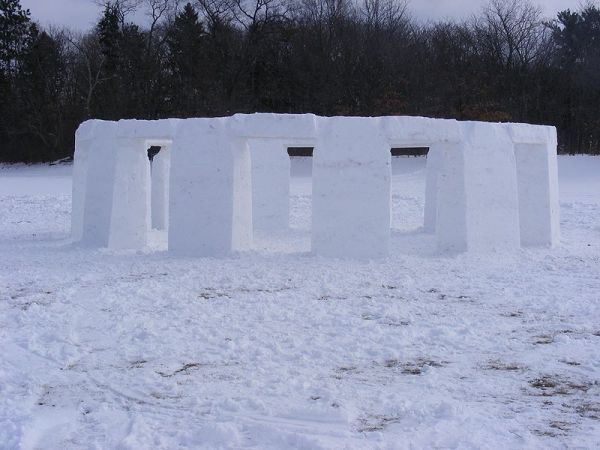 Image: MichiganArchaeologist
There was a special purpose behind this rendition of Stonehenge carved out of snow: a group of amateur archaeoastronomical and physiological scientists, calling themselves the Michigan DRUIDS, built Snowhenge last winter to understand some of the site's ancient mysteries. According to some historians, Vikings, Phoenicians, Egyptians and the lost tribe of Israel may all have been in Michigan at one point. As anthropological remains suggest — especially a stone circle similar to the one in Stonehenge, found on Lake Michigan's Beaver Island in 1985 — any one of these ancient groups could have built and left monuments in Michigan.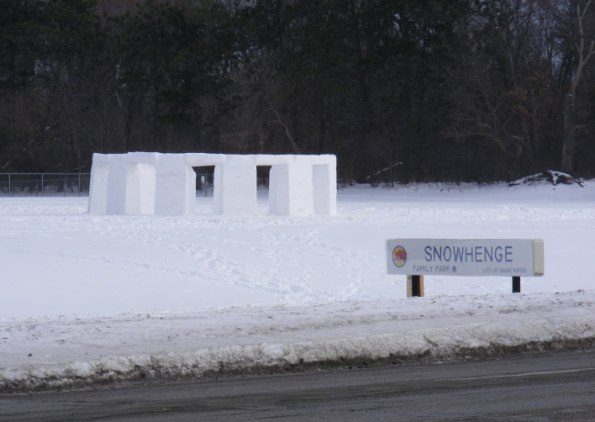 Image via Snowhenge
Snowhenge is a one-third scale replica of Stonehenge and was built at the MacKay-Jaycees Family Park in Grand Rapids, MI, where it will stay frozen year round. Each of Snowhenge's pillars is 6.5 feet tall, and all are perfectly aligned, according to astronomical markers, forming a circle 30 feet in diameter. All in all, nearly 1,000 cubic feet of packed snow was used.
1. Carhenge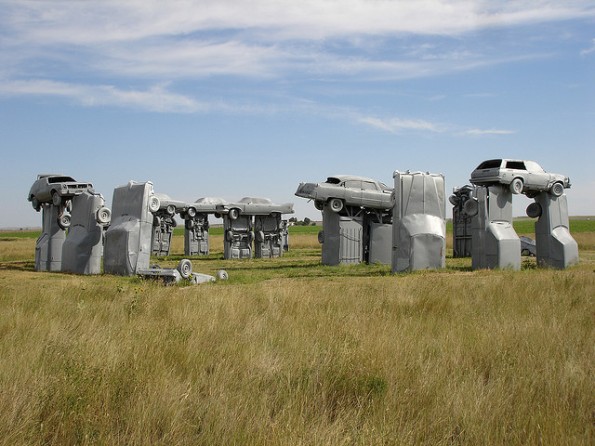 Image: Kevin Saff
Carhenge in Alliance, NE, is made up of 38 vintage cars that were rusting on local farms and dumps until creator Jim Reinders and a crew of 35 helpers recycled them to build a memorial to his father, who had once owned the farm on which Carhenge now towers.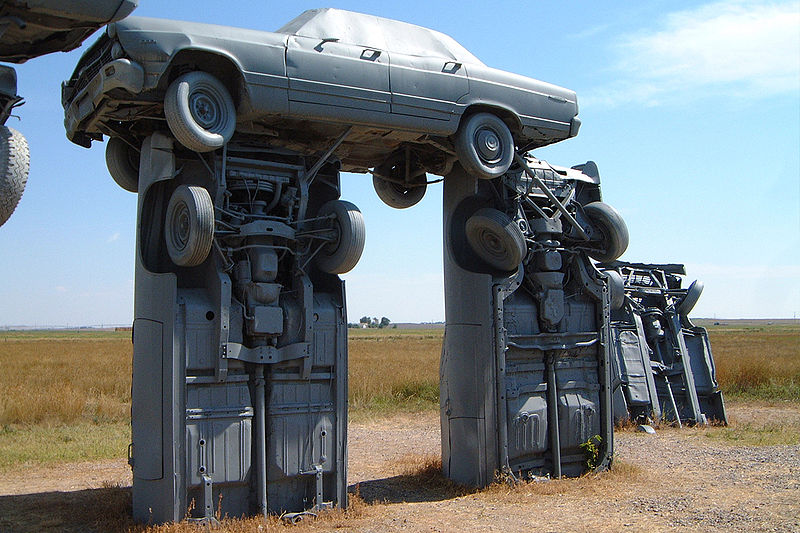 Image: Plumbago
Photographer Kevin Saff overheard the following conversation about Reinders: "The thing is, the guy is basically nuts… he wanted me to help him do it, but he wanted to do it the traditional way, with mead and all that." Carhenge was dedicated on the summer solstice day of 1987 and, though locals still have mixed feelings about the installation, it draws 80,000 visitors from all over the world every year — which is comparable to the real thing! All this creativity is an inspiration for creating new versions of Stonehenges. There are many materials yet unused — glass, straw, wool, matches. Is anyone listening? We'll keep our eyes open for new versions.
Sources: 1, 2, 3, 4, 5, 6