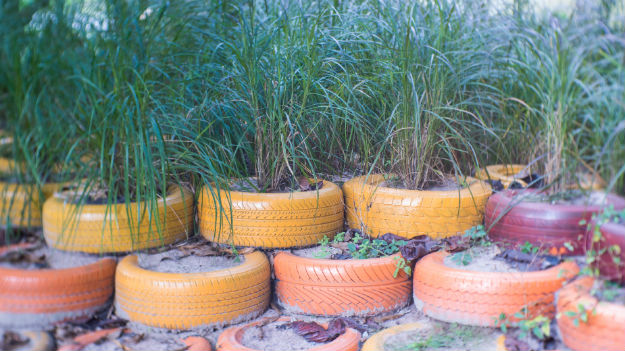 Tires require extensive maintenance over time — constant air pressure monitoring, alignment checks, rotation about every 5,000 miles and tread inspection. Depending on how hectic life is for you, having time to get that oil change might be a miracle in itself. But, eventually, you will have to stop and purchase new tires, and that rubber waste adds up. Fortunately, the Northwest Arkansas Solid Waste Management District (ASWMD) is repurposing old tires instead of sending them to landfills. Have you ever noticed a waste
tire fee
on your bill after buying your tires? Well, if you live in Arkansas or New York, this is a standard expense for all tires that are manufactured for licensed vehicles. Basically, the extra fee is used to ensure the proper management and disposal of used tires. As stated on the
Arkansas Department of Environmental Quality's website
, waste tire fees in the state are $2 for motor vehicles sold at retail and an additional $3 for trucks with a rim size great than 20'' and an "E" load rating. According to the
Charity Guide
, Americans dispose about 290 million car and truck waste tires annually. So, it is no surprise that waste management organizations are looking for more sustainable ways to remediate this discarded rubber. Plus, automobiles are a popular mode of transportation, and until we no longer need wheels to get from point A to B, car parts are here to stay. Recently, ASWMD entered into a new contract with
Champlin Tire Recycling, Inc.
(CTR), which is located in Concordia, KS. Under their latest agreement, waste tires will be recycled into beautiful park benches and resilient playground mulch. However, the waste tire fee will still remain on customers' invoices so the district can grind down the tires and prepare them for recycling. Prior to this tire recycling program, ASWMD has had ongoing
baled tire engineering projects
, which turn waste tires into foundations, dam impoundments and even road beds. While there is a fee attached in order to see tire disposal through, ASWMD is going an extra step to divert waste with CTR's help. In addition to reducing landfill waste, this disposal method will also add to communities. Recycled rubber mulch and benches are great for back yards, local parks, schools and even sports facilities. Why cut down trees when you can use a material that is already there for the taking? Between poor road conditions and some drivers' lack of maintenance, rubber waste is building up. However, if more waste districts took the road less traveled like ASWMD, there would be fewer landfills to drive past.