A Southern California charter school teaches environmental practices with a twist. Not only does the school teach its students, but the students also go one step further to educate the community. This is
Environmental Charter High School
(ECHS) in Lawndale, CA. A group of educators, parents, nonprofits and for-profit businesses collaborated in 1999 to create a school that met the community's needs. ECHS has been enrolling Los Angeles area students since 2000, when it received its California charter. On September 10, 2010, Environmental Charter Middle School opened. According to ECHS, plans to launch an elementary school with the same academic and environmental focuses are in the works. The elementary school should open in the fall of 2012. The school prides itself on strong academics and environmental education. Students must apply and be accepted into a university to meet graduation requirements. According to ECHS, "Students complete community service, participate in service learning projects, attend outdoor education field trips, and are encouraged to take internships."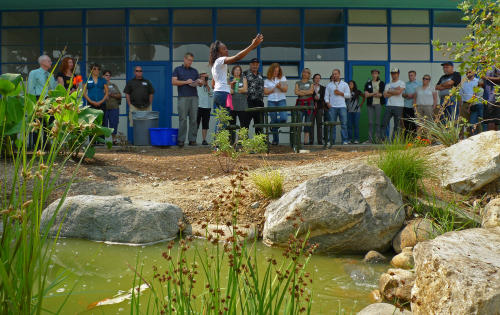 ECHS has a
YouTube channel
where environmental videos are posted by innovative, green-minded students. On the school's Facebook page, students are encouraged to donate old school uniforms to be reused for younger students. The ECHS campus has a living stream, edible gardens and a water-catching system as well.
Green Ambassadors
ECHS began the
Green Ambassador
program in 2006, and since then it has gotten several nods from professional media groups, such as NPR, PBS, Sundance Film Channel and Elevate Film Channel, and has even received an award from the EPA. The program, now practiced at 10 schools around California, requires students to think of a creative and actionable solution to environmental problems. Once students are properly educated on composting, organic foods, recycling, clean energy, water conservation and sustainability, they are put into groups to plan a community event. The program provides students with the tools to be Green Ambassadors for the world by teaching valuable skills in public outreach, marketing, fundraising, public speaking and event planning. Venice High School, one of the schools that has adopted the Green Ambassador program, also created
The Learning Garden
, where students grow organic food, learn natural cooking techniques and practice health classes such as
tai chi
. In 2009, Green Ambassadors informed Los Angeles residents on single-use plastics with the Rise Above Plastics program. Participating students gave presentations to approximately 850 people, spreading the word on the effects of plastics for the ocean and for the earth. Any school interested in receiving information on
Grow Your Green School
can learn how to bring greening to the home; inspire recycled art, design and architecture; connect the curriculum to sustainability; and capitalize on project-based learning.