Gathering friends to go on a dark adventure through a puzzling corn maze and blissful spine-tingling, gut-wrenching haunted house is a thrilling way to celebrate Halloween. Unfortunately, these houses are pumped with numerous resources to turn them into scream-worthy attractions. Even though there might not be a publicized haunted house in your area that conserves and reuses materials, you can create a greener haunted house in your own back yard.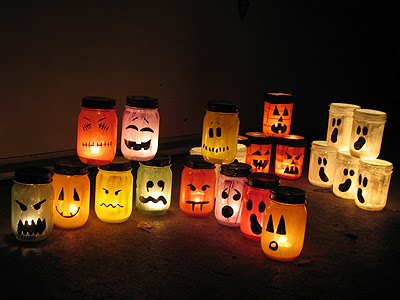 When it comes to Halloween, almost anything goes, so the ultimate haunted house results from letting your creativity fly. To get started, here are some DIY haunted house ideas to get trick-or-treaters' blood boiling.
Use the garage, shed or deck as your house of horror. It might not look like a haunted house now, but you can transform it.
Strobe and black lights can make for an eerie scene, but you can also use solar-powered garden lights or homemade mason jar luminaries to illuminate the entrance to doom. Then enhance railings, steps and windows with solar-powered orange LED lights.
Reuse old costumes to create dummies — stuff them with newspaper or towels. By attaching the stand-ins to a simple pulley system, you can make them move and fly across the group of visitors. If you're going to have live volunteers as well, have them reuse costumes instead of wearing new ones.
Set the tone by accessorizing with spider webs made from string and pipe cleaners and life-size ghosts made with bed sheets. Don't forget to incorporate your Halloween decorations from previous years, too. If you have fake bats, mice and spiders, put them to use.
Add drama with eye-catching props. Design monsters and graveyard scenes with extra paint supplies and cardboard. Surplus wood and rope can be turned into a hanging noose.
Create hair-raising sounds by having live volunteers rattling chains, moaning and screaming. Instead of replaying a recording, each visitor's experience will be unique.
Before you know it, you will have a
bootifully
frightful haunted house that you can present every year. Friends, family and neighborhood kids will definitely look forward to trick-or-treating on your block. Just keep in mind that organizing the creepy haunted house with two or more heads is better than one!