Until becoming a mom, I didn't realize how wasteful Halloween had become. Seemingly hundreds of shops pop up around town offering costumes made of questionable and unnatural materials, and when Halloween is over these costumes inevitably find their way into our landfills — and don't get me started on the candy. I've found an easy solution: Make your own costumes.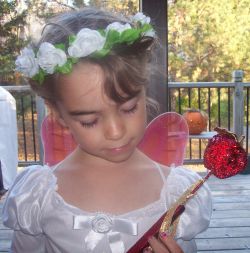 Regardless of your skills in the crafty arena, there are plenty of costumes you could make. Most importantly, get your children involved. Once my oldest was old enough to participate in the Halloween festivities, I had her discuss the kind of costume she wanted to wear. She embraced the plan wholeheartedly and sketched for days, coming up with some very unique costumes, finally settling on an Apple Fairy. We had to modify the original plan somewhat because it included using many of Grandpa's organic apples, the leaves and the trees. She stopped short of the tractor. Nevertheless, she loved the process. In the end, we reused some items from home, found some things at our local resale shop and made the Apple Fairy wand from materials we found at Grandma's. Here are some DIY costume ideas:
Be a recycling bin.
Start with all green or blue clothing. Use white nontoxic paint to add the recycling symbol to the front of the shirt. Attach plastic bottles, crumpled-up newspapers and milk jugs to the shirt and pants. Remember to thoroughly clean the bottles and jugs ahead of time.
Be a black cat.
Use black clothing, a black headband (attach two black felt ears) and an old scarf or boa for a tail (stitch to the waistband or attach with a safety pin). Use black eyeliner or washable markers to draw on cat eyes and whiskers.
Be Mother Earth.
Your daughter should wear flowing brown, green and blue clothing. Attach stuffed animals or paper animals, flowers and leaves to the clothing. Weave flowers and other greenery throughout her hair.
Be a box of popcorn.
Use nontoxic paint to create red and white vertical stripes on a recycled cardboard box. Attach suspenders or sturdy string to the box, making sure they are long enough so the box rests comfortable below the armpits. Make unbuttered popcorn and glue all over the box. Instead of real popcorn, you could also use recycled packing peanuts.
Be a ghost.
Cut two eye holes in an old sheet (if you don't have an old one, you can pick one up at your local thrift store.) Make the outfit unique by using a permanent marker to add spider webs and a face to your ghost. You can find more ideas at
Greenfeet
and
Green Halloween Costumes
. Years from now, your children will remember the experience. Halloween should be about fun, creativity and time spent with family. Let's reduce, reuse and recycle our way to a greener Halloween. It's good for your wallet and our planet.