Sets of colored bins sitting curbside throughout neighborhoods in the U.S. are a sight that is becoming all the more common. Recycling, yard waste and good old fashioned garbage bins are popping up at homes nationwide. And some places, where recycling is still an endeavor that is still reserved for the "uppity," several states are rightfully mandating the recycling of everything from milk cartons to tree trimmings. In recent years, Illinois has passed legislation that adds a new dimension to its recycling efforts, that of electronic waste. One company in particular,
Abt Electronics
, is taking this as an opportunity to flex its eco-friendly muscle and unabashedly lead businesses into the 21st century. Since 1936, Abt Electronics (then known as Abt Radio) has grown from a company with three employees in a small storefront in the Logan Square area of Chicago to one of the Midwest's premier purveyors of home and office necessities. It is a widely recognized retailer in the region and has become so without bending to the whims of corporate America — Abt is still a family owned and operated business. This supplier offers everything from MP3 players to washing machines and garners further recognition for its innovative sustainable practices.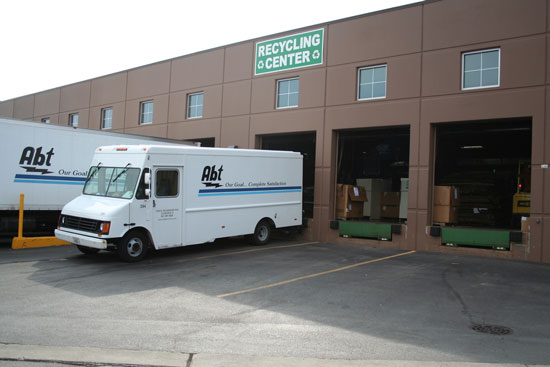 Today, the 37-acre Abt Electronics warehouse in Glenview, IL, operates thanks to the staff of over 1,000 employs and a fleet of 200-plus vehicles. The company also gives back to the environment in a number of ways while still focusing on customer service — ways that should make other large retailers stand and applaud. Not only does its small army of service vehicles (64 of which run on bio-diesel) delivery newly purchased TVs, computers and appliances, but it also offers the service of having electronics and appliances picked up for recycling
— including the packaging. That's right, Abt Electronics will not only deliver to your home or office, but it will also clear out obsolete items to be responsibly recycled. This is in accordance with state legislation passed in 2008 attempting to sustainably manage the hazardous chemicals found in typical consumer electronics. As written in the law, "[In] 2005, 2,600,000 tons of electronic products became obsolete yet only 13% of those products were recycled." Further, the Illinois legislation informs us, "lead, mercury, cadmium, hexavalent chromium, and other materials that pose environmental and health risks must be managed." Recent estimates indicate that Abt is on pace to recycle roughly 1 million pounds of electronics and 12 million pounds of appliances. That's 13 million pounds of largely hazardous material diverted from the landfill in one year! Now let's think about this. That is a retailer taking the initiative to recycle millions of pounds of hazardous and non-hazardous equipment — a large portion of which most likely wasn't even purchased at its store. How's that for corporate responsibility? And it gets better. Abt Electronics also boasts usage of an on-site recycling center, energy-saving windmills, lighting and fans. The company drastically downsized garbage pickup from daily to three times a week, stopped using catalogs in favor of paper-free websites and digital marketing, uses a Styrofoam condenser that leads to its reuse and promotes customer education with Smartcars on display and
An Inconvenient Truth
playing in the video display section. To learn more about Abt Electronics' retailer services, forward-thinking business practices and sustainable operations, be sure to visit
abt.com
and its environmental page,
abt.com/green/
.