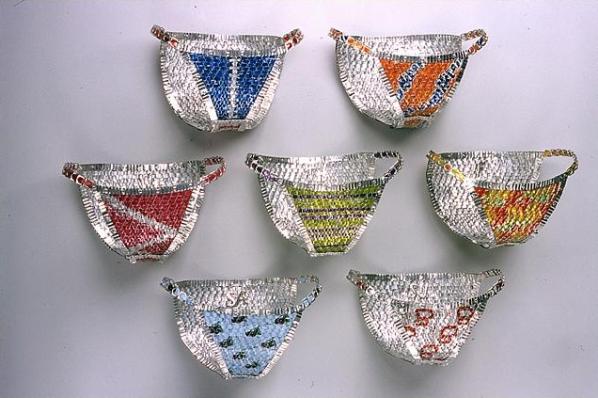 "A Clean Pair for Every Day of the Week." All images courtesy of Ingrid Goldbloom Bloch. Used with permission.
Ingrid Goldbloom Bloch is an artist who has taken the term "trashy lingerie" to heart and created her own line of underwear out of it. She uses old aluminum soda cans and their tabs as well as dryer vents and washing machine hose clamps from the hardware store to weave together sexy lingerie — including bustiers, bras, panties and garters.
"Tuesday" is made from old Sunkist cans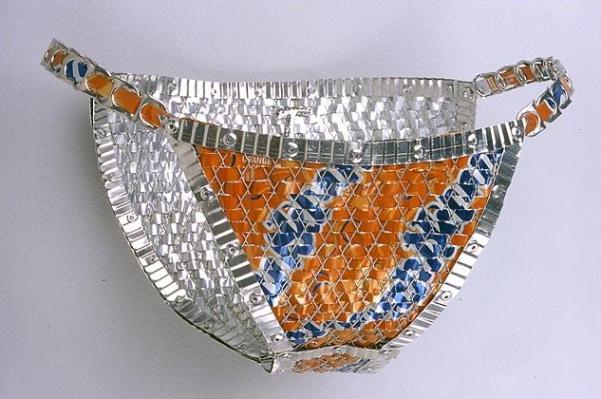 If you think the undergarments shown here are uncomfortable to wear, think about the "real thing" — push-up bras, thongs, underwire bras and corsets, not to mention high heels; all torture devices invented for the sake of femininity. In fact, one of Ms. Goldbloom Bloch's creations might even be more comfortable and is surely easier on the green conscience.
"Pink Tab Bikini" (2009)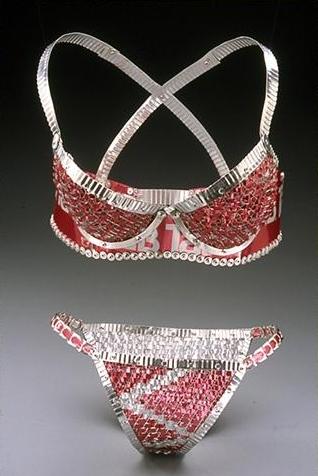 "Trashy Lingerie Bustier"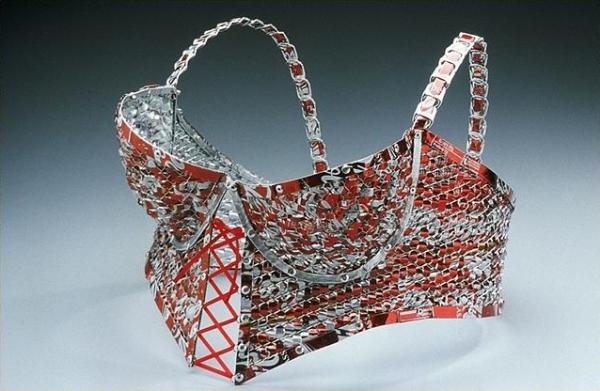 The artist explains: "When I first tried on a 'wonder bra,' I found the entire push-up contraption to be uncomfortable. I thought of how people (women) will sacrifice comfort in pursuit of looking sexy or stylish (pointy-toed shoes, high heels, sexy lingerie). I had the idea to use very hard materials to make something that is soft and feminine. The result was my 'Trashy Lingerie' and 'A Clean Pair for Every Day of the Week' series made out of soda cans."
"Sunday"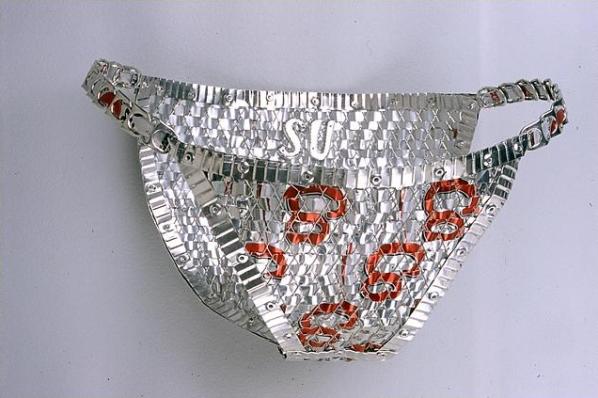 A detail of "Sunday," made from old Diet Coke cans, reveals the intricate work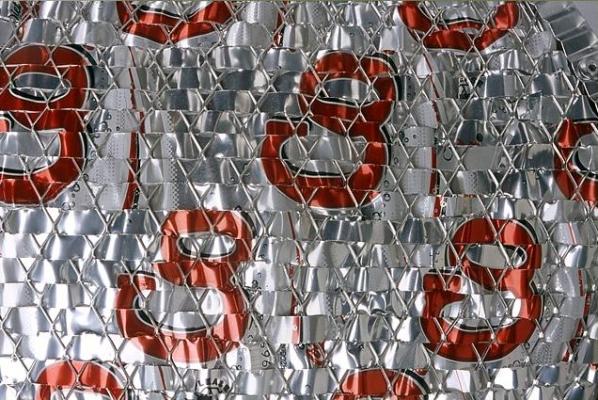 It takes Goldbloom Bloch a good 20 work hours to make a pair of underpants. A bustier, at about a month, takes considerably longer — and that's just constructing it. Figuring out the technical details and how to make each piece look neat and finished requires much planning in advance.
"Female Armor" looks very protective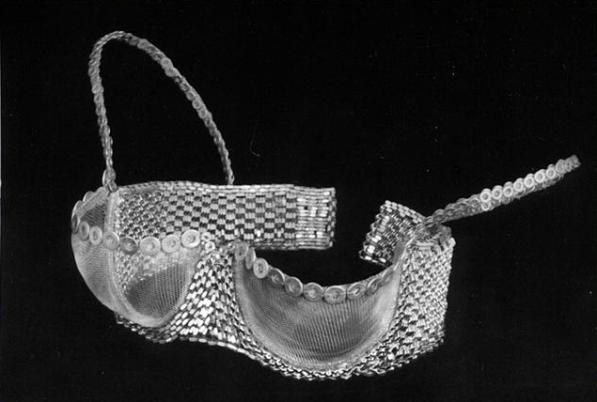 Here's a detail of the same piece in blue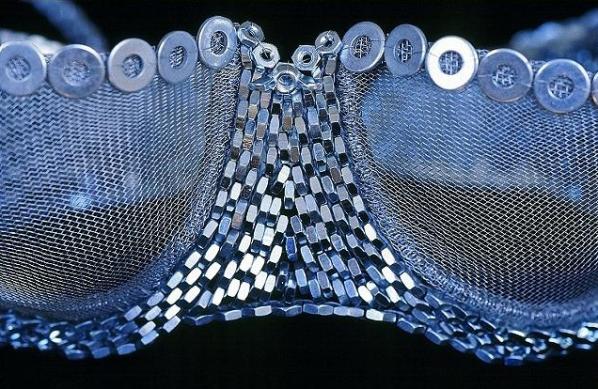 Recycling is not something Ms. Goldbloom Bloch needs to force herself to do; it comes to her naturally. "As a little girl, I went to the hardware store with my father, and picked up bits and pieces — 'What can I make out of this?' I'd make jewelry out of washers," she recalls. "I'm a bit of a trash maven. I go on a walk, and pick up something — 'that looks like a face!'" Finally, the question everyone's been waiting for: Can the pieces actually be worn? The answer is no, unfortunately; they are meant to be sculptures only, but the good news is that Ms. Goldbloom Bloch is debating the creation of a new series that can be worn.
"Tube Top" looks soft and silky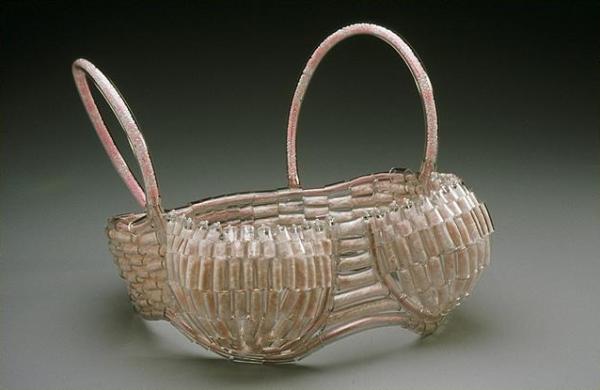 Here's a detail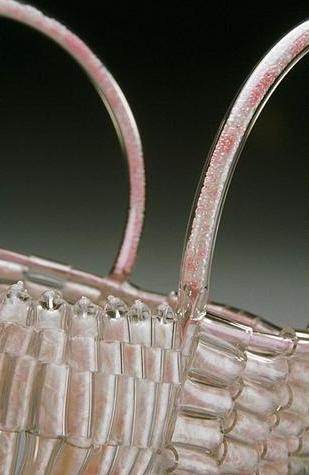 Ms. Goldbloom Bloch received her B.S. in Psychology and Communication Arts from the University of Wisconsin in Madison, WI, in 1985. After a gap of a few years, she obtained an M.A. in Counseling Psychology from Lesley University in Cambridge, MA, in 1998.
The welded steel of "Wonder Bra" makes it look more like "Chastity Bra"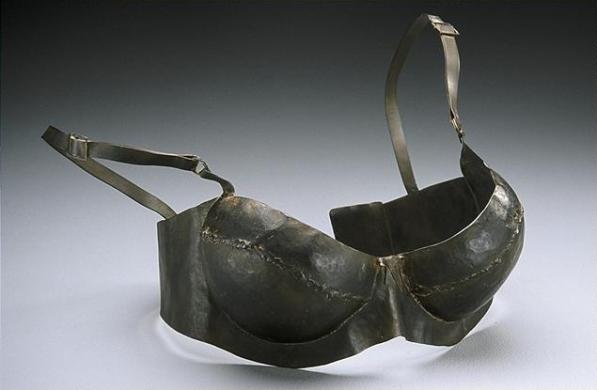 Goldbloom Bloch doesn't just make lingerie; the self-taught artist also creates wonderful jewelry, vessels, teapots and sculptures. Many of her pieces have been exhibited at museums nationally and internationally. Those who would like to meet the artist can do so at her "I'm A Little Recycled Teapot" series at the Boston Children's Museum's "Heavy Metal" exhibition, running through November 28, 2010. Or, if you'd like to read more about her, check out p. 206 in the new new Ripley's
Believe It Or Not! Enter If You Dare
book.
Sources: 1, 2, 3, 4