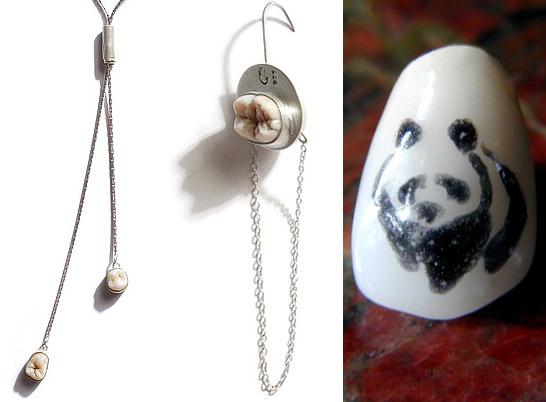 Image: Polly van der Glas & Tooth Artist
"Every tooth in a man's head is more valuable than a diamond" — Miguel de Cervantes, Don Quixote, 1605
We've all heard the expression "wearing your heart on your sleeve," but how about wearing your teeth on your fingers? Now you literally can with human teeth jewelry and teeth art, reusing the little things you leave behind. Alternatively, you could get the teeth in your mouth in on the act with a tooth tattoo. It's all possible now!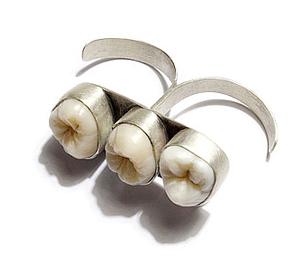 Image: Polly van der Glas
Animal teeth have been used for decoration since humans first started making jewelry. We don't know if they used human teeth, but modern day Melbourne, Australia-based artist Polly van der Glas certainly does. She combines sterling silver rings, necklaces and earrings with recycled human teeth, creating stunning pieces of jewelry.
Not teething rings but teeth rings — and a knuckle duster?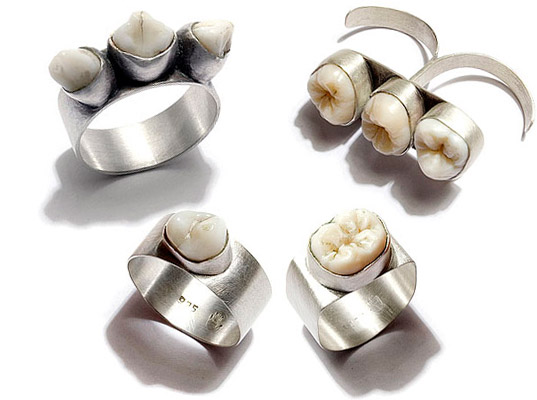 Image: Polly van der Glas
According to Ms. van der Glas' website, all pieces are handmade and the human teeth are locally donated and sterilized. The enterprising artist's only teething problems? As one can imagine, teeth are quite hard to come by, and thus all donations are welcome. We're thinking a ring or necklace with your child's first teeth would make just the perfect gift, capturing the memory forever (provided the baby teeth are still in good condition)!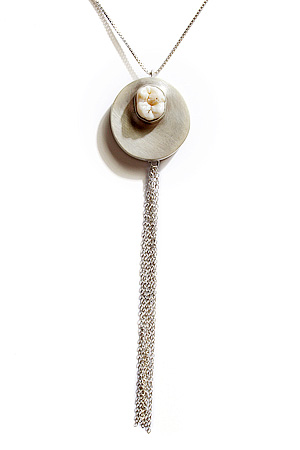 Image: Polly van der Glas
For those looking for a really personalized accessory, a tooth tattoo might be the thing to go for. Utah-based Heward Dental Lab does tooth art on the side. Just send them your crown or bridge and the image you're looking for, and in two to four weeks, you'll have your own personal masterpiece back. You can also choose from a range of designs, from Abraham Lincoln to Amy Winehouse. It's a pretty unusual way of reusing what you already have! But then even Adam West has admitted to having a tooth tattoo — his being the bat symbol on his crowned tooth.
David Letterman: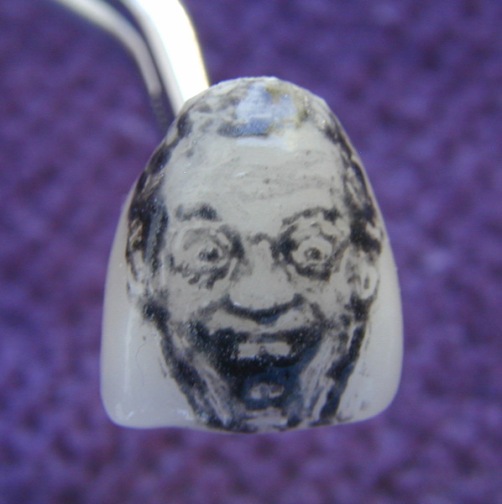 Image: Tooth Artist
Steve Heward, the man behind Tooth Art, explains how he got into this unusual business: "In the early 1980s, a dentist found out I was an artist, wanted to know if I would be able to do something for a patient of his. The patient wanted to have me draw a Corvette or a horse on their molar. I chose to paint the horse. I've been doing them ever since." After that, the business really took off. On creating a website to attract statewide traffic, requests came first from across the nation and then from all over the world!
Can you guess all the celebrities?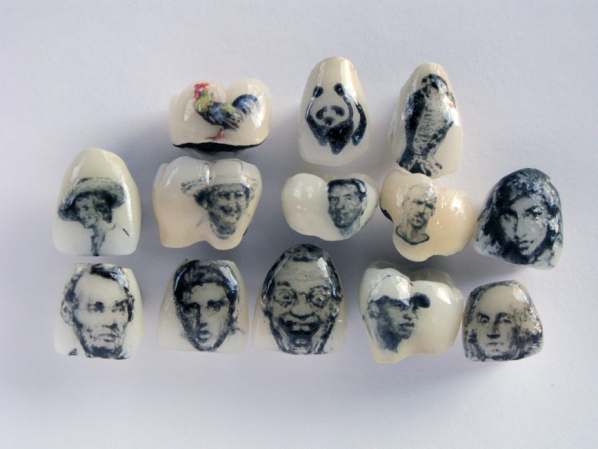 Image: Tooth Artist
That leaves the question of why anyone would want a tooth tattoo? It's a common one, answered on the Tooth Artist website: "Normally, this artwork is created on the back teeth, the molars or bicuspids. Most people prefer having it on the cheek side of the tooth, some on the tongue side. Most considered these as somewhat a white collar tattoo. They are seen only when the person that has one wants to share what they have, by pulling their cheek out so it could be seen."
That's a sweet tooth you got there: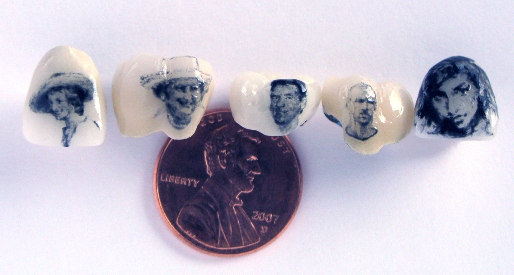 Image: Tooth Artist
That could be quite a way to greet someone! Unlike a conventional tattoo, teeth tattoos can be rubbed off with a rubber wheel in five minutes, but the work should be done by your dentist. However, at around $85 per tooth tattoo, consider this move wisely! Those worried about the colors need not; those used are dental stains made specially for this purpose.
Wolf: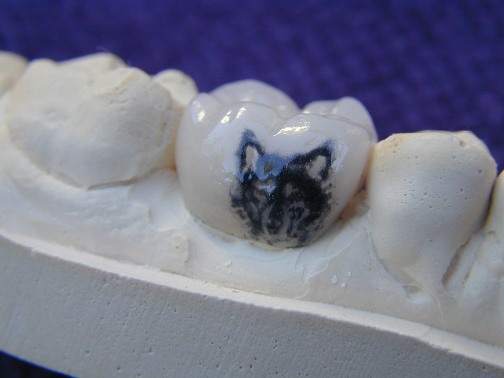 Image: Tooth Artist
Heward Dental Lab has been making crowns and bridges for over 30 years and it is one of the few in the world doing tooth art. In fact, their technicians get trained first to be artists and then learn how to construct teeth. There are some even more amazing tooth art creations out there, which you can see below.
The colors of this butterfly are simply beautiful. Just made for a tooth, aren't they?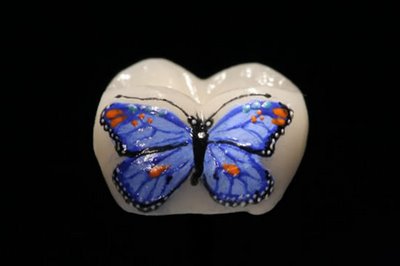 Image via thecontaminated
Or how about a cute frog?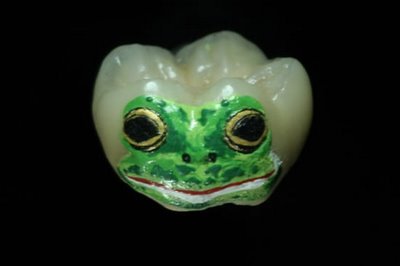 Image via thecontaminated
We just hope that this a tattoo, otherwise this looks quite painful…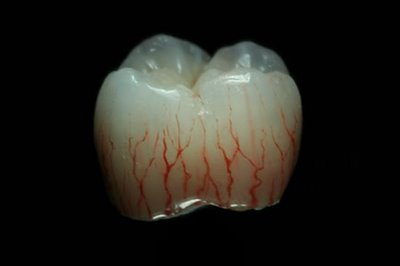 Image via thecontaminated
We don't know much about these amazing designs but they are apparently made on artificial teeth, allowing more vivid colors to be used than could be safely painted onto your molars — including bright reds, greens and oranges. Alternatively, if you decided you didn't want them in your mouth you could always keep them as sculptures — repurposing dental fittings as fine art!
This Chicago Bulls fan went all the way…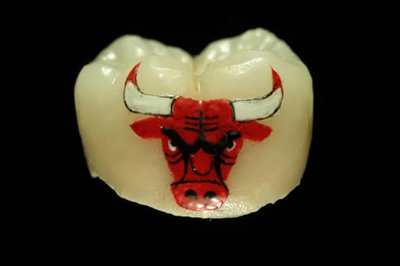 Image via thecontaminated
… so did this Rolling Stones fan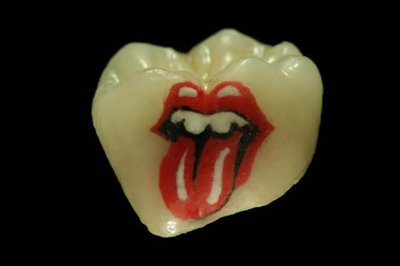 Image via thecontaminated
Or how about Garfield?
Image via thecontaminated
Regardless of whether you decide on a tooth tattoo or prefer tooth jewelry, make sure to brush regularly, at least twice a day, as healthy teeth are a must if you plan to reuse them for this kind of art — and if tooth art gets more people to take care of their teeth, even better!
Sources: 1, 2