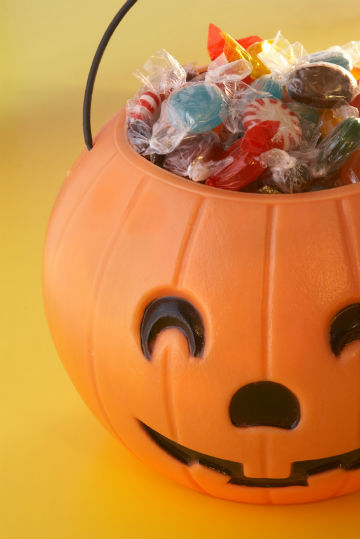 Free candy-scoring opportunities abound when you dress up in a Halloween costume, but they cease to exist the moment you officially begin to pay your own bills. If you have children, however, that's a whole different story altogether! Suddenly, you're presented with an entirely new challenge year after year — namely what to do with the sea of treats that your kiddies spill across the entire living room floor. Among the top concerns that parents face, pondering exactly how much sugar one miniature human body can process before it ends up self-combusting rises to the top of the list. Rather than tempt fate, many adults are prone to picking through the haul while their kiddies are fast asleep, reserving and/or squandering the good stuff while swiftly kicking any sub-par varieties to the curb. Others exercise a far more stringent approach, allowing their children to select a few treasured pieces before mercilessly dumping the remainder in a garbage can as their uncontrollably weeping progeny witness the woeful tragedy. Then, there's the wrapper factor. In today's world of food-borne illness, those flimsy little protective sheaths help to ensure the freshness and safety of the sweets we eat (plus they discourage wayward individuals from tampering with them), but they're a bane to Mother Nature. Often made from mixed plastic, which is very challenging and costly to process at recycling facilities, companies such as
TerraCycle
are trying to change the tide by upcycling these materials, but sadly the majority still ends up in landfills. This year, how about employing a new Halloween resolution in order to keep the treats where they belong — in someone's mouth rather than in a garbage pail! Here are a few ideas to get you started:
1)
The day after Halloween, organize a neighborhood candy swap so that everyone ends up with sweets that they'll happily eat (instead of throwing out undesirable treats).
2)
Host a post-Halloween candy potluck dessert hoe-down featuring recycled goodies and make sure that everyone brings a copy of their recipe to share. Some considerations:
leftover Halloween candy pie
and
no-bake chocolate coconut bars topped with melted candy corn
.
3)
Bring excess candy to your office so that everyone (clients and colleagues alike) can enjoy an afternoon pick-me-up, or donate it to a local food bank, nursing home, college dorm, church or other charity.
4)
Advertise your Halloween jackpot on the free section of Craigslist or Freecycle. Hey, if
you're
not going to use it, at least let someone else have a shot!
5)
Think about all of the recession-friendly gift-giving possibilities! Add chopped-up Butterfingers, Reese's Peanut Butter Cups, M&Ms, etc. to
homemade chocolate bark
,
fudge
,
toffee
, nut brittle,
everything-and-the-kitchen-sink cookies
, Rice Krispies treats, caramel corn balls or homemade trail mix, or use it to decorate chocolate-dipped marshmallows and pretzel rods. Don't forget to stud holiday gingerbread houses, sugar cookies, cupcakes, caramel apples and "cookie pizzas" with whole and chopped candy bits.
6)
Transform melted chocolate bars into a fondue or hot chocolate base, cake icing, brownie batter, decorative drizzle or coating for holiday cookies. Plus, since chocolate can be frozen for an extended period of time, it can easily become the perfect rainy day ingredient for impromptu chocolate chip cookies or Valentine's Day treats.
7)
Offer guests at your Thanksgiving dinner (or other holiday season open house event) party bags filled with color-appropriate Halloween candy or start an autumn piñata tradition filled with leftover Halloween candy, of course.
8)
Reserve a secret stash of candy and offer pieces slowly but surely throughout the months to young children as a positive reinforcement tool for excellent test grades, successfully following instructions, completing chores, etc.
9)
Spruce up plain vanilla ice cream with your own gourmet "mix-ins" courtesy of chopped candy, or apply the idea to a decadent milkshake or create a festive frozen ice cream pie for your holiday dessert table.
10)
Reserve hard candies for arts and crafts projects or transform them into holiday decorations with a little imagination. What about stringing individually wrapped hard candies together to create a garland or gluing gumdrops to a recycled light bulb for a colorful and festive eco-holiday decoration?
12)
Participate in the dentist-organized
Halloween Candy Buy Back Program
! After offering a respectable $1/pound to donors, dentists will send the candy payload to military troops who are stationed overseas.