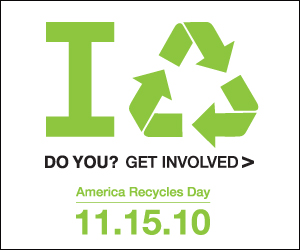 November 15 is
America Recycles Day
, a daylong celebration and awareness campaign of the importance of recycling. The only nationally recognized day for the promotion of recycling programs in the U.S., communities across the country have been celebrating all things recycling on November 15 since 1997. All day long, all across America, communities are pitching in to increase recycling awareness and education. Do your part and find an event near you by entering your ZIP code at the America Recycles Day website. Some notable events around the U.S.:
Disney Stores nationwide are accepting T-shirts to be recycled and turned into paper. Find out more at disney.com/projectgreen.
At the Ohio Courthouse in Columbus, OH, anyone can drop off eyeglasses, cell phones, ink and toner cartridges and e-waste from 8 a.m. to 2 p.m. for reuse in various at various nonprofits or for recycling.
At Morgan State University in Baltimore, all-day events include recycling information booths, recycling pledge cards, carbon footprint surveys and Q&As with teachers, students and faculty.
At the University of California – Irvine, students can learn about recycling and take home complimentary recycling T-shirts from 11 a.m. until 2 p.m.
Fort Worth, TX, residents can bring up to 40 pounds of secure paper documents to be shredded and recycled from 9 a.m. to noon at GreenStar North America. Click here for details.
Kansas City, KS' Schlagle Library becomes a recycling destination from 10 a.m. to 2 p.m. with a kitchen composting demonstration, recycled art class, family- and eco-friendly activities and recycled crafts.
The Everett, WA, naval station is offering a recycling open house from 10:30 a.m. until noon. Attendees can drop off recycling, see recycling machines and operations and receive recycling tips and ideas to help reduce during the holiday season.
These are just a handful of America Recycles Day activities. Do you have a local activity that 1-800-RECYCLING.com readers should know about? Leave a comment.