Technology moves fast, and the cassette tapes of your youth may be tucked away in a box gathering dust. If you're not using them, first you should try to reuse them. Drop them off at a local charitable resale shop, or maybe you have a friend who still has tape deck in their car and would love your retro music. You could also reuse cassettes in a crafty way. I found some great projects that will turn your unwanted cassette tapes into some lovely gifts.
Desktop business card holder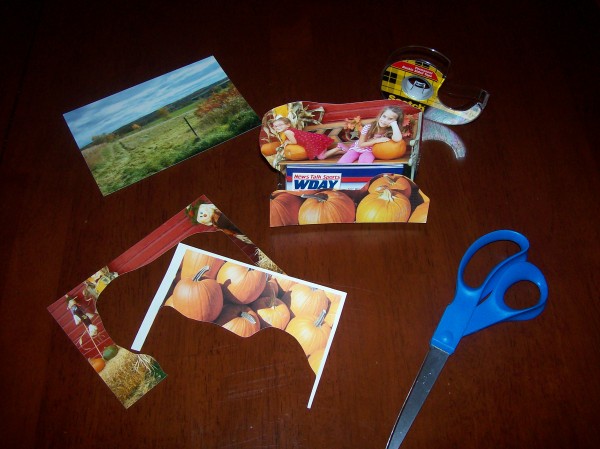 This craft can be as simple or complex as you'd like to make it. If you want a simple business card holder, take your empty cassette tape case, open it at far as it goes, place it on your desk and insert your business cards. If you want to get a little more creative, use your imagination and dress it up.
Supplies:
Photos Empty cassette case Glue stick Card stock Scissors Low-temp glue gun (I used double-sided tape because I wanted to be able to change the pictures depending upon the season)
Instructions:
Open up the empty cassette case and fold top all the way back. Business cards will fit in the pocket created by the open top. Mount photos on cardstock and cut them out in interesting ways. Hot glue (or tape) the photo to the lid flap. Then hot glue (or tape) another photo or stickers/trinkets to the front. Make sure the back of your business card holder is attractive as well. You could glue on seashells or sand with a beach photo, glittery snowflakes with a winter scene and so on. This is an awesome gift for your kids to make for grandparents, aunts and uncles.
Pocket business card holder
Supplies:
Cassette tape Elastic 3/8" (11 mm) wide Small bauble, jewel or other trinket (to adorn the elastic) Needle-nose pliers, jeweler's screwdriver (Phillips head), sewing machine (or hand-sewing needle), thread, fabric glue (if necessary to glue bauble onto elastic)
Instructions:
Remove the screws from the cassette, and remove the insides of the cassette. Use pliers to break off the plastic pieces that protrude from the inside of the cassette. Make sure your business cards fit inside. Cut 5 inches (13 cm) of elastic. Overlap the two ends and zigzag stitch. If you don't have a zigzag on your machine, single needle is fine. Sew the right sides together and trim the ends of the elastic so they don't fray. Insert your business cards between the cassette pieces. Wrap the elastic around the cassette to ensure it remains shut.
Source:
Wendy Russell from She's Crafty
More amazing craft ideas for your cassette tapes
MyRecycledBags.com
: Check out this adorable crocheted sling bag made from recycled VHS tape. You can modify the instructions to use your cassette tapes by using a smaller hook.
Instructables.com
: Learn how to make a cute and simple cassette tape wallet.