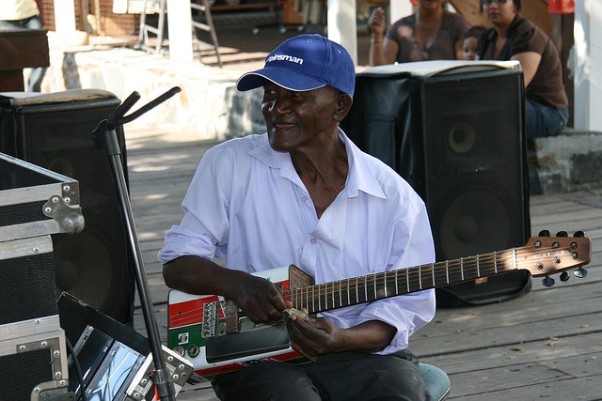 Image: Paul Williams
For some guitar lovers out there, building a whole guitar from scratch might not be that difficult. But what's even cooler is to do it reusing discarded materials like old oil cans, cigar boxes, wires, wood, metal, skateboards and even thin air. Yes, creative minds have used all these items to make their own personalized, recycled guitars. For us every single one is winner — and definitely cool!
10) Steampunk Guitar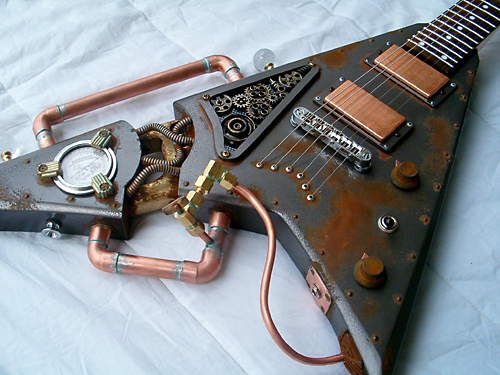 Image: Rob Lee
This amazing steampunk guitar comes complete with gears, screws, valves and a barometer. And, of course, rust in all the right places. Nice! We wonder if one can hear the gears moving while you play…
9) Rifle Guitar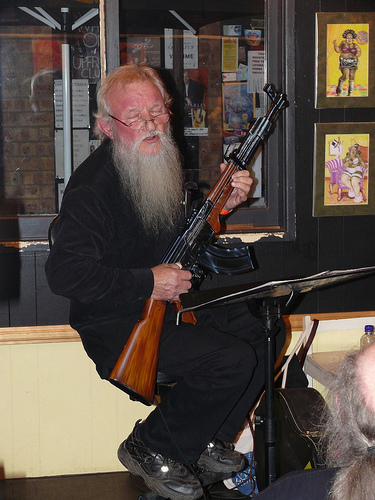 Image: Serendigity
As we know, guns kill, but unfortunately there are many of them in the world today. There is hope, however, of putting them to a better use by turning them into head-turning rifle guitars. The size is about right and the sound is great. Just make sure the safety catch is on! Pictured above is a Kalashnikov rifle guitar; below is a Gundam Beam rifle guitar (from the anime series), played at a street market in Kyoto, Japan.
8) Cyclotron Recycled Guitar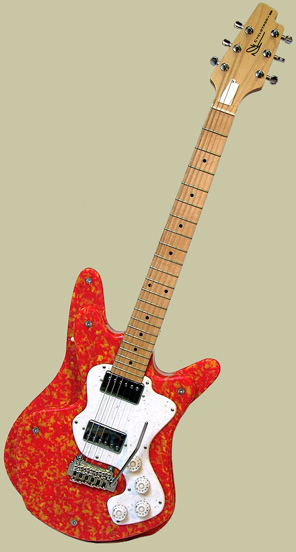 Image: Simon Lee "Jasper" was made from industrial pipes
Simon Lee's Cyclotron
guitar series comes in six different designs that use unusual materials like industrial pipes, vending machine cups, CDs, water cooler bottles, rejected yogurt containers, and all kinds of domestic bottles and containers. The amazing marble design of the "Webster" model (below) was made from reclaimed plastics from the food production industry.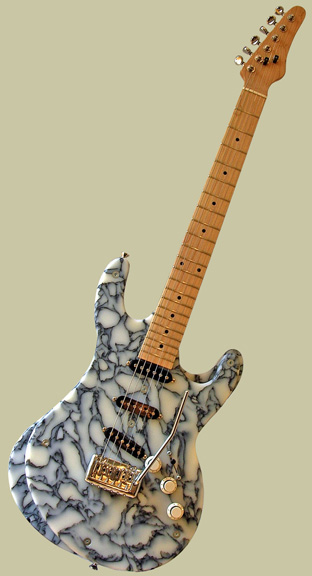 Image: Simon Lee
Simon originally trained as a sculptor and worked as a prop and model maker in theater, film and TV before retraining as a guitar maker. It was during this training that Simon realized how many highly lacquered, exotic timber "furniture" guitars were produced for the music industry — something he disliked. Talking about his new range of recycled guitars, he explains: "The whole development behind the Cyclotron range came about because I am very concerned with the destruction of the rain forests and I wanted to build guitars that didn't glamorize exotic hardwoods, because I knew very well that these same timbers are becoming endangered species."
7) Oil Can Guitar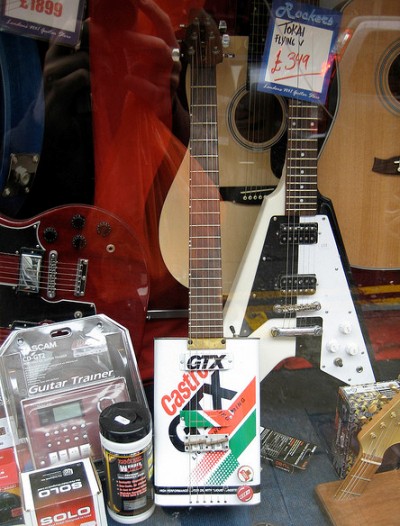 Image: soapbeard
This guitar made out of an old oil can was spotted in a guitar shop in London. It's missing the price tag, but it sure is a good example of recycling. Especially in Africa, oil can guitars are not uncommon. The first picture above shows one in action, played by an old man at the waterfront in Cape Town, South Africa. You'll probably want to know what it sounds like. Pretty darn good is the answer! But hear (and see) for yourself:
6) Skateboard Guitar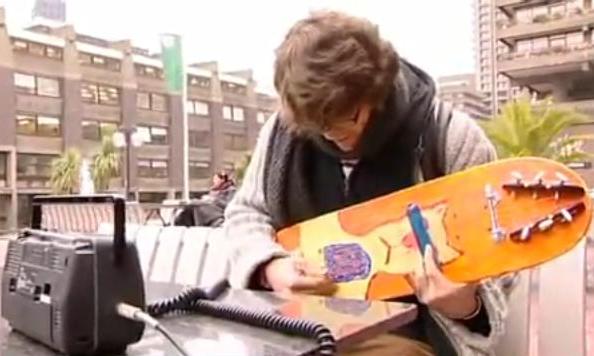 Image via YouTube
This amazing skateboard guitar is made from an old skateboard and telephone receiver and is amplified through a previously unwanted portable cassette player. It was created as part of the efforts of
RecycleNow
, an initiative that recycles broken and unwanted electrical items. We love the combination of speed, sound and retro!
5) Wooden Board Guitar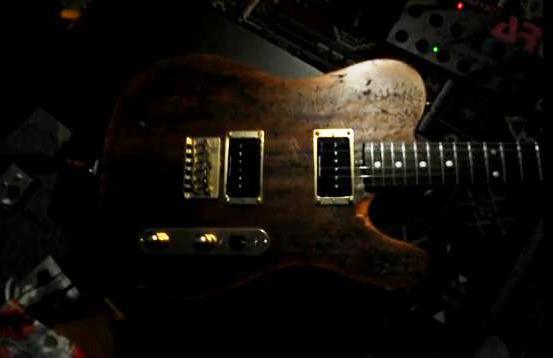 Image via YouTube
This amazing guitar was homemade from a 250-year-old piece of wood that once graced a chalet's flooring. Its sound is a stunning TC G-Major, and the look somewhere between steampunk and earthiness is a real killer combination! Here's the "Fäbodcaster" in action: A variation of the floorboard is this old piece of wood with peeling paint. The man playing this homemade guitar in Anjajavy, Madagascar, proves that with a bit of creativity and skill, even an old piece of wood makes for a pretty cool guitar.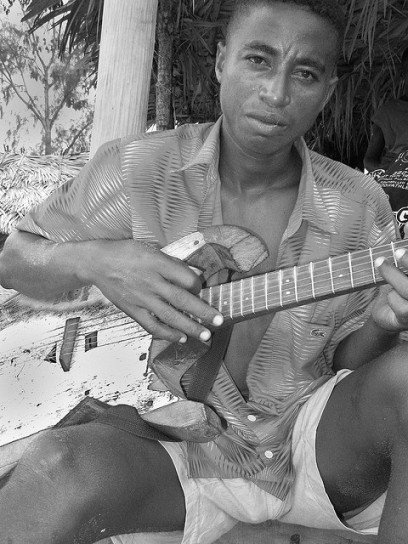 Image: David Dennis
4) Cigar Box Guitar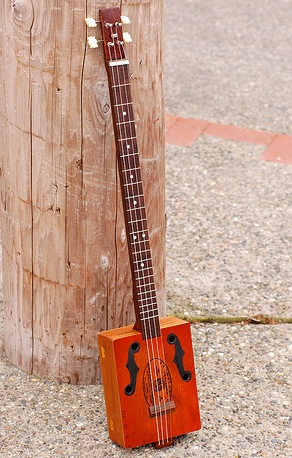 Image: Steve Lodefink
A cigar box guitar — especially a nicely polished example like the one above — not only looks funky, but it also sounds quite nice. Cigar box creator David calls his handmade guitars "smojo guitars." He even hooks them up to an amp as fully functional electric guitars: "I have a complete CBG kit that matches now — guitar, case, amp, slide. All hand made by myself, mostly from recycled materials. The guitar has an internal piezo pick-up under the bridge and a hand-wired magnetic pick-up near the neck." To hear David play, watch the video below.
3) Big Tin Guitar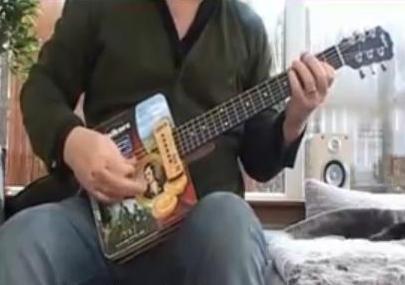 Image via YouTube
The next guitar was made from a salvaged collector's edition Walkers Homecoming 2009 shortbread tin and other discarded bits and pieces. It operates on the same principles as a cigar box guitar and sounds pretty amazing!
2) Altoids Guitar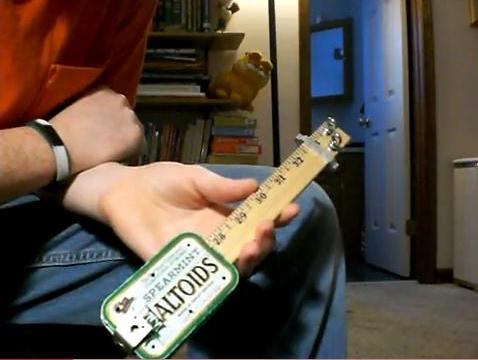 Image via YouTube
A smaller version is this guitar made from an Altoids tin. We love the imaginative use of a ruler. It can even be plugged into an amplifier to ensure that nothing gets in the way of a jam session. Cool stuff!
1) Wire Guitar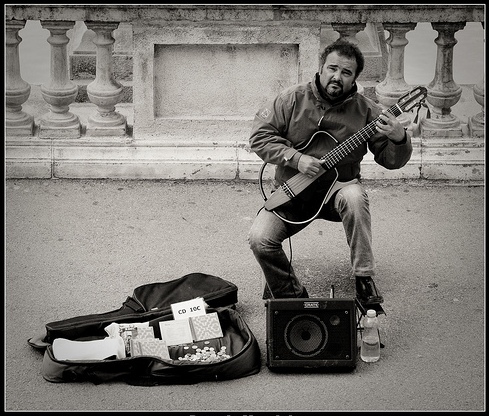 Image: Phyrephox
Last but not least, we have the most minimalist guitar in our collection. Not the smallest, mind you, but the one that makes the best use of the air around it. This street musician in Barcelona, Spain, fell somewhat short of a guitar body. Not skimping on imagination, he thought of using the empty space as a body for his guitar. Simply outline the guitar with a thick piece of wire, attach the neck and
voilà
, there's a cool guitar!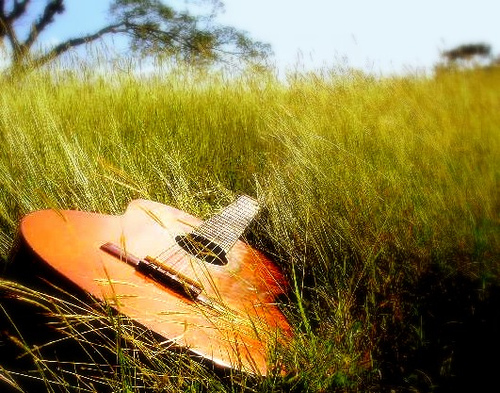 Image: Elisabeth D'Orcy
As we have seen, a guitar doesn't just equal wood plus strings anymore. There's really no need to cut down a living tree when making a guitar, be it an "ordinary" or "exotic" one. Not only will any material do, but also almost any household item as well. Where there is a will there is a way cool (guitar) sound!
Sources: 1, 2