Broken Bog has been recycling toilet wares for the past 30 years, thus preventing the unnecessary replacement of whole bathroom suites due to one broken piece.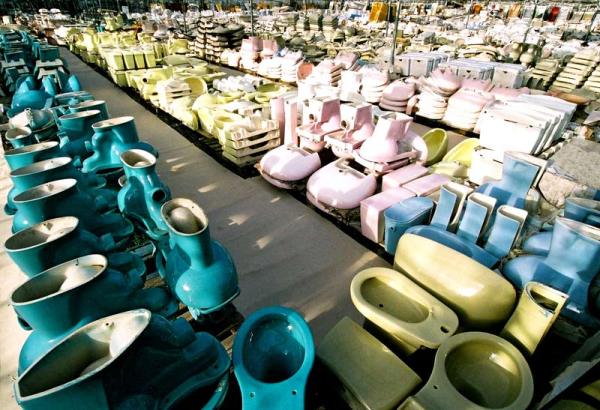 All images courtesy of Miscellanea Discontinued Bathroomware
"If you have cracked, chipped or broken a 1950s basin, a 1960s cistern, a 1970s toilet, a 1980s bidet, a 1990s bath or even a 2009 toilet seat, we can help."
Thus goes the advertisement of the aptly named Brokenbog toilet ware company in Surrey, England, just an hour outside of London. Over 50,000 bathroom ware items, such as toilet bowls, sinks, bidets, cisterns, baths and toilet seats, are awaiting new owners. The company prides itself on being the largest bathroom ware collection in the world, and specializes in procuring anything from unusual toilet seats and discontinued ranges, to odd colors and styles, to complete retro suites.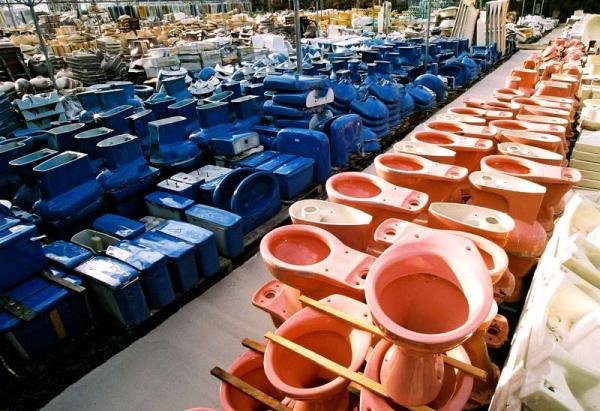 The company is not just releasing hot air here. They really are true to their word, as dozens of happy customer testimonials on their website prove. Here's one example: Peter Robinson from Cumbria, England, says, "Just a note to say thanks very much for the great service. The toilet fitted straight in. Never thought we would find a replacement loo without changing the whole suite. Thanks very much again for your patience and great service." Actually called Miscellanea Discontinued Bathroomware, the company property stretches over thousands of square meters on what were originally the nurseries of David Lloyd George's estate. Wares are arranged by color, guaranteeing that customers can quickly find the shade they are looking for. However, with over a hundred different shades in stock, including two-tone, matte, mother-of-pearl and retro shades such as avocado and sepia brown, even then it's not an easy task. Here's more about the process and a tour of the warehouse with Sam Powell, the general manager and son of founder Eddie Powell:
The family-run business is happy to help and, in the rare event that an item should not be available at the warehouse, employees assist customers in searching through an extensive network of stockists. Another option is to have an older or out-of-stock item specially manufactured. With this kind of research, no wonder the company's success rate is above 90%!
Apparently, the warehouse is even visible from space!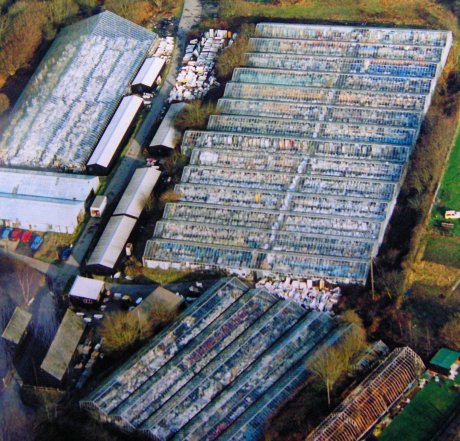 Miscellanea Discontinued Bathroomware has been in business since 1980 and has built up an impressive warehouse. The first two images above show just 10% of the whole stock. Most of the bathroom items are unused factory originals that Miscellanea has procured directly from the manufacturers. Other pieces are either reclaimed or reproduced to fill in for out-of-stock items. Apart from furthering recycling in an important area of the home, we love the company's sense of humor. The broken bog of the week, for example, features the most dilapidated item discovered every seven days. General manager Sam Powell explains about the piece below: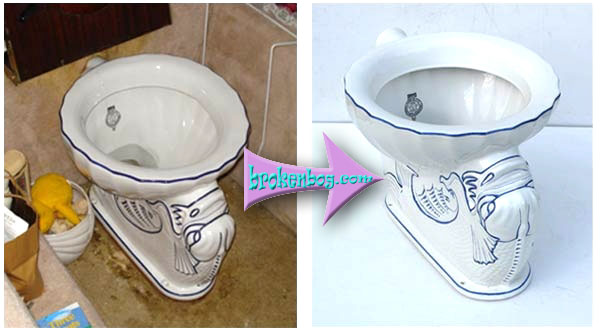 "One of the more exotic replacements we've had to find came in the form of this magnificent 'Edward Johns & Co' low-level pan, which the owner was devastated to find developed an unseen leak in the underside of the bowl. An initial check of our stocks came up with the exact same style of pan with the outlining in a different color to the original, but it only took a few days to locate the precise match through our network of contacts. The creature from the deep lives to flush another day!… So whether it be a smashed sink in Sheffield or a cracked crapper in the Crimea, Brokenbog.com has the know-how to help!" Look at this piece (below) from Ideal Standard's "Studio" line — one of the most extreme breakages the company has witnessed. Luckily, a replacement was in stock.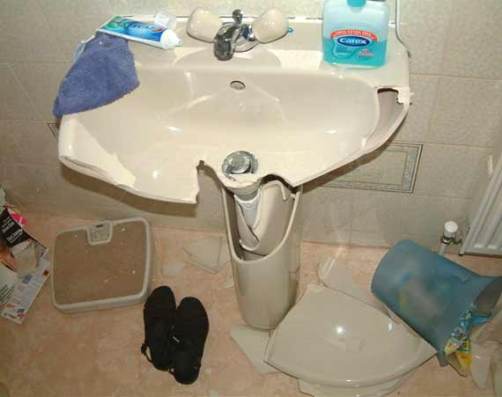 When not on duty at the warehouse, the Miscellanea staff can't quite let go of the toilet ware. They engage in their own kind of recycling for those broken pieces that will soon go to the "great sanitary warehouse in the sky." Witness the Olympic Bathroomware Curling in this must-see video:
For those inspired to visit — only seeing is believing — you can make an appointment to be shown around the warehouse. If you have a tricky bathroom problem, you can also simply send in a photo or two and someone at Brokenbog will be happy to help. For anyone just curious about the latest news, Brokenbog is also on Facebook. Recycling with a personal touch — we love it! Sources: 1, 2, 3