I love glass for a myriad of reasons. Glass containers are perfect for storage. Glass bottles and glasses are great for drinking from, and you can refill them forever without worrying about them leaching chemicals into your beverage like their plastic counterparts. Glass bottles and jars can be recycled again and again.
Some glass recycling facts
Glass never wears out — it can be recycled forever. According to
The Earth Works Group Recycler's Handbook
, we save more than a ton of resources for every ton of glass recycled — 1,330 pounds of sand, 433 pounds of soda ash, 433 pounds of limestone and 151 pounds of feldspar. 
Glass containers save 9 gallons of fuel (oil) for every ton of recycled glass. Glass containers can be recycled and turned into new glass containers, Fiberglass insulation, road beds (aggregate), concrete block and glassphalt (asphalt).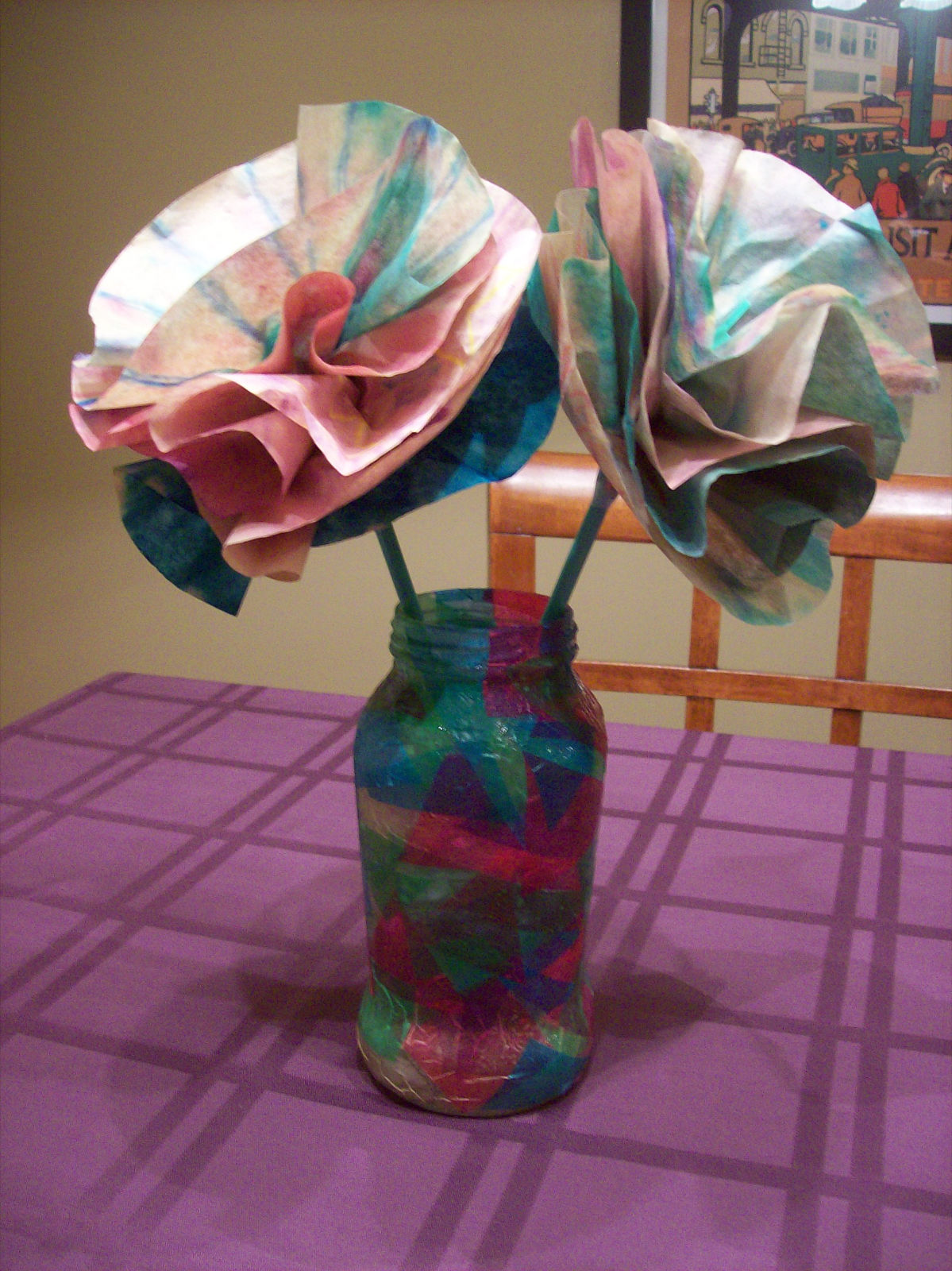 Recycling one glass bottle saves enough electricity to light a 100-watt bulb for four hours.
A crafty idea for emptied glass containers
Here's a great craft to do with your kids. Mine are 7 and 3, and they both loved it:
Vase from tomato sauce container (pictured right)
Supplies:
Empty glass container Glue Tissue paper Scissors Paint brush
Instructions:
Remove label from glass container.
Tip: soak label in white vinegar for as long as it takes to dissolve label's glue. My label took about 15 minutes
. Now get creative. Cut tissue paper into small shapes (approximately 1 to 2 inches): triangles, hearts, squares, etc. Pour glue in a bowl, add some water and mix. Now get really creative. Start putting glue on your container. Place your tissue shapes on your container overlapping them so the glass doesn't show. Glue over the tissue (gently, wet tissue paper is very delicate). Let dry and you have a lovely gift for grandma.
Some beautiful pieces made from recycled glass
These large
recycled glass bowls
are made in the USA with 91% post-consumer recycled glass.
Each
Bubble-Shaped Plate
is handmade in Thailand using recycled window glass, and the air that gets trapped during the melting process is what creates the frothy pattern of bubbles. Whether buying a beautiful piece of glass art to be used as a table's centerpiece, or a creating simple project for children, the versatility of glass is unmatched.