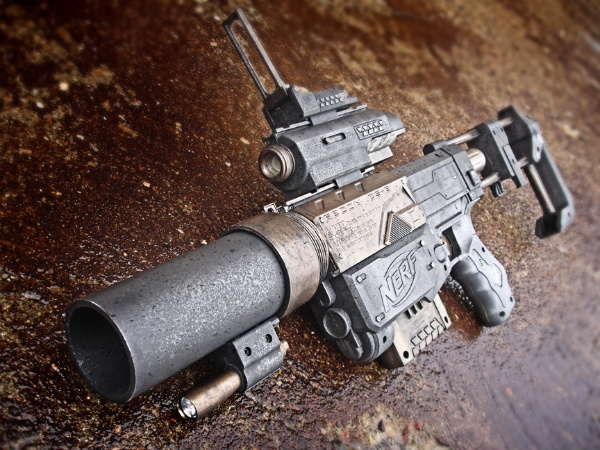 Image: Meandmunch at DeviantArt
There's a very special glee to be had as a child, charging around your home and spraying your friends, siblings and pets with Nerf darts. However, there comes a time when everyone has to wonder what to do with their toys — to toss or to give away? Actually, there's always a third option: recycling! These amazing, custom-built works of art have been upcycled and modded to the core: No longer are they simply the day-glo kids' toys that they started life as. Instead they have become mean, lean, sci-fi weapons, which (importantly) will do very, very little harm to anyone!
15. Imperial Stub Gun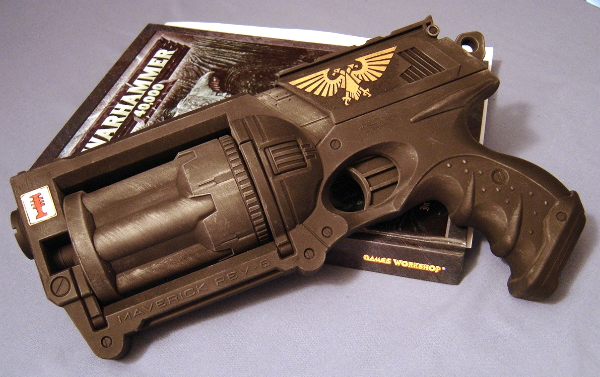 Image: Joel Moon
Featuring a gigantic cylinder and suitably bulky frame, the Nerf N-Strike Maverick is a tried and tested favorite in the world of Nerf modding; after all, this is the kind of Nerf gun Hellboy would wield. This particularly stunning piece has been created by Joel Moon, modeled on an imperial stub gun from the Warhammer 40,000 universe — and featuring an imperial crest and tags, as well as an impressive paint job. To add to all that it still works — making this recycling in full, firing action!
14. Longshot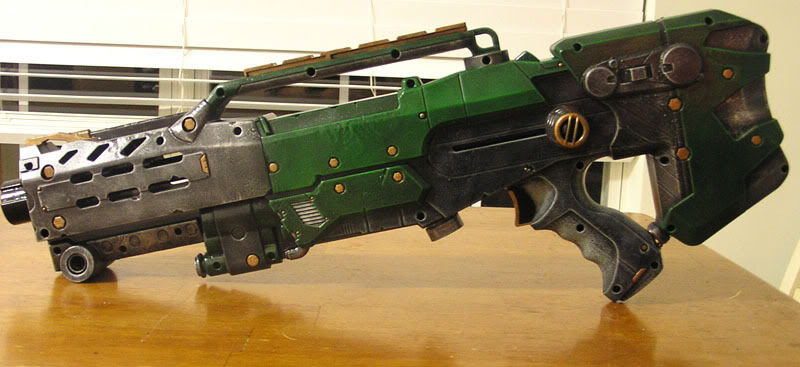 Image: SocialZombie
After some mean paintwork and some heavy trimming, this is what a Nerf Longshot can look like. However, the modifications aren't just skin deep; SocialZombie explains: "I mod nerf guns to shoot farther, harder and I paint them." That involves extensively reworking the insides of the gun to boost its power before carefully resealing and rebuilding it. "These things can knock one of your teeth out from 15 feet after I mod them," SocialZombie adds. Err, nice, as long as you've got a good dentist! However, she does also say that they're quite not as nasty as paint gun ammo.
13. Nerf Vulcan EBF-25 WWII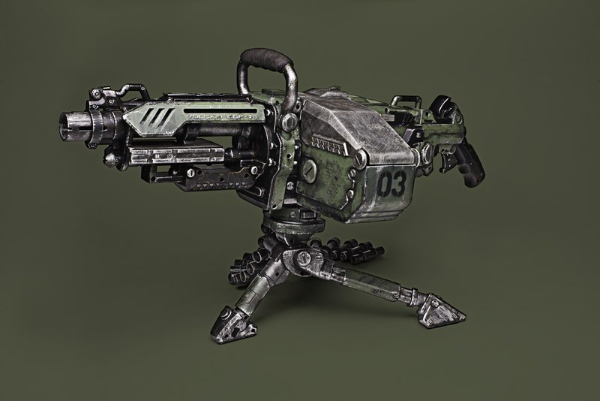 Image: Meandmunch at DeviantArt
This really is one dangerous-looking piece of hardware, but it's actually surprisingly close to the original Nerf Vulcan, the toy gun turret with which to snipe your friends! As Nerf master craftsman Meandmunch comments, however, the bright yellow and orange of the original was "hideously colored." One metallic paint job later and the Nerf gun looks like it's come straight from the D-Day landings. However, Meandmunch has much more to show us…
12. Nerf Longshot CS-6 WWII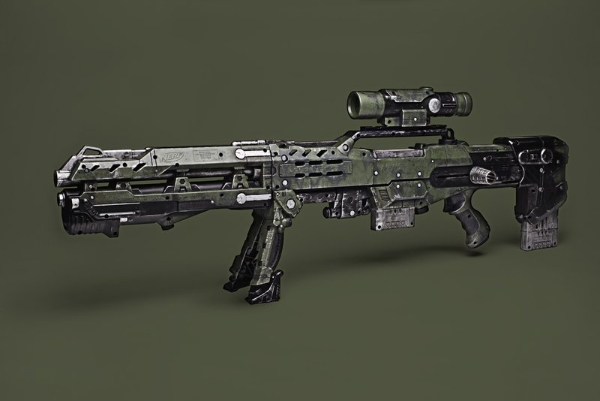 Image: Meandmunch at DeviantArt
Another one of Meandmunch's works, this gnarly sidearm from his WWII mod series combines a futuristic barrel with a distinctly contemporary-looking set of sights. Like the Vulcan, however, this mod is very close to the original in appearance — but with this amazing paint job, you could imagine that Meandmunch had hand built it straight out of a video game. With this fantastic but simple piece of repurposing, you couldn't imagine what the Longshot might originally have been — but it's perhaps best not to take it outdoors lest you scare the neighbors!
11. Lancer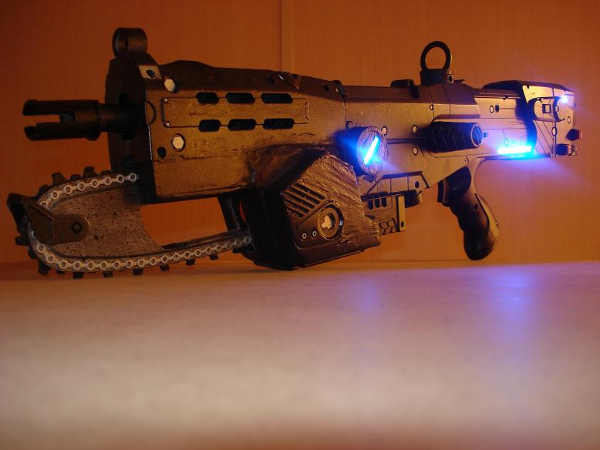 Image: Forsakenangel_24
Believe your eyes: That's a toy chainsaw attached to the front of a Nerf Longshot. This piece recreates a Gears of War Lancer rifle — a kind of turbo-powered bayonet for the action hero of the future.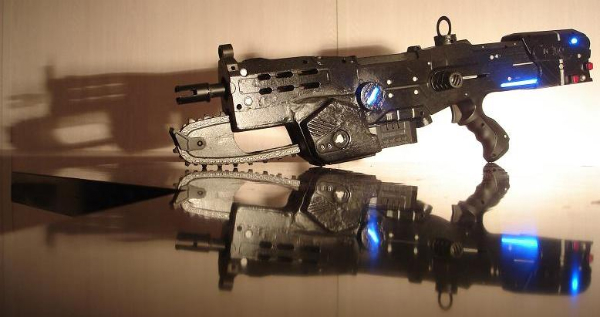 Image: Forsakenangel_24
Repurposing two distinctly innocent toys courtesy of a custom paint job, extensive internal and external rebuilding and the addition of an array of LEDs, and Forsaken_angel24 has upcycled one rad piece of equipment.
10. Nerf Maverick Mod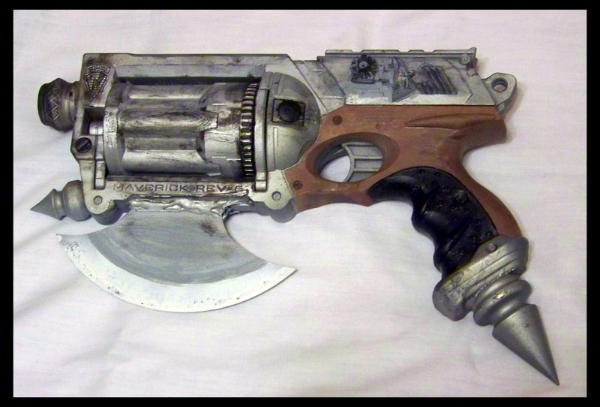 Image: Luke Piburn
Remember when we said the Maverick would be coming up again? We weren't kidding. DeviantArt user Luke Piburn has taken his own spin on the Maverick by making it distinctly spikier, as well as attaching a real axe head below the Nerf blaster's barrel — though it's not too sharp! It's also not the only Nerf gun to get a little bit sharper, either.
9. Victorian Gothic Maverick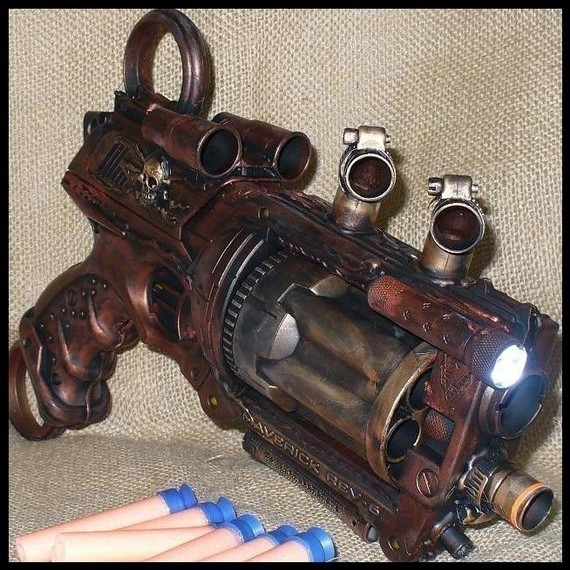 Image: OldJunkBoutique at Etsy
If you're looking at the pipework or fittings attached to this steampunk firearm, rest assured, they're not original to the Nerf gun. There's even a torch attached to the barrel should you want to take a pop at your friends in a dark corner! Recycling and repurposing is at the heart of creating steampunk artifacts — taking devices whether new or old and putting a science fiction spin on them. Nevertheless, we're not too sure about the Old Junk Boutique's claim that this unique piece originates from 2053 — though it certainly is an amazing recycled piece of art.
8. Firefly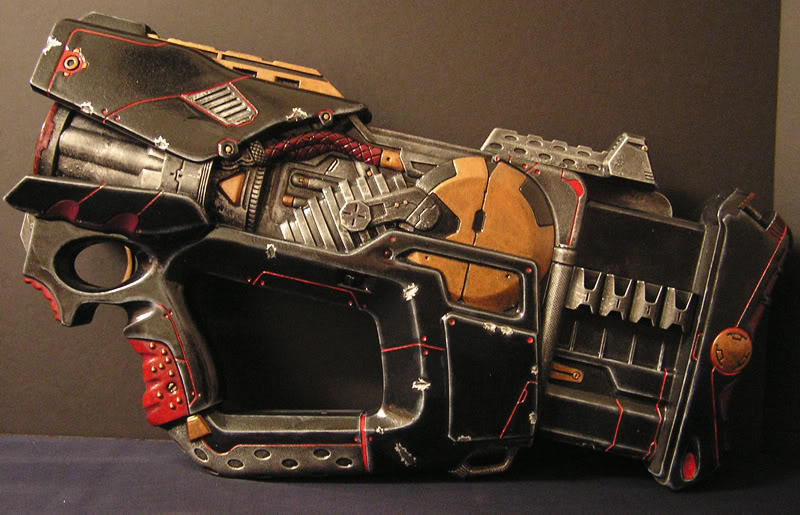 Image: SocialZombie
This stunner is a beautifully repainted Nerf Firefly, with every facet of the plastic mold turned into a piece of futuristic metallic detailing — and a second of SocialZombie's pieces. If you were wondering, yes, SocialZombie is another Warhammer fan: The guns are in fact intended to be reminiscent of the high-tech Warhammer 40,000 "bolt gun look." Those would be the gigantic hand guns wielded by the superhuman Space Marines. Does it work? In a word, yes. Some of the guns have even been coated with the paint used for Warhammer miniatures.
7. Nerf Halo Rifle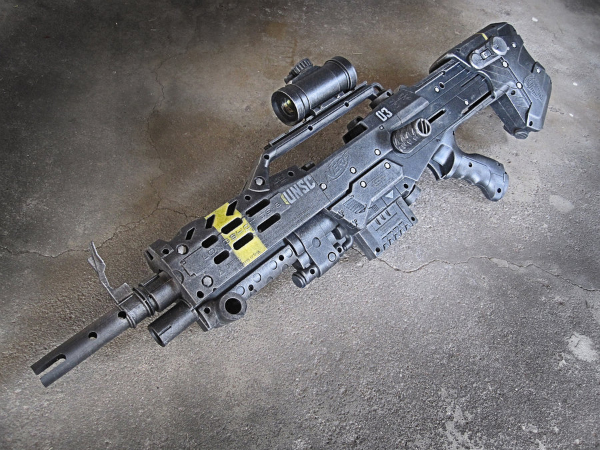 Image: Meandmunch at DeviantArt
You might be able to see a pattern emerging… This fantastic design is modeled on the battle rifles used by the Spartan supersoldiers of the Halo universe. Strictly speaking, the rifle is intended to look like a prototype of the weapons seen in the series. The attention to detail here is stunning: note the UNSC (that's the United Nations Space Command) tag, just next to the toy weapon's original Nerf branding. Another one of Meandmunch's creations not to be taken down a main street!
6. Nerf Deploy Pulse Rifle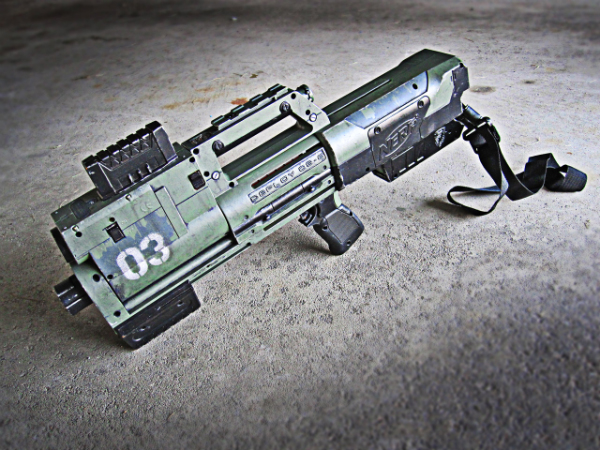 Image: Meandmunch at DeviantArt
This industrial pulse rifle looks like it would comfortably fit into the hands of a James Cameron hero (whether in post-apocalyptic
Terminator
or the worlds of
Alien
or
Avatar
— any will do). Complete with shoulder harness, this is one phenomenal paint job!
5. Steampunk Fashion Nerf Mod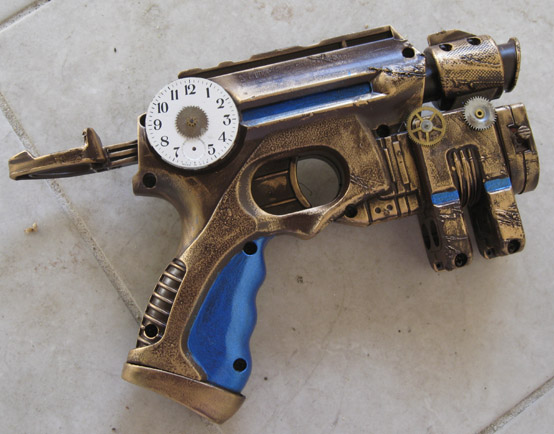 Image: Steampunk Fashion
When Evelyn Kriete made
this spectacular Maverick mod
, incorporating an amazing metallic brass and turquoise paint job, her husband realized he would quite like a steampunk Nerf-sidearm of his own — hence this particular beauty. With the addition of a clock face and cogs, and an astonishing restyling, this looks very much like the real thing.
4. Steampunk Alien Nerf Gun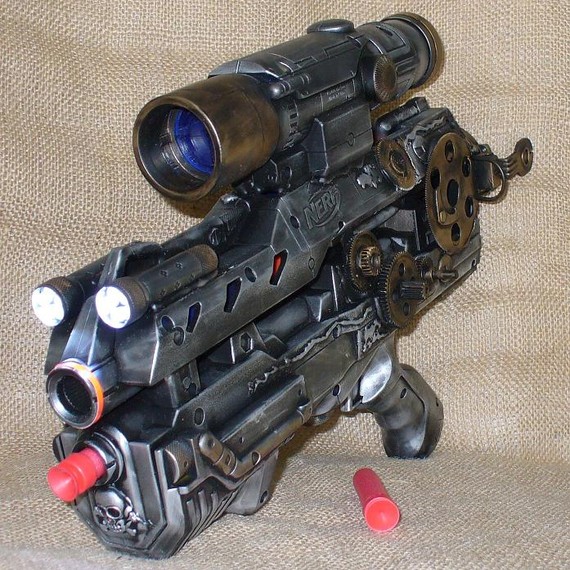 Image: OldJunkBoutique at Etsy
This funky piece features a whole host of unique features, from a skull and crossbones insignia and a heap of clockwork, to a working pair of torches and a compass for the Nerf enthusiast worried about getting lost!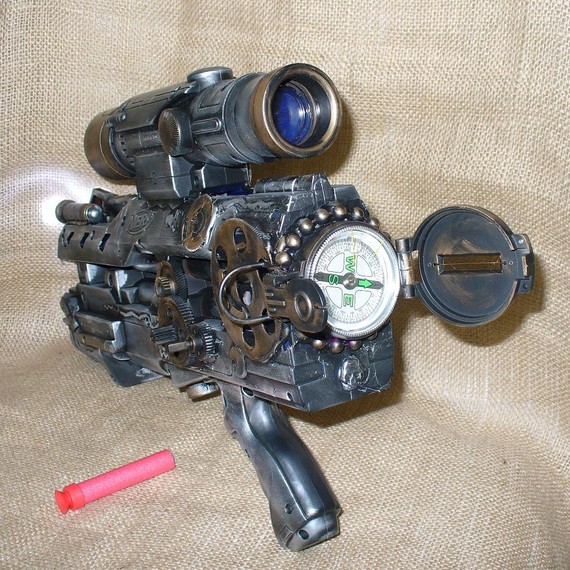 Image: OldJunkBoutique at Etsy
Its makers, Old Junk Boutique, carry a whole range of hand-built steampunk designs; we're told this repurposed piece is also the work of a time traveler. If scores can be settled with Nerf darts in the future, something good must have happened!
3. Nerf Stampede Spartan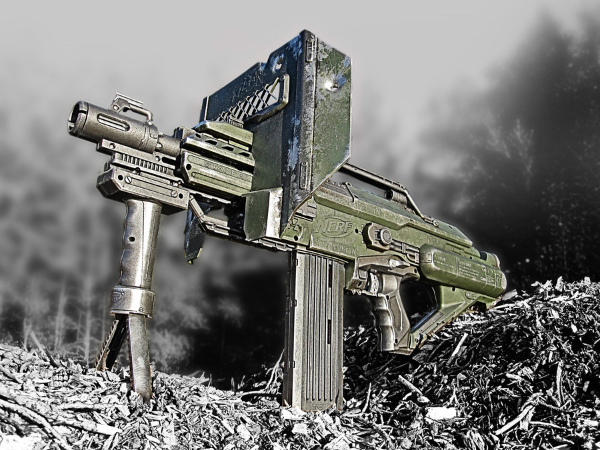 Image: Meandmunch at DeviantArt
Meandmunch explains that while making this masterpiece he was suffering from "
Halo: Reach
fever" (that would be an obsession with the latest installment in the
Halo
video game franchise for those not in the know; refer to previous entries for more information). Note the amazing personal touches added to this model, including the scuffed paint and bullet damage on the shield guard, which seems rather more useful in this light! In Meandmunch's mind, the Nerf Stampede's design sits somewhere between the Spartan laser and the assault rifle seen in
Reach
: "I'm sure the folks at Nerf plan it… preying upon the helpless fanboy subconscious," Munch speculates. Well, they do seem to capture the imagination of the modding community!
2. The Boss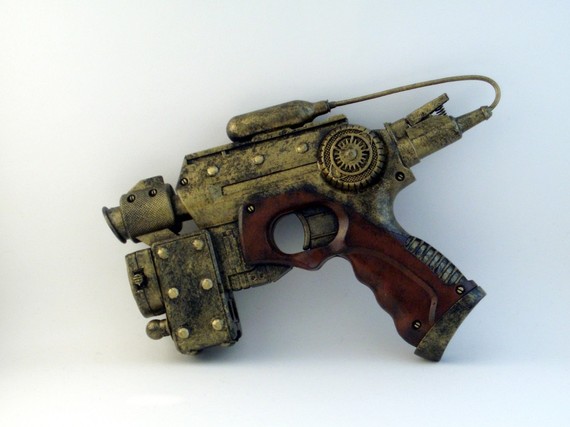 Image: Red Ranger Ray Guns at Etsy
According to its description, The Boss (nothing to do with Springsteen) originates from circa 1887, and was carried by the Special-Ops branch of the Texas Rangers to combat railroad pirates.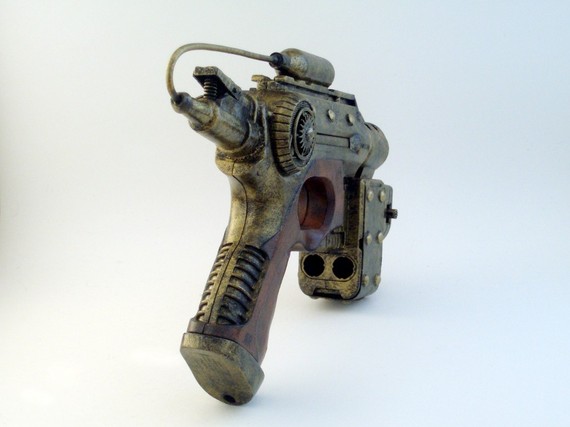 Image: Red Ranger Ray Guns at Etsy
This modded Nerf Nite Finder features a dial, clip trigger and wood-effect handle, and looks somewhat like the kind of tool Doc Brown (from
Back to the Future
) would be using to fasten rivets to his flying steam train.
1. Nerf Recon Snub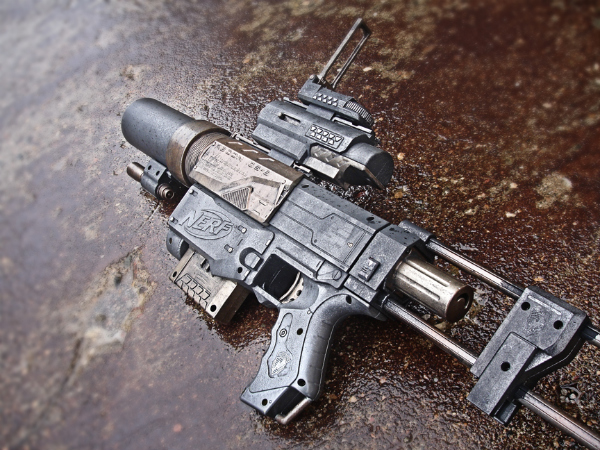 Image: Meandmunch at DeviantArt
This amazing piece is a Nerf Recon with a heavily modified barrel and sights, as well as a copper and matte black finish. The barrel of the original toy was sacrificed for the Longshot mod (no. 11 here), while the stock almost didn't make it either, as the artist was considering turning the weapon into a giant, apparently Hellboy-style pistol. In its improvised new form it almost looks like a grenade launcher… Play safe kids! And remember, keep your projectiles soft and padded! If you like the look of these, check out our article "
Seven Replica Rayguns Made from Recycled Materials
." You can also buy
Meandmunch's work on eBay
and
Red Ranger Ray Guns'
and
OldJunkBoutique's
work at Etsy, or check out the
Steampunk Fashion
site or
SocialZombie's
site or
DeviantArt
work.
Sources: 1, 2, 3, 4, 5, 6