The 8-track tape was a popular way to record and listen to music starting in 1965, but its trendiness tapered off by the end of the '70s. As cassette tapes, CDs and MP3 players eventually caught on, the 8-track recording system became all but obsolete. For some music fanatics, it's a coveted piece of memorabilia, but for others, it has become another piece of clutter to throw away. Although you might not want to play these tapes, they do have an artistic potential you can tap into. An 8-track tape is made up of an exterior plastic cartridge, and inside is a loop of quarter-inch magnetic tape. It's not made of much, which is why the outside can be reused as a blank canvas. On the
FoxyBlue & Family Too
craft blog, there is a beautiful example of how an 8-track tape can be transformed by a creative layer of paint.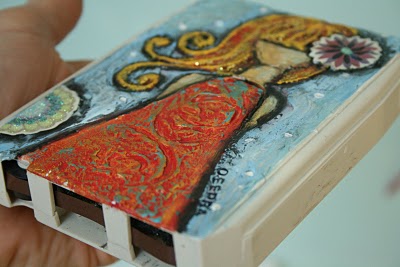 A miniature painting like this would enhance shelves, office desks, nightstands, kitchen counters, etc. Also, these could be personalized for friends and family as eco-friendly holiday gifts. You can find a set of 8-track tapes for under $10, and even cheaper at secondhand stores like Goodwill. Who knew home décor and holiday gifts could come from reusing inexpensive 8-track tapes? Here are some 8-track art tips so you can green your artistic talents.
Soulful painting — Draw from your inner creativity and paint some 8-track tapes. Since the canvas is plastic, it's best to use enamel paints. However, you can use acrylic as long as you paint on top of a sealing base coat. Start with lively characters from your favorite cartoons or get inspiration from your children or pets.
Three-dimensional scenes — Use your meticulous sculpting talents and construct a scene with modeling clay. With the 8-track tape as your foundation, you can mold quite a scene. Try to develop miniature three-dimensional settings for holidays or the seasons.
Imaginative crafts — Already have loads of crafty accessories in your house? Glue sparkles, buttons, ribbon, alphabet letters, stickers, etc. to the tapes. This activity is fun and easy for kids, too. Plus, you can experiment and reuse the crafty odds and ends you own.
This
media art
can stand on shelves or desks, and there are two holes in the back of the tape for hanging. Even though the 8-tracks may no longer be music to your ears, they can be transformed into innovative artwork that is pleasing to the eyes.