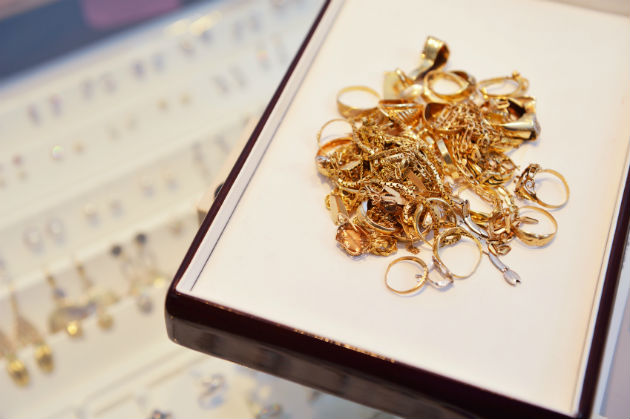 There are so many beautiful pieces of jewelry in the world, and if you have an eye for beauty, you probably own too many shiny accessories. After years of collecting, that metal jewelry piles up, but instead of throwing it away, you can reuse those eye-catching pieces in your wardrobe and even your home décor. One gold ring creates at least 20 tons of mine waste, so in an effort to decrease this harmful cycle, here are some unique ways to repurpose and reuse those favorite items instead of buying new.
Hand down expensive and sentimental jewelry to your children or grandchildren. At least the items will get some wear and maybe even become a family heirloom.
Take your old gold to a jeweler to be melted down and turned into something new. What type of ring, necklace or bracelet have you always wanted? Design a customized gift for yourself or a loved one.
Donate jewelry to your favorite organization so it can sell it at one of its auctions. This will not only make you feel good since you will be helping to raise money for a charity, but can also get a tax receipt.
Sell your gold and silver jewelry pieces to a reputable dealer. You get some cash and prolong the lives of the pieces.
Add small pieces of bracelets and charms to decorate picture frames, lampshades, storage boxes, fan blades, chairs, etc.
Place vintage clip-on earrings on shoes, shirts or pants to add some glamour.
Create multi-strand bracelets with old gold or silver necklaces, or attach the chains to belts or shirts for a punk-rock look.
Give old necklaces a new feel and fresh look with different charms.
Slip unused rings onto a large safety pin and design your own brooch.
Pin various pieces of jewelry onto a coat, scarf, gloves or hat for some flair.
Glue random pieces of jewelry on to a corkboard, kitchen message board, school notebook, vases, flower pots, etc. You can never have too much bling!
Because there is no wrong way to reuse your old metal jewelry, it's impossible to run out of creative ways to repurpose these items. From simple home décor to wardrobe accessories, you can add shiny accents without worsening the harmful environmental effects of strip mining.