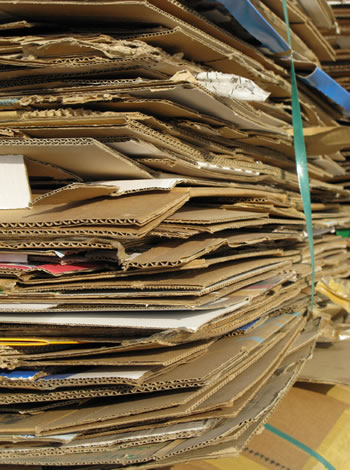 Cardboard shows up everywhere — in our offices, our homes and our schools. Corrugated cardboard is a necessary evil in packaging these days. Especially during the holiday season, boxes seem to be all around us. In our everyday lives, there is an abundance of thinner, shinier cardboard (called paperboard) used for cereal boxes, shoeboxes and the like. Luckily for us, cardboard and paperboard are very easy to recycle.
Recycling
According to the
EPA
, commercial organizations are producing a large amount of cardboard each year. Approximately 31.4 million tons of corrugated cardboard is thrown out each year, and 77% of boxes were recycled in 2008. The North Carolina Department of Environment, Health and Natural Resources developed a helpful
fact sheet
for organizations looking to efficiently reduce and recycle corrugated cardboard. It helps to break down boxes before tossing them in the recycling bin, but the most important thing to know about cardboard recycling is that if the cardboard gets contaminated with oil or water, recycling is much more difficult. If your cardboard is wet it can easily grow mold, which is not conducive to the recycling process.
What about the pizza box?
While recycling cardboard seems straightforward, there's some confusion as to whether pizza boxes are recyclable. If your pizza box is contaminated with oil, grease or remnants of your pizza, it should not be recycled, since grease and oil can harm the paper recycling process. Then what should you do? If the top of the box is clean, you can remove it for recycling and dispose of the soiled side. If only a square of the box is contaminated, cut out the greasy part and recycle the rest. Do you compost? The soiled portion can be composted, but keep in mind that too much grease in your compost pile can cause problems. For other things you shouldn't be recycling, head to
Do
Something
.
Reuse
If you have moving boxes, stash them in a closet instead of tossing them in the recycling bin. They could come in handy if you need to ship a gift to a friend. You can also list moving boxes on Craigslist or Facebook and pass them along to someone else who is preparing for a move. If you're looking for boxes for a move, talk to your local supermarket or department store. Many times, grocery stores will give customers empty boxes, and then once you're done, you can pass them along to someone else or properly recycle them.
Some other ideas: Cats love to play in old boxes, and kids can also create fun games with discarded boxes. Before you recycle them, let you're a little one build a spaceship and watch his or her imagination grow!