I love this time of year. The snow is falling, Christmas carols are playing, and gift giving is kicked into high gear. This year, I'm trying to be extra thoughtful about the gifts I give. Will the person receiving the gifts love them? Are they made responsibly? Can the giving of these gifts help the environment in any way? I've found some gifts for the crafty artist of any age that fits all the above criteria.
Let them show off their artist skills with these awesome art pads.
Tree-free banana paper art pad and coffee paper sketch pad
Ecopaper makes its tree-free paper from recycled agricultural waste, specifically waste from bananas, coffee and tobacco. Ecopaper's research and development department is also involved in studying new fibers from pineapple, orange and palm hearts. Visit
ecopaper.com
for more information.
When you give your tree-free art pad make sure the drawing implement you give is earth friendly, too.
Crazy Crayons
These 100% recycled crayons are hand-crafted, multi-color and solid-color crayons made from unwanted crayons collected by the National Crayon Recycle Program. As of November 2010, they've collected more than 57,000 pounds of unwanted crayons from schools, restaurants and many caring organizations across the U.S. They are "saving the earth, one crayon at a time."
Recycled newspaper pencils
TreeSmart has been making rolled-up recycled newspaper pencils since 1998. They begin with recycling newspapers and assemble all parts in the U.S.
More gift ideas to spark your artist's imagination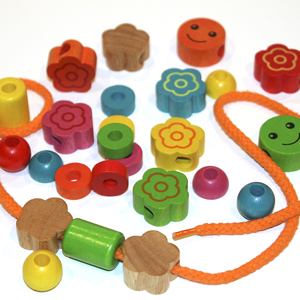 Beads for threading
These amazing, quality wooden bead sets are made from recycled rubber wood. With 59 varied-shaped beads in assorted colors and two cotton threading strings, your little artists will develop fine motor skills as they create colorful necklaces and garlands. Visit
Stubby Pencil Studio
for more information.
Recycled eco-felt — 26-color bundle
This environmentally friendly craft felt, Eco-fi (also known as Ecospun), is made from 100% recycled plastic bottles. Visit
Felt-o-rama
for more information.