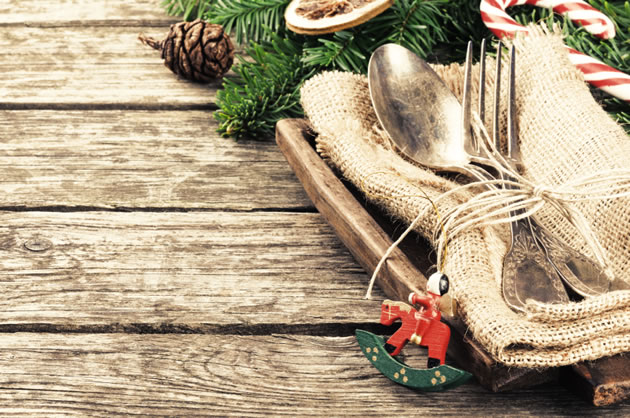 By this point, all of us eco-minded folks know how to reduce, reuse and recycle. During the holidays, waste can accumulate in the blink of an eye, from discarded wrapping paper to an abundance of leftovers sweets and casseroles. This holiday season, look for interesting ways beyond the obvious to bring out the green in your holiday dinner. Here are a few ideas to get you started.
Plan precisely
After most holiday dinners are finished, hosts beg guests to take something home. Instead of over-cooking and being left with an enormous amount of unwanted leftovers, carefully plan how much food will actually be eaten. Count the number of guests you expect and factor that into what your recipes yield. If none of the children touch green beans or salads, don't count on them to change their taste buds just because it's the holidays. Don't cook (or buy) more food than the party will consume. Instead of sending out paper invites, call your preferred guests on the phone, send an email or create an
Evite
for your event.
Think raw
Between Christmas lights, heating, cooking and blasting holiday music, this season becomes a monster energy consumer. When planning your holiday dinner, think of foods that allow you to skip the oven or stove top. In California, residents can choose delicious avocados year-round, so why not prepare a delicious guacamole that requires no energy usage (except your own elbow grease, of course). Fruit salads, trail mixes, salsas, hummus, tabbouleh, dips and puddings can add depth to your meal without draining more energy. Many websites have raw recipes, including
We Like It Raw
,
Raw Food Recipes
, and
Gone Raw
. (Not only are these good for the environment, but most of these recipes are also great for our health.)
Eat local, organic
Eating local is important because it reduces the food's transport, and therefore reduces the carbon footprint of our inevitable eating. Eating organic means that your food was not grown with harsh chemicals, and your meat (when it was a grazing, living animal) was not given growth hormones routinely. (You can read more about the U.S Department of Agriculture's
National Organic Program
for a more complete explanation of organic certifications.) If you're lucky enough to live in a city with a farmers market that lasts all year, take advantage of the in-season goodies that the farmers offer to residents. If you don't have access to a farmers market, look for organic produce and foods in your grocery store. Visit
Local Harvest
to find a farmers market, co-op, CSA or farm near you.
Decorations
Send the kids into the wild to gather pinecones and acorns for a naturally occurring, free and biodegradable centerpiece. Use candy canes as decorations that guests can eat or take home. Let the kids decorate a gingerbread house (or do it yourself for some old-fashioned fun), and use the house as an edible centerpiece. As far as plates and utensils go, opt for real, reusable plates and silverware, cloth napkins and reusable glasses. Resist the urge to buy paper plates just because of the glamor of an easy clean-up.
Compost the rest
Leftovers are hard to avoid around the holidays. If you don't have a compost bin, ask your friends if you can save your scraps and leftovers for composting in their bins. Use the
ZIP code search at Find a Composter
to locate a facility that accepts organic waste in your area.