In the course of one single day, a sizable amount of metal passes through the typical consumer's hands before being dismissed along with piles of other inappropriately disposed items in the garbage can. Things like beverage and food cans as well as the aluminum foil covering Sunday's lasagna and the metal plate your frozen chicken pot pie came in are all perfectly recyclable, and yet they rarely achieve reincarnated status simply because consumers just don't
know
(or perhaps they're too busy to care). A tsk-ing finger rarely inspires people to turn over a new recycling leaf, nor does poring through a long list of reasons why we're inadvertently trashing the planet. Instead, how about taking a walk through the artistic world of those who are committed to showcasing recycled metals in their unique creations? Since inspiration comes in all shapes, colors and sizes, perhaps these remarkable reclamation examples will serve as the impetus for your very own household recycling revolution!
Metal food cans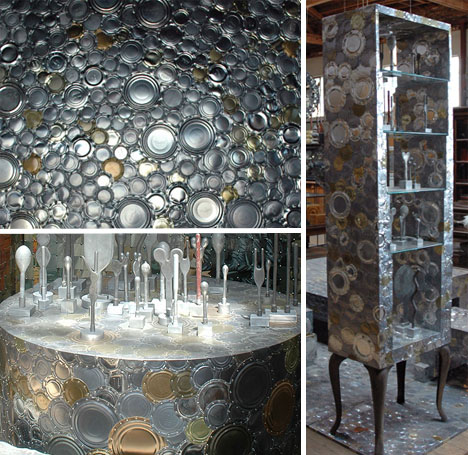 These 200+-year-old workhorses enable us to enjoy fruits and vegetables long after they're plucked from the vine or tree, not to mention myriad convenience foods and edible mealtime staples. Despite the
unfortunate incorporation of BPA
in the epoxy resin liner, food and beverage containers made with steel are regarded as extremely eco-friendly since they are infinitely recyclable. Still, you wouldn't think that the lids could be transformed into wall panels, mirror frames or tables, but
Clare Graham
proves that if you can conceive it, you can certainly achieve it! Her hammered metal lid "tapestries" offer a textural wave of easy-on-the-eyes yet highly functional eco-décor courtesy of varying-sized can tops.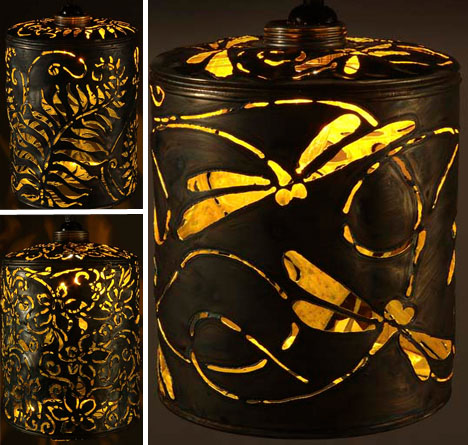 Gina Nash happens to be
partial to the whole can
rather than just the lid, fashioning the reclaimed metal into hand-cut garden lamps that add a dash of whimsy to one's surroundings.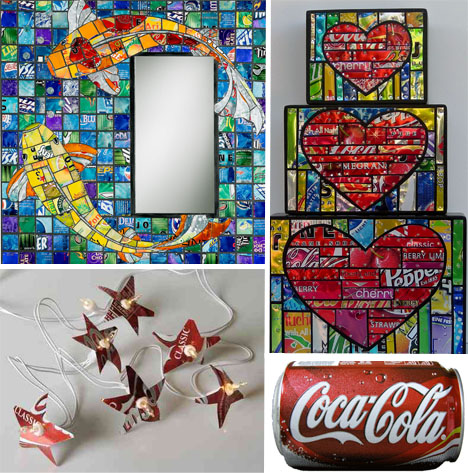 Soda can fragments take on new vibrant life in Jill Helms'
colorful mosaic mirrors
, a theme that is echoed in an equally fetching yet distinctively unique way through Kathy Cano-Murillo's recycled soda can
star-shaped light strings
. This concept is adapted repeatedly all over the Internet, whether for
Christmas tree ornaments
,
bracelet cuffs
,
baseball caps
or
briefcases
, so seek and ye shall find!
Assorted bits of scrap metal
"Oh, it's just a small bit of metal… " we tell ourselves while dropping the foil surrounding a Reese's Peanut Butter Cup or Hershey's Kiss into the closest garbage can. "No big deal," we quietly justify while chucking aluminum soda pull tops and metal beer caps. Like raindrops, however, those little scraps eventually add up over time.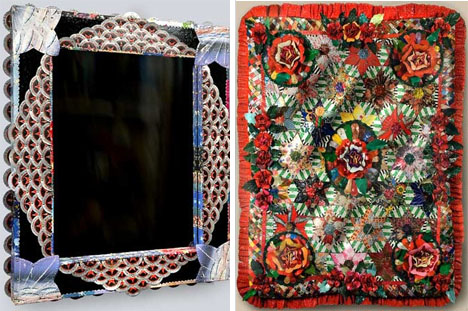 If you're skeptical, just gaze at this seemingly
undulating wall drapery
by Brahim El Anatsui featuring hundreds upon hundreds of flattened bottle caps sewn together, or Kathleen O'Neil's
impressive metal quilt
made with countless nailed tin scraps. Her equally outstanding
San Pellegrino bottle cap mirror frame
is also worth note, rivaling that of Rick Ladd's
stunning bottle cap furniture
.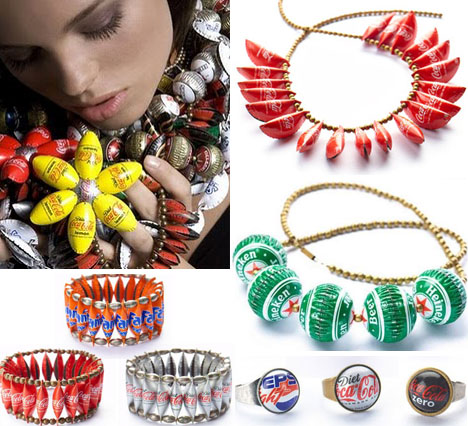 Yoav Kotik takes discarded beverage bottle caps in a decidedly unique direction — giving them a
fashion-forward treatment
— but if you're drawn to more family-friendly craft ideas, metal beverage tops can be easily transformed into
miniature holiday card frames
as well as
decorative flowers
and
psychedelic refrigerator magnets
, too.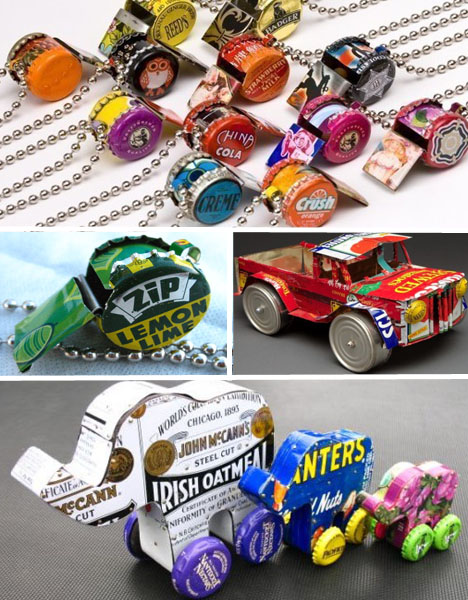 Complete sheets of metal plucked directly from food cans and beverage containers serve as Loran Scruggs'
main artistic medium
for a wide variety of perky, cheerful toys, whistles and keepsakes. If you
look closely at the façade
of this Seoul restaurant, you can see that its motley mix of recycled metal shingles share a lot more in common with Scruggs' technique than one might imagine.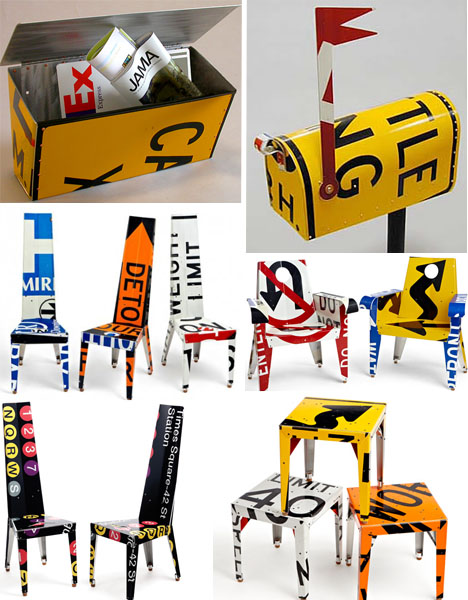 Not to be forgotten, Boris Bally puts an unexpected shine on
old aluminum road signs
with his inventive collection of furniture, household objects d'arte and fashion accessories, as does Aaron Foster with his equally fetching
recycled license plate
wall art, maps, jewelry and mailboxes. Rather than perceiving them as a waste product, post-consumer metal containers,
closures
and
bits of foil
deserve a second look through green lenses. If your recycling and repurposing appetite is now thoroughly satiated, be sure to explore online DIY archives offered via
Instructables
and
Craftzine
for further eco-illumination and step-by-step tutorials.