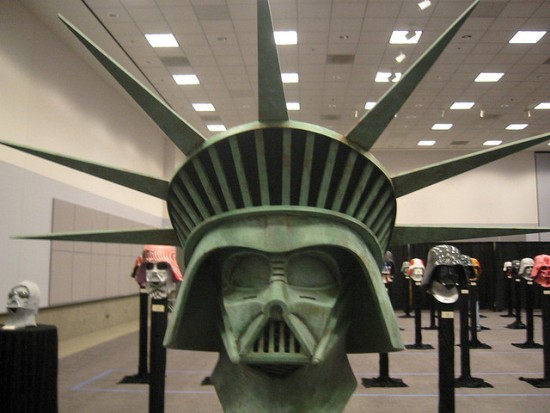 Image: Official Star Wars Blog
Darth Vader, one of the best known and most recognizable, er, faces of the
Star Wars
universe, is referred to whenever a benchmark is needed for evilness. When thinking of the Dark Lord, attributes like cuteness, cuddliness and adorableness definitely do not come to mind. However, when looking at some of the recycled Vaders below, one might think otherwise. For fans, rest assured that some of the Darth Vader reincarnations below are awfully evil as well (in their own special way!).
10) E-Vader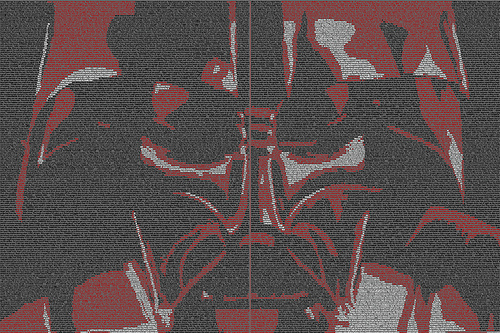 Image: David Johns, used with permission
This Darth Vader closeup was created by fan and musician
David Johns
aka
Milo Firewater
. It is made up of the entire original script from
Star Wars: A New Hope
(1977), recolored so viewers can make out the face of the Dark Lord of the Sith. To see the actual words, click on the link to David's website. However, you don't really need to read between the lines to figure out that Darth is a villain par excellence.
9) Iron Vader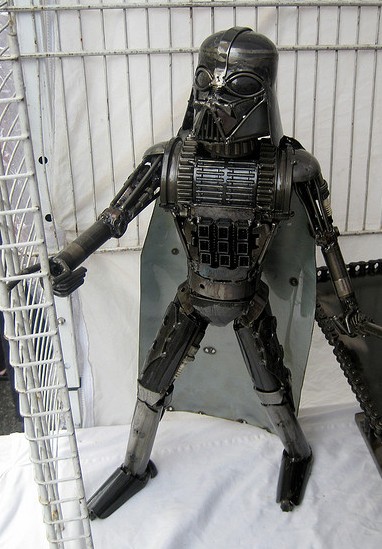 Image: Wally Gobetz
This Darth Vader sculpture features some truly amazing detail. It was made from old motorcycle parts and scrap metal and is sold by New York-based store The Metal Park. The store specializes not only in
Star Wars
replicas, but also in pieces inspired by other movies, such as
Predator
,
Alien
,
Terminator
and
Batman
. Each piece is ARC welded, polished with wire brush and coated with lacquer to protect it from rusting.
8) Brick Vader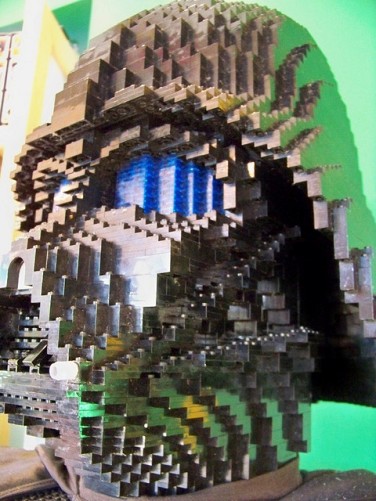 Image: Loren Javier
This Lego Darth certainly isn't an off-the-shelf set. In fact, it looks more like it was constructed by the workers at a theme park — in any case, folks who must have put in some seriously hard work to create such a magnificent creation. Indeed, if you've got some old Legos knocking around you could always find a new use for them by building your own. It's a shame you can't buy this piece in stores. It would have been a hit!
7) Barbie Vader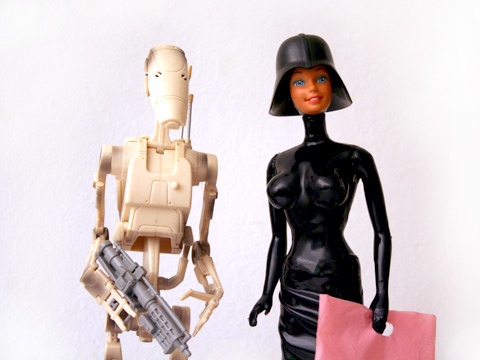 Image: DirkLoop
Die-hard Darth fans may want to skip the next reincarnation. Never shy to add one more 'professions' to her existing 118, it's Darth Vader Barbie, complete with helmet and latex outfit. She's off shopping of course with her, er, friend. We did warn you not to look…
6) Yarn Vader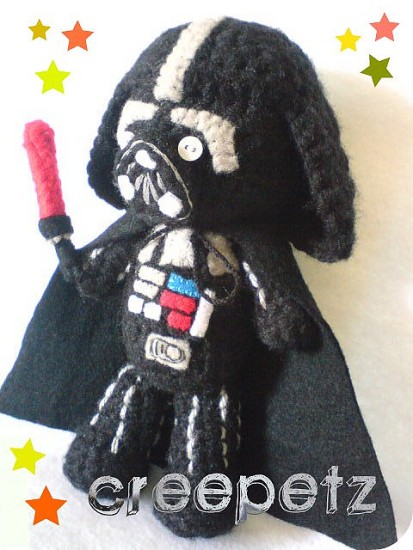 Image: Creepetz
As we've noted, cuteness is not something that usually comes to mind when thinking of Darth Vader. However, we dare you to look at this crocheted version by Creepetz and not exclaim, "It's so cute!" much less think it. Check out
Christiana's blog
; she has a crocheted version of Yoda and Spider-Man, too!
5) Multiple Personality Vader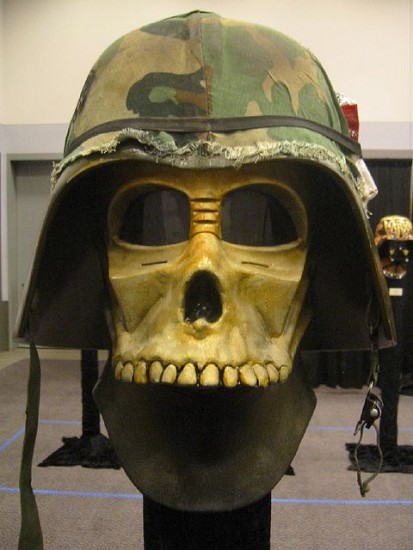 Image: Official Star Wars Blog
The Vader Project is a haven for Darth Vader fans — or maybe not? The display was first exhibited at the 2007
Star Wars
Convention in Los Angeles, two years after the conception of the idea. Exactly 100 artists have let their creative juices flow and each has recreated Darth Vader's trademark helmet according to their own interpretation — some close to the original, some far from it. Some have even used recycled materials, like artist Alex Pardee, whose work is seen above. Don't miss the cigarette pack tucked the band on G.I. Vader's recycled camo-helmet! Since the first exhibition, the 100 helmets have toured the world.
4) Halloween Vader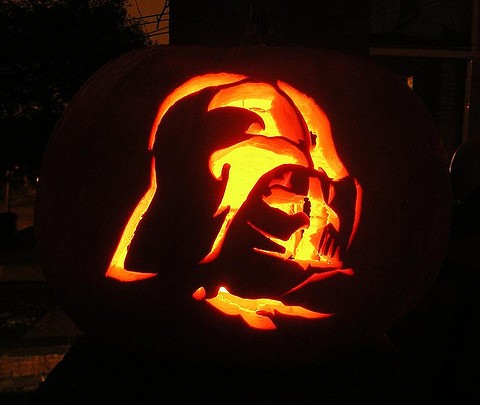 Image: Jim Reynolds
From sand to another natural material: pumpkins! This Darth Vader carved into a pumpkin (with the help of a stencil) is simply amazing, especially when lit up. We're surprised it didn't feature in any of the movies…
3) iVader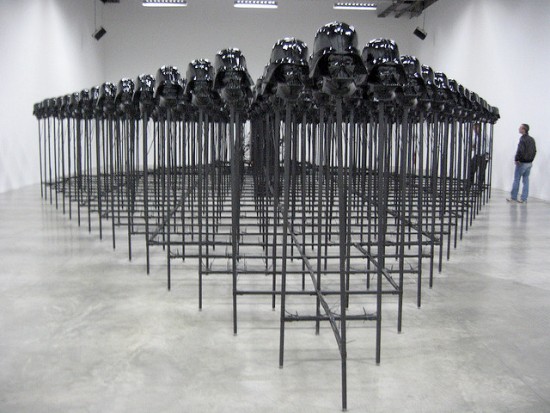 Image: Nadya Peek
Artists Fabien Giraud and Raphaël Siboni were, quite simply, inspired by Darth Vader's stern visage. Their installation "Last Manoeuvres in the Dark" is comprised of 300 terracotta Darth Vader masks attached to metal stakes, which form an orderly yet quite creepy grid. While this piece, like the Vader Project, isn't made from entirely recycled materials, it certainly is a creative repurposing of the iconic form dreamed up by the creators of the
Star Wars
saga. The resemblance to a troop formation is surely no coincidence, either; however, this reimagining makes music as well. Each mask is connected to a (black) computer in the background whose software is programmed to search for and play the "darkest song ever." The underlying musical choices for that? Anything from classical to heavy metal. You can hear a depressing
sample
here.
2) DIY Vader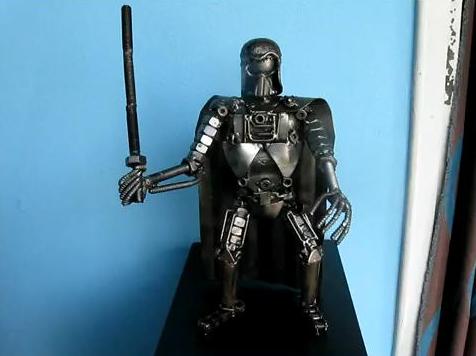 Image via YouTube
In Thailand, Artist Eytan created this Darth Vader sculpture out of recycled screws, nuts, bolts and scrap pieces of metal. The whole statue is about 15.7 inches tall and weighs about 5.5 pounds.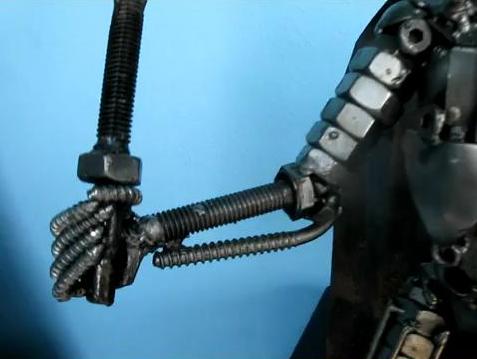 Image via YouTube
We love the creative use of bicycle chains for the feet and ribs: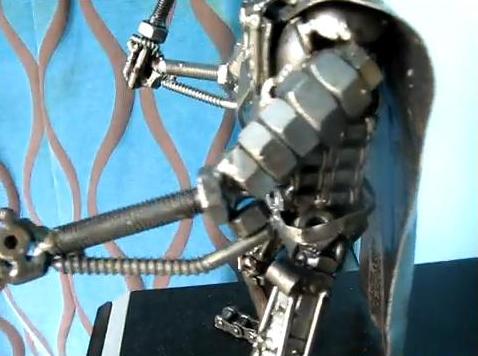 Image via YouTube
1) In-Vader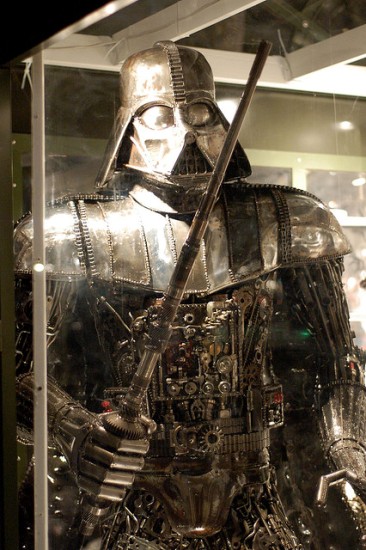 Image: Tim Pierce
This is another entry that comes courtesy of The Metal Park. All the store's sculptures are made by 12 artists in Thailand who use scrap metal parts from local junkyards, many of them old car parts. Though this method is definitely green, the Metal Park sculptures are not cheap: the life-size Darth Vader shown here weighs 800 pounds and costs $7,000. However, the store apparently sells one every holiday season, and it is positively awesome! With a bit of patience, luck and a bright idea, it is possible to create even Darth Vader from repurposed materials. May the recycling force be with you!
Sources: 1, 2, 3