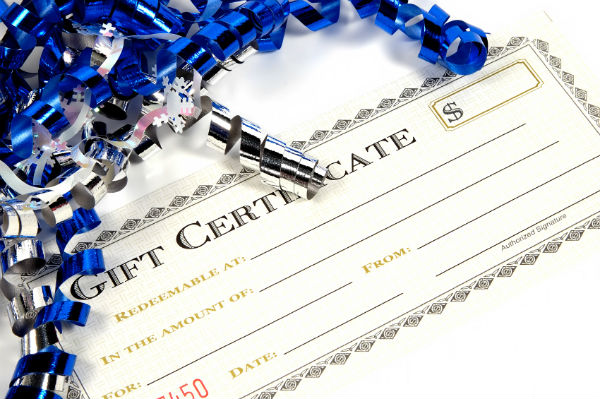 Whether you celebrate Christmas, Hanukkah or Kwanzaa, this is the season for celebration throughout the world. People are full of goodwill, good cheer and more garbage. According to the Use Less Stuff Report, Americans throw away 25% more trash during the Thanksgiving-to-New Year's holiday period than any other time of year. This extra waste amounts to 25 million tons of garbage, or about 1 million extra tons of garbage per week. Part of the waste created is the packaging and wrapping of presents. One way to treat the planet and reduce your waste this year is to give the gift of an experience. Here are some ideas to get you started.
Tickets
Concert tickets
Theater tickets — either for a theatrical production or a showing at your local movie theater
Sporting event tickets
Museum tickets
Gift certificates
Spa or salon
Retail or book store
Local restaurant or coffee shop
Make your own — a busy mom might welcome a coupon for babysitting, while dad may like a coupon for snow shoveling, etc.
Make a donation in his or her name
A favorite charity
A meaningful organization like Healthy Child Healthy World or the National Wildlife Federation
Other sustainable tips to keep in mind
Buy gifts that are durable. Things that break easily will just end up in the garbage.
Whenever possible, avoid buying presents that have disposable parts, including batteries. Always look for alternatives, like a coffeemaker that uses a washable filter rather than throwaway paper ones, or a wind-up/solar-powered radio. If batteries are unavoidable, make sure to buy rechargeable batteries.
Buy recycled. Look for gifts made from recycled materials, such as jewelry, glass tableware or stationery.
Purchase gifts that are environmentally friendly or produced in a sustainable way and keep an eye out for fair trade alternatives.
And one more thing to keep in mind this holiday season: If every family reused just 2 feet of holiday ribbon, the 38,000 miles of ribbon saved could tie a bow around the entire planet.