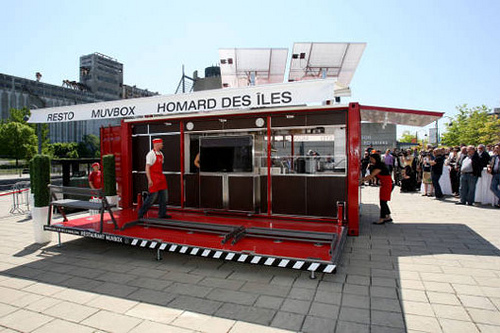 Image: jingdianjiaju
The practice of recycling shipping containers is on the rise, and thankfully so, as they make beautiful homes, offices and restaurants. With sturdy exteriors and steel frames that are easy to modify, containers lend themselves perfectly to housing restaurants. Easy to move, sleek and stylish, one-container restaurant models are becoming more popular around the world — especially for takeout or a quick bite while standing. See for yourself.
7. MuvBox, Montréal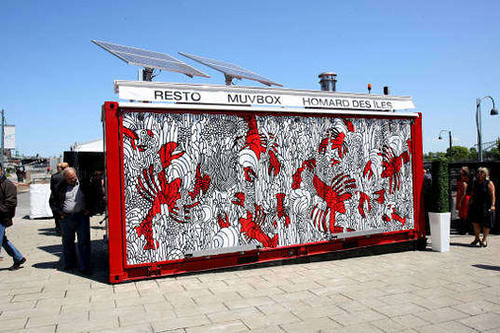 Even stylish when it is closed, with its cool seafood-themed graffiti façade. Image: jingdianjiaju
Made from just one old shipping container and powered by solar energy, Montréal's MuvBox is the coolest thing in takeout since the invention of the corn dog. According to its self-description, "this restaurant unfolds with the smooth ease of a spaceship in a mere 90 seconds." Very futuristic. We could picture it in New York, London, Tokyo and on Mars as well. Here's a sequence of how the snack magic unfolds — literally.
At the touch of a button, the magic unfolds: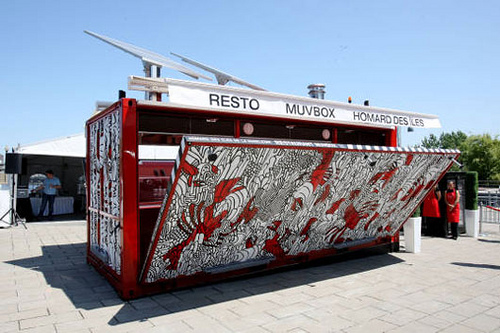 Image: jingdianjiaju
The side view is very futuristic: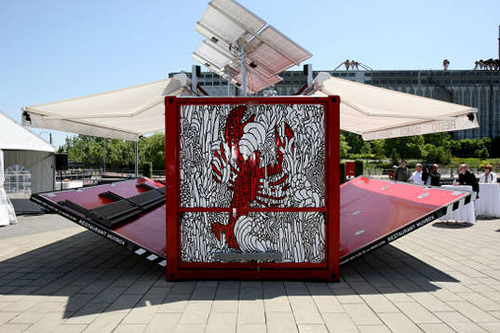 Image: jingdianjiaju
Done!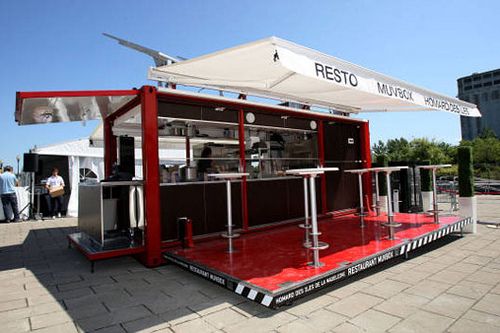 Image: jingdianjiaju
Now what would you like?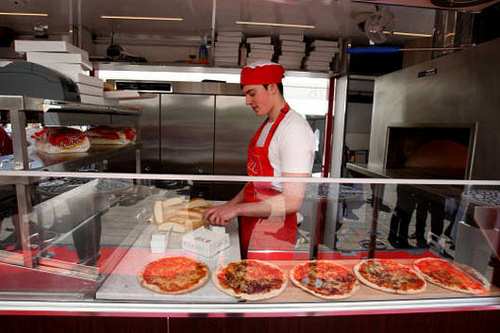 Image: jingdianjiaju
Or, if you like moving images, here's a video with a statement by Daniel Noiseux, owner and designer of the Muvbox:
With its ability to transform, we can definitely see this design innovation catching on and transforming other cities around the world. Some seriously tasty recycling! 6. Subway in the Sky, Freedom Tower, New York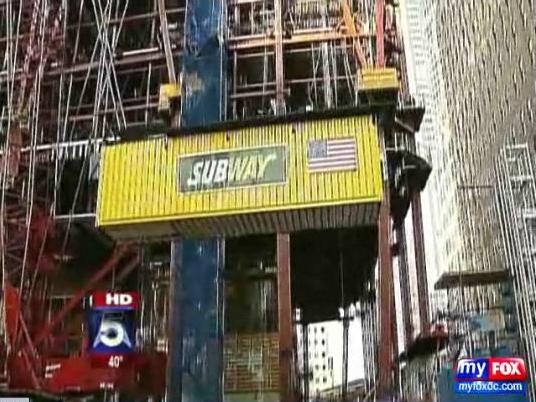 Image via Inhabitat
Subway restaurant opened one of its stores in the yet unfinished Freedom Tower in New York, making it the first high-rise deli that grows with the building it is contained within. It's a shipping container that will move up, floor by floor, as the tower gets constructed. To save workers the long trip down in their lunch break (up to half an hour in the construction elevator as the tower grows), lunch will come to them.
5. Container Café, Milton Keynes, U.K.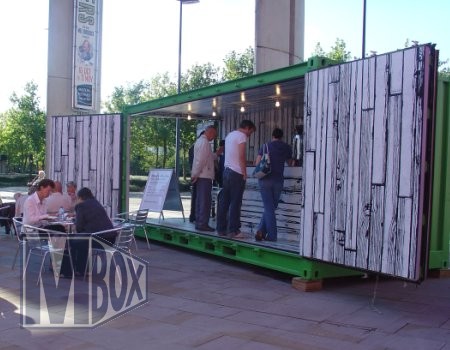 Image: Mr Box, used with permission
This cool container café in Milton Keynes got its special something from designer Richard Woods, who hand painted the mock timber pattern in black and white on the inside.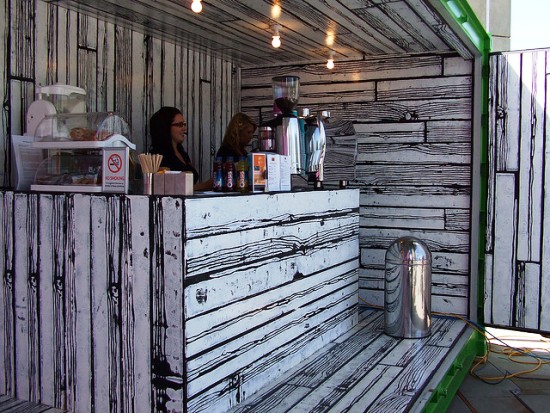 Image: Denna Jones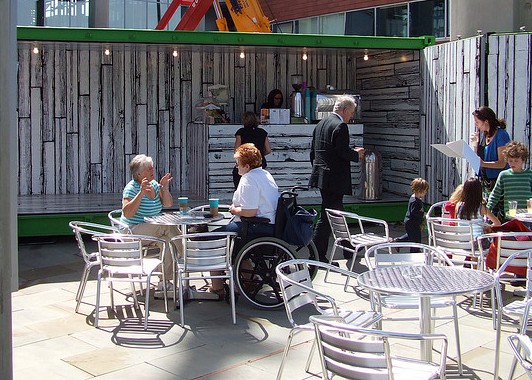 Image: Denna Jones
Storage container company Mr Box supplied the lime green container, which was converted into the coffee bar for the town's 40th anniversary celebration.
4. Beitang Container Restaurant Project, Tianjin, China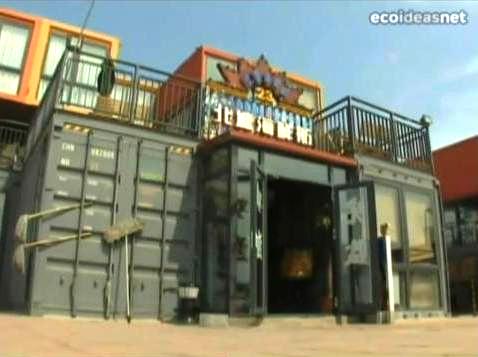 Image via YouTube
This seafood restaurant in Tianjin, China, was also built using old shipping containers. In fact, it is part of the Beitang Container Project, a haven for seafood lovers. All the restaurants here are housed in repurposed shipping containers. Some of them are huge, using various containers whose roofs provide ample seating.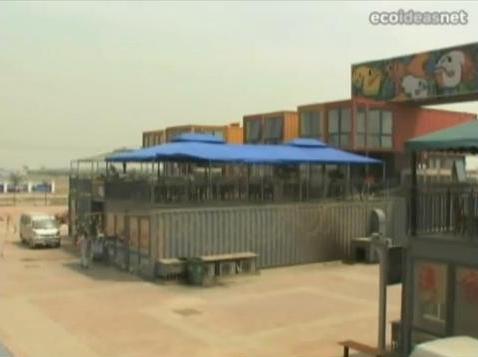 Image via YouTube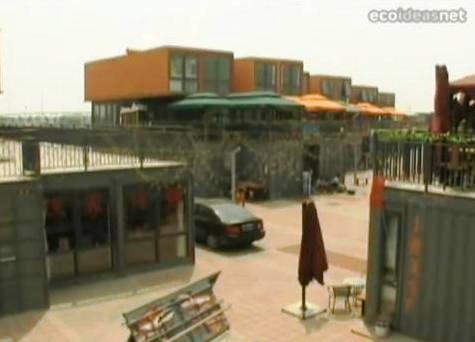 Image via YouTube
The charm of the Beitang container restaurants lies in the fact that they have been used as they are. They have been spruced up with inviting glass fronts, roof seating and staircases, but this doesn't hide the container walls or even the old shipping codes.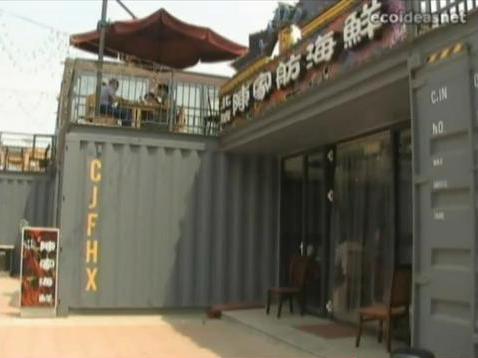 Image via YouTube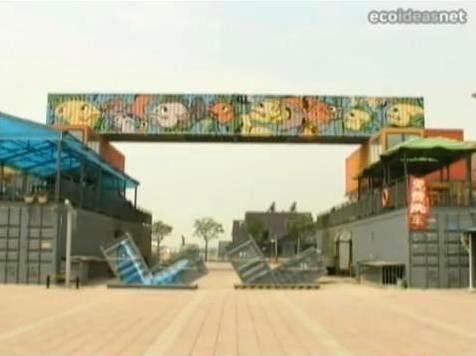 Image via YouTube
The Container Project is so popular, tourists come from as far away as Beijing (about a two-hour drive) to visit!
3. Café Froebe, Linz, Austria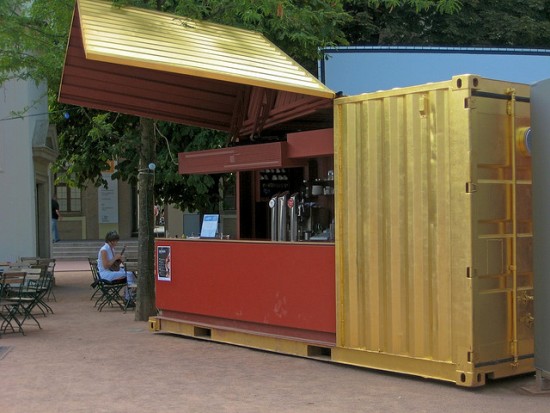 Image: Renzo Giusti
Similar to the MuvBox pictured above, Café Froebe in Linz, Austria, opens up at the touch of a button. Designer Andreas Strauss took an old, 20-foot shipping container from China and heavily upcycled it using gold plating. Focused on serving beverages, the interior consists of a long bar, some beer taps, a place to wash glasses, a back counter, storage and a cooler. The way the sides of the café turn into a roof is quite something. If you want to check it out for yourself, the café is just outside the popular OK Center in the center of Linz.
2. Imbiss, Germany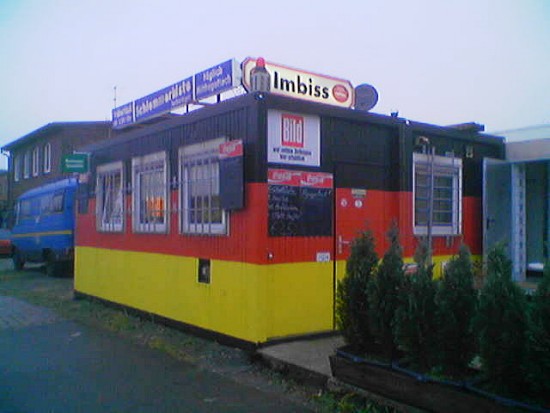 Image: flibflob
This "Imbissbude," the German equivalent of a snack stop, is made out of two old shipping containers. Though the bright colors make up for the dreary weather, the heavily grilled windows are not so cozy. Are they meant to keep patrons in or out we wonder? Unfortunately, we don't know much more about this patriotic container restaurant other than that it is located somewhere in Germany. Still, you can't deny it's a sweet piece of repurposing.
1. Underground Restaurant, Sydney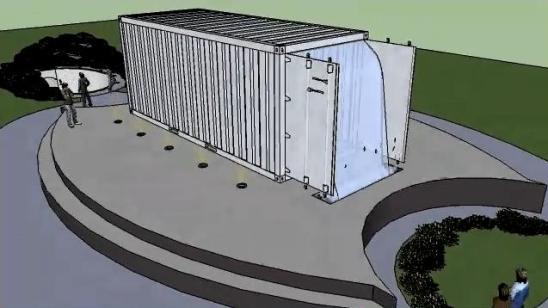 Image via YouTube
At the Barangaroo harborfront in Sydney, one of the biggest greening projects in the world is underway. The plan is to transform the currently vacant 22-hectare industrial area into a "thriving community, residential and commercial heart." This includes a proposed underground container restaurant with lots of greenery and stunning views. Here's a preview of the project:
Used shipping containers can be bought for as little as $1,200, or $6,000 for a brand new one. No wonder they are becoming increasingly popular when it comes to housing and other uses. Given that up to 12 can be stacked on top of each other, maybe we'll see the first shipping container high rise or mall soon. We'll keep you posted. Sources: 1, 2, 3, 4, 5, 6