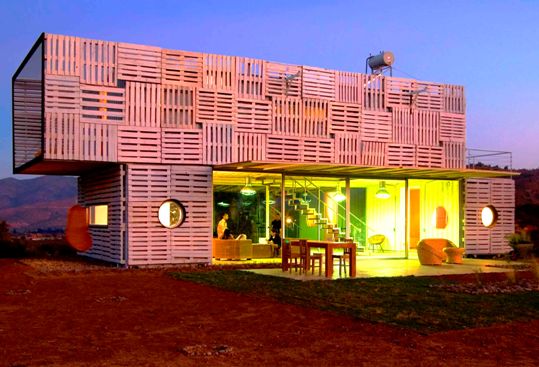 The house at night. Image: © Infiniski, used with permission
Who would have thought that humble objects like wooden shipping pallets and beer crates could be turned into green energy and cost-effective building materials?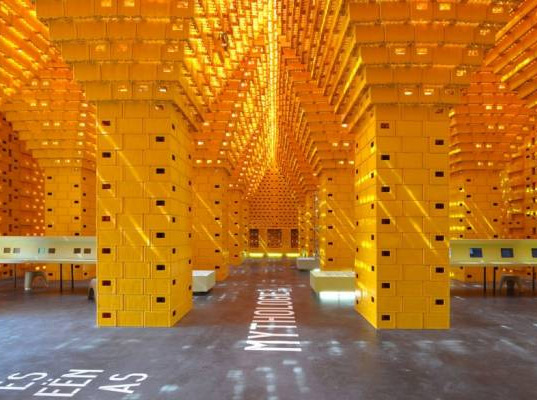 Image: SHSH, used with permission
Here are seven examples that show that they really can be. Read on to find out more. This is upcycling at its best!
7) Crate House, Castleford, U.K.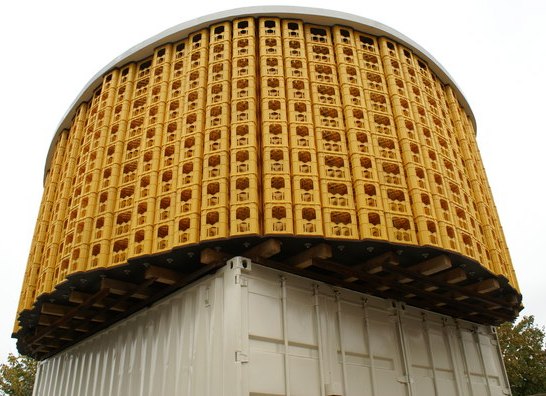 Image: John Sinyard
This crate house was built in Castleford, U.K., by German artists Wolfgang Winter and Berthold Hörbelt as a light-filled artistic sculpture. It was made solely from bottle crates and hoisted on top of shipping containers. It can be found at the bottom of Sagar Street in Castleford's city center. From the containers on the ground floor, a spiral staircase leads up to the crate floor.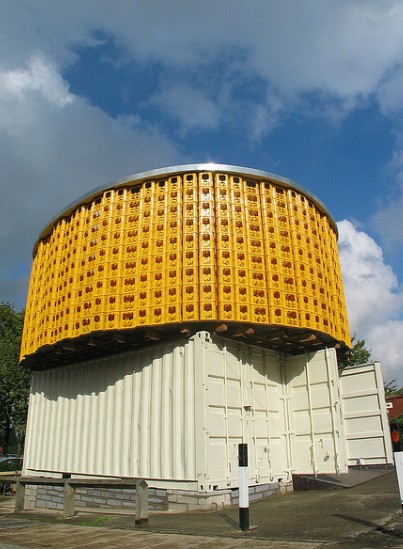 Image: David Barrie
Talking about the idea behind the Crate House, the artists say: "One of our first ideas was to change a little this kind of architecture to create maybe a functional pavilion, with sculptural and architectural qualities as a semi-public space, where people can stay together in a pleasant way and have fun together!"
6) Boxel Pavilion, Detmold, Germany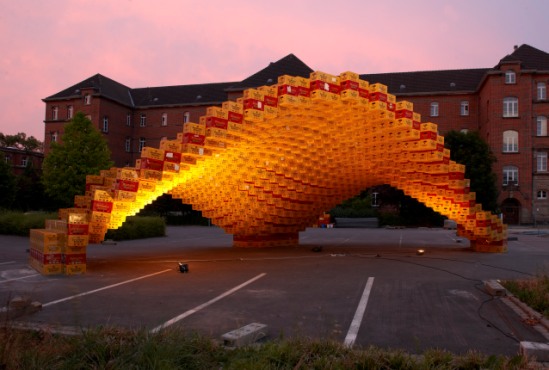 Image: Hochschule OWL, used with permission
Architecture students of the University of Applied Sciences in Detmold, Germany, created a final project of a special type. Asked to design a summer pavilion for the university that was as much a sculpture as a practical space for on-campus concerts, events, presentations and gatherings, the students realized the design as a mock-up in 1:1 scale using only recycled beer crates.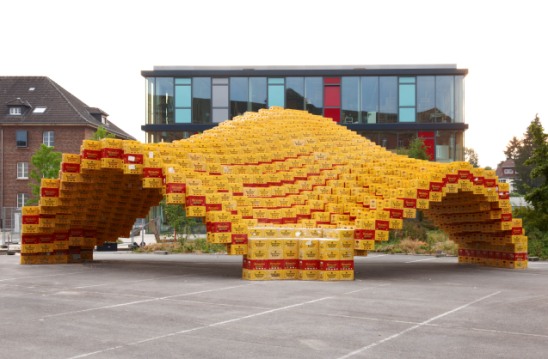 Image: Hochschule OWL, used with permission
Using special software, a temporary construction was designed that was important for checking the geometrical position of all boxes and making sure the overall structure would hold. What might look quite simple to the layperson actually involved a whole lot of logistics — not the least in getting hold of all the empty beer crates! Below is a detailed view, showing the many yellow and red "Detmolder Pilsner" beer crates the arch is made of.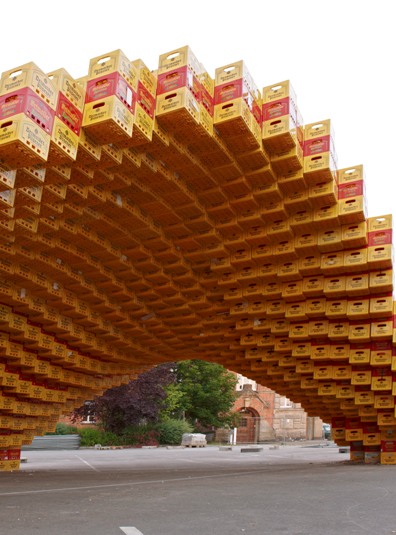 Image: Hochschule OWL, used with permission
The 2,000 beer crates were supplied by a local brewery, which had already used them for 10 years and has since taken them back into rotation after the pavilion was dismantled. The design was the brainchild of student Henri Schweynoch, the winner of an internal competition. Boxel was ultimately built in only one week by the eager students, under the guidance of Professor Marco Hemmerling, who led the digital design course.
5) Living Pavilion, Governor's Island, New York City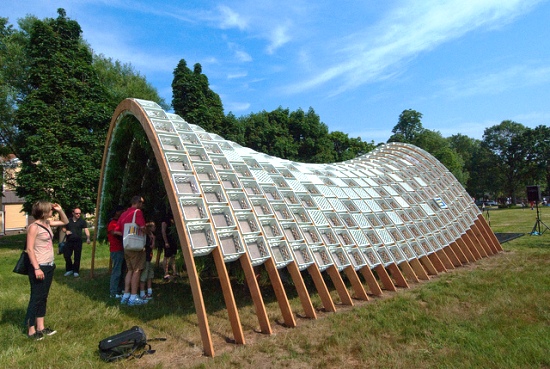 Image: Benjamin Chun
Designers Ann Ha and Behrang Behin went a step further. They not only recycled old milk crates into a pavilion structure, but also greened it, using the crates as a growing surface for an edible garden. The two designers won the first annual City of Dreams Pavilion competition in 2010 with their "Living Pavilion" project, which is part of the eco-renovations set to soon begin on New York City's Governor's Island.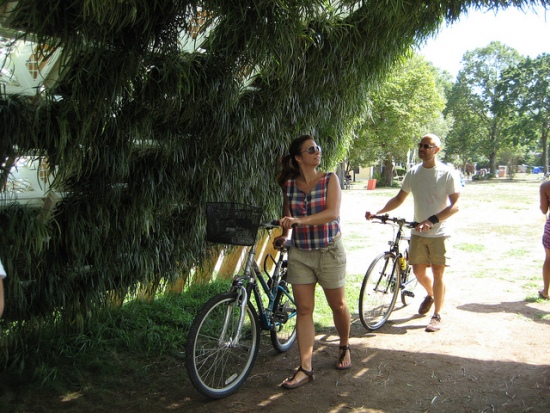 Image: Jessica Sheridan
The 10-foot-tall, low-tech, zero-impact structure is shaped like a wave to allow for various angles of solar exposure, thus providing the right amounts of sunlight and shade to a variety of plants and vegetables.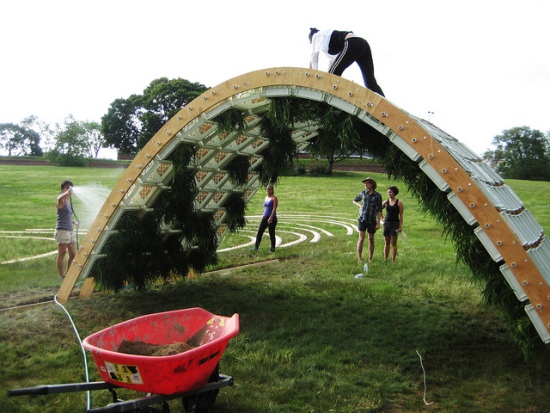 Image: Jessica Sheridan
The pavilion was up until October 3, 2010, and visitors were invited to take shelter from the elements (and maybe pluck a tomato) while enjoying it as an arts and performance space as well.
4) Pavillon du Bonheur Provisoire, Brussels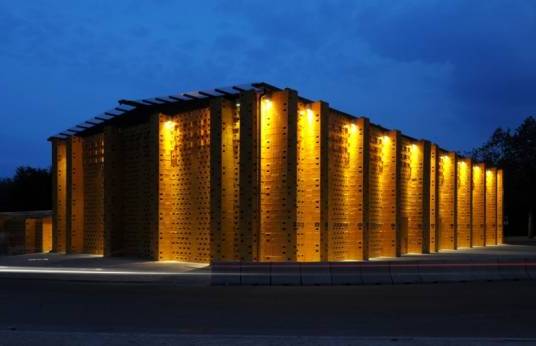 Image: SHSH, used with permission
The Pavillon du Bonheur Provisoire, or Pavilion of Temporary Happiness, was a project completed in 2008 to celebrate the 50th anniversary of the 1958 Universal World Exhibition in Brussels. It was located opposite the famous Atomium, which was built for the original event.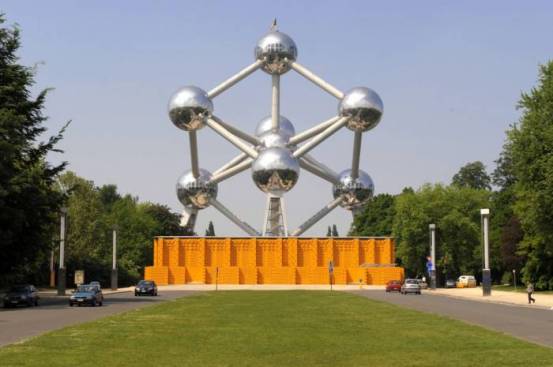 Image: SHSH, used with permission
Shin Hagiwara, of Shin Bogdan Hagiwara & Shizuka Hariu Architecture + Scenography (SHSH), the then director of "V+ Bureau Vers plus de bien-être", designed the pavilion together with his two partners, Thierry Decuypere and Jorn Bihain. According to the designers, "Understanding that the sense of the temporary can only be truly successful when it is free of waste. The pavilion is built using an usual and ephemeral component which after the event returns to its normal daily use."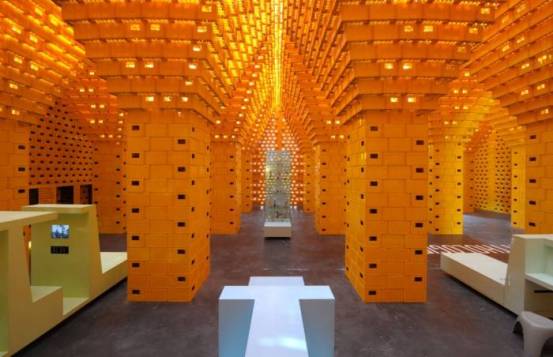 Image: SHSH, used with permission
In other words, the pavilion was inspired by the reusable nature of the beer crates — and perhaps by the temporary happiness offered by their former contents. Everyday consumer items like beer creates not only combine the constructive principles of universality and reusability, but, used as bricks, are also "deployed beyond their individual characteristics." Here, the strict geometrical form and symmetry of the 33,000 beer crates creates the impression of a church or other sacred space — perhaps a temple of consumerism.
3) Pallet House, Venice, Linz, Vienna, Grenoble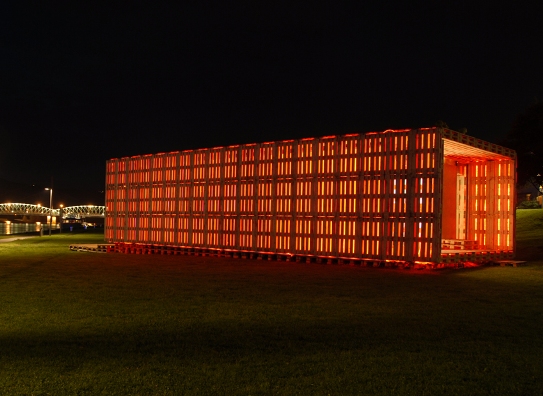 Image: SPa(r), used with permission
As its name suggests, the Pallet House is made up of recycled shipping pallets. It was the brainchild of Austrian architects Andreas Claus Schnetzer and Gregor Pils of SPa(r), with the idea to create a sustainable design that would work in many cities and parts of the world.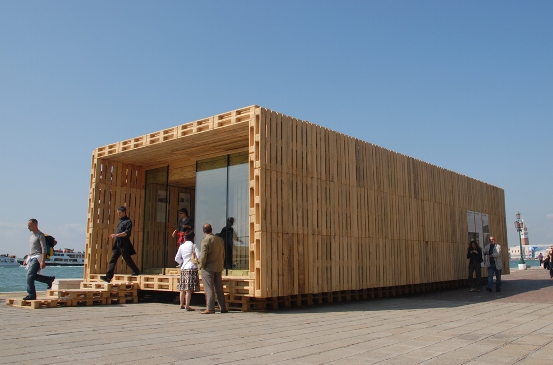 Image: SPa(r), used with permission
Because of the ready availability of shipping pallets all over the globe, the Pallet House is as flexible as a prefab house and can be located anywhere. Even on the inside, everything is made of pallets.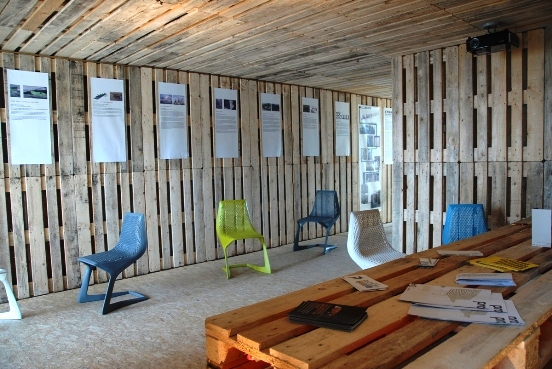 Image: SPa(r), used with permission
Apart from being energy efficient, at $11 per square foot, this home is also very affordable, and could be an answer to the problem of providing a global low-income housing solution. It has so far been used as a gallery and office space, but also as a home.
2) Slumtube, Johannesburg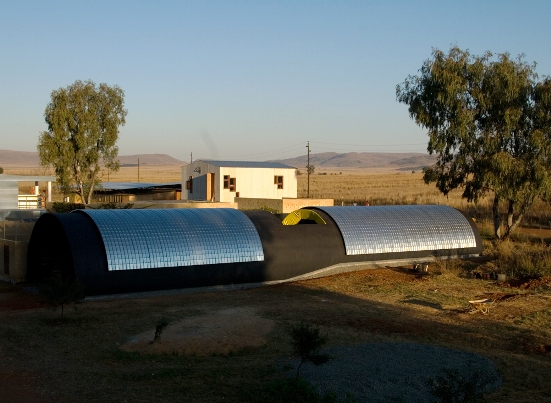 Image: SPa(r), used with permission
Slumtube is another project by architects Andreas Claus Schnetzer and Gregor Pils.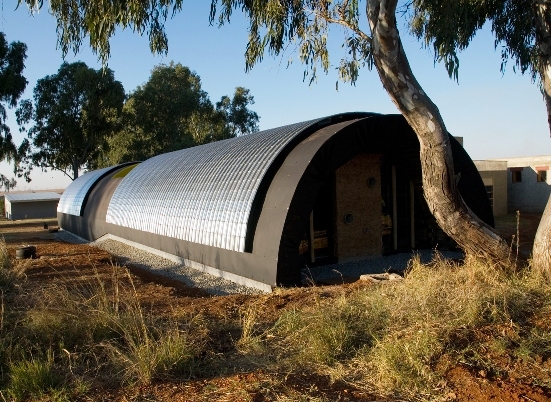 Image: SPa(r), used with permission
Located in Johannesburg, the project reuses old shipping pallets and combines them with other local building materials like clay and straw in order to create well-insulated, affordable homes that can withstand Johannesburg's extreme temperatures of up to 113º F in summer and as low as 28º in winter.
Image: SPa(r), used with permission
Cutting out most of the useful yet costly sturdy wood beams of previous pallet projects, Schnetzer and Pils came up with the building's half-round design, thus making the project much more affordable.
1) Shipping Container House, Huis 185, Chile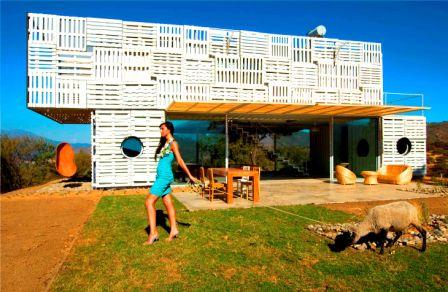 Image: © Infiniski, used with permission
Never has a house designed from old shipping crates been so beautiful, especially at night (see top picture). This shipping crate house, built in 2009 over 160 m
2
plus two terraces, is indeed the manifestation of building in an eco-friendly way with recycled, reused and nonpolluting materials and the integration of alternative and renewable energy — all principles important to its architects, James & Mau, founders and chief architects of Infiniski.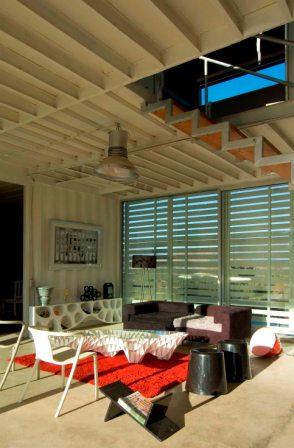 Image: © Infiniski, used with permission
For this project in Curacaví, Chile, Jaime Gaztelu and Mauricio Galeano used a prefabricated and modular design that allowed for a cheaper and faster construction method. Indeed, Huis 185 was constructed in only 90 days from three recycled shipping containers and recycled wooden pallets that insulate the house in a special way. The architects explain: "The pallets can open themselves in winter to allow the sun to heat the metal surface of the container walls and close themselves in summer to protect the house from the heat." It's an ingenious concept called "Form follows Energy."
Image: © Infiniski, used with permission
Whether temporary or permanent, and built for private or public use, recycled crate houses are among the top green building options for the future. As these seven examples have shown, designs are simple yet beautiful, and constant improvements will guarantee that crate constructions become even more energy efficient and cost effective. We'll never look at an old beer crate in quite the same way again.
Sources: 1, 2, 3, 4, 5, 6, 7, 8