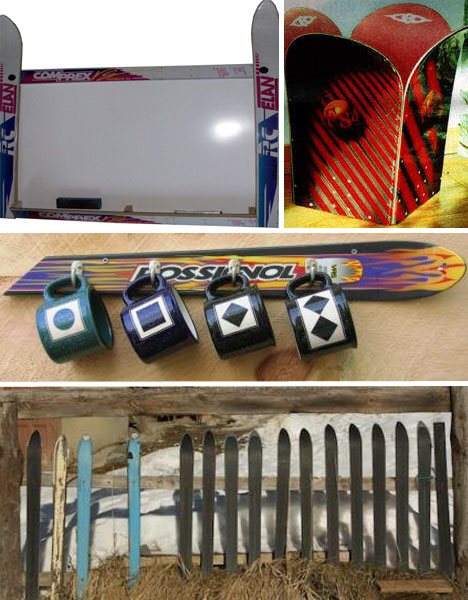 You know that all sorts of new things can be created just by sorting through waste materials and strategically applying a bit of glue, thread or screws… don't you? Sure you do. That's why you're a regular 1-800-RECYCLING reader. Regardless of the actual binding material used, the one common denominator of post-consumer garbage — whether fabric, paper, glass, metal, plastic or wood — is that it can be reborn into an amazing array of objects that look like they just came off the factory floor. Why should old skis and snowboards be any different? It's a good thing, too, because neither has a long life expectancy. Wood-core skis, for example, are typically projected to last around
100 days with proper maintenance
(
as are snowboards
), whereas skis with foam-injected cores that soften under increased use really do live fast and die young at roughly 30 days. Snow sport enthusiasts know that regardless of the mode used to glide down the slopes, a very
complex array of materials
are used to craft skis and snowboards. So elaborate, in fact, that recycling the actual equipment by breaking it down proves to be rather challenging. That's because alternating layers of fiberglass, metal and titanium laminates often rub against wood or foam cores, each secured with an epoxy bonding material. In this case, upcycling retired equipment into practical consumer items is the preferred course of action, especially when the result is innovative and unexpected. A perfect example of this is when Burton Snowboards reincarnated old boards into
notebook clipboards
. So simple, yet so practical.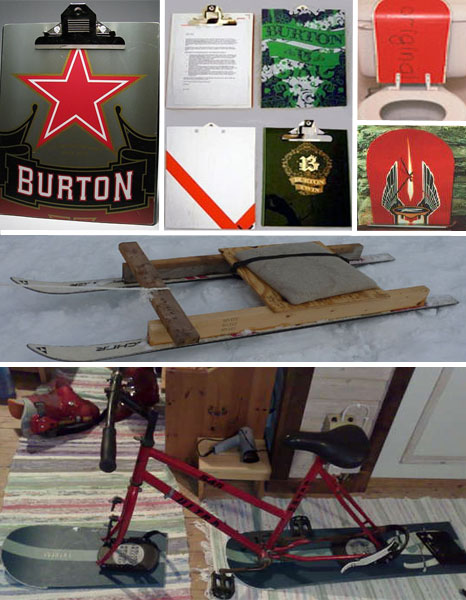 Vermont Ski Recyclers
, which for nearly 15 years has teamed up with the snow sports industry to keep spent equipment out of the garbage, has crafted a diverse range of furniture, CD/DVD and book shelving systems as well as signs, coat racks and clocks featuring old ski and board bases. Similarly,
Reeski
keeps approximately 6 tons of snow equipment out of our waste stream annually by crafting reliable furniture options along with unexpected décor treasures such as its classic snowboard toilet seat cover, toilet paper holder and wall-mounted magazine rack. Buying someone else's innovatively recycled creation is great for a green economy, but there's another option for snow bunnies and their dudely counterparts who can't bear to part with beat-up equipment the traditional way. DIY it:
Use an old board as a backdrop for a mirror and add pegs or small shelves around the perimeter to store accessories.
Make a recycled ski wine rack.
Artists might consider using their old equipment as an alternative canvas for colorful masterpieces.
Frame a bulletin board or whiteboard with a bunch of old skis, or continue the theme with a portrait of a ski enthusiast in your family.
Create old snowboard planters for your garden that proudly announce where your allegiances lie in the wintertime.
Better yet, frame your compost pile with a makeshift ski-picket fence, or your perennial landscaping materials or your veggie patch.
Fashion a coat rack, mug holder, knick-knack shelving unit or some variation therein.
Dare to craft a snowboard bicycle. What the heck, it looks fun!
Since we should all resolve to have a lot more fun in our lives this year, how about turning an old pair of skis into a makeshift sled while you're at it?