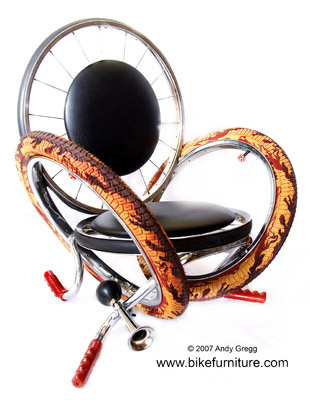 Image: Andy Gregg, used with permission
Recycling old bicycles usually means fixing together old parts to form "new" bicycles that look even older than the originals. However, a few creative bicycle artists prove that the bicycle lends itself to being repurposed into sleek and stylish furniture that can or can't be in your face about its humble beginnings. In either case, bicycle parts have never been so in vogue!
7) Book shelves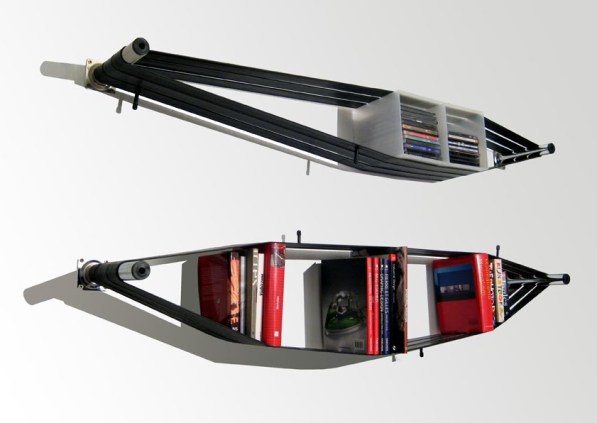 Image: System Design Studio, used with permission
This wall-mounted shelf is ideal for people who want their furniture to grow with their needs. Just have one book in your shelf? Then it will be slim, looking like a line on the wall. Got some more books, CDs or more bulky items? No problem; your shelf will be able to accommodate those, too, and start looking like a more traditional shelf.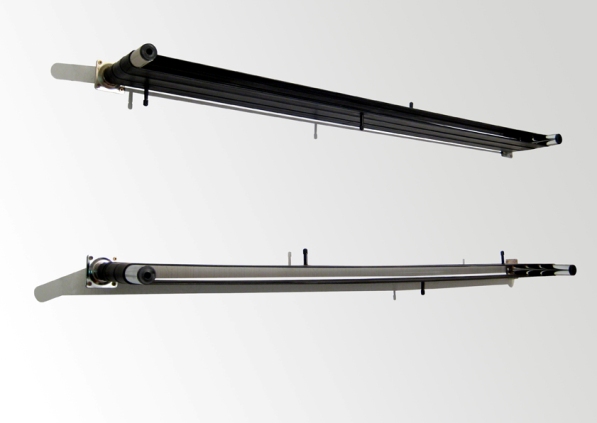 Image: System Design Studio, used with permission
We're talking about ElasticShelf, made by
System Design Studio
in Barcelona, Spain. This shelf unit can be used in the home or the office and is made out of recycled bicycle tires that are suspended between two used furniture legs — a simple idea that'll keep you pumped for some time.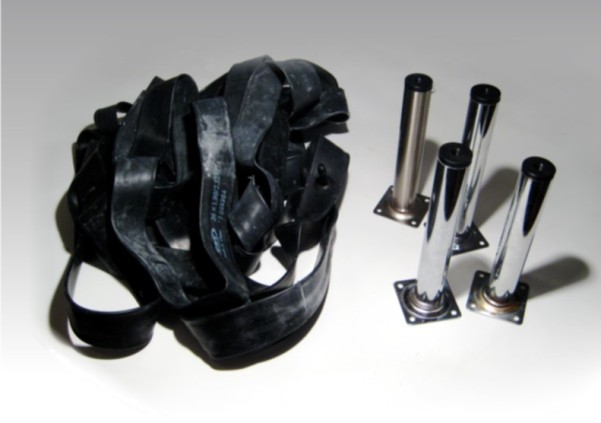 Image: System Design Studio, used with permission
6) Tables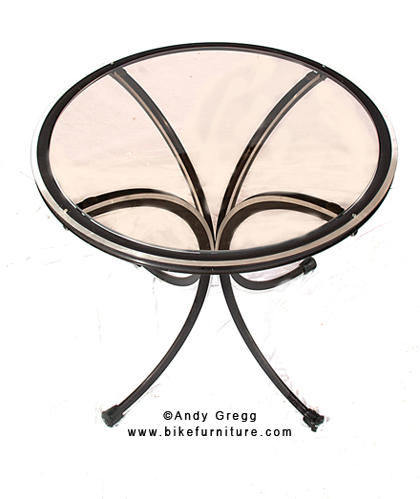 Image: Andy Gregg, used with permission
This side table, called "Vector," lets you forget that you're looking at old bicycle parts, so sleek is its design. It was created by bike furniture designer
Andy Gregg
, who is currently the only designer in the world to work exclusively in recycled bicycle parts, and is made from professional-level bicycle rim sections. It comes with either a clear or smoked glass top, but we'd go clear so that visitors can admire the construction from all angles!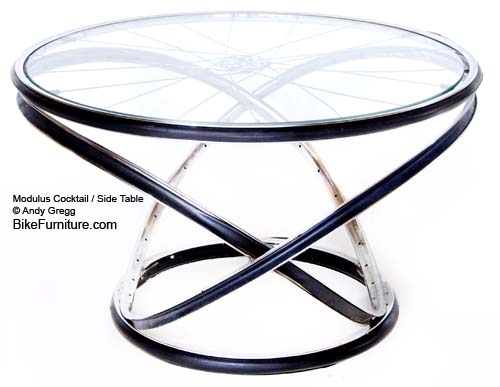 Image: Andy Gregg, used with permission
The "Modulus" side table, above, does not hide its origins, instead cleverly integrating bicycle spokes into its design. It is made from bent and welded chrome-plated bicycle rims, and the top comes in either glass or acrylic.
5) Coat racks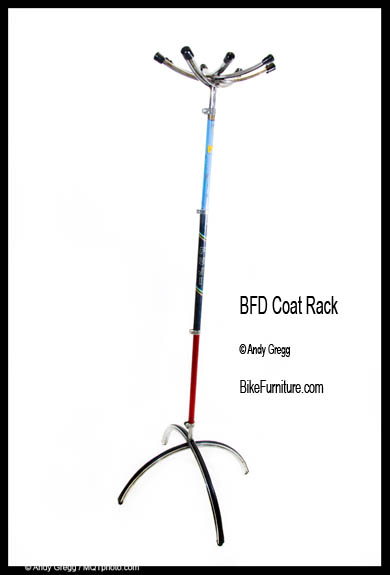 Image: Andy Gregg, used with permission
A coat rack is not what comes to mind when thinking about recycling old bicycle parts for furniture. Luckily, Gregg thinks outside the box. His coat rack uses bicycle frame tubes and wheel rim sections. It certainly looks sturdier than many coat hangers we have seen!
4) Barstools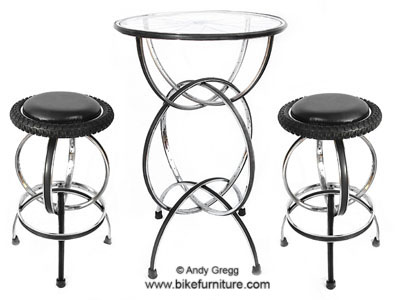 Image: Andy Gregg, used with permission
It is as barstools that the shiny, metallic spokes of bicycles seem to be utilized best. They'll lend a cool yet nostalgic feel to even the most sterile of bars. The two S-2 swivel barstools, above, come with pro pads and have a 13″ top and tire trim — perfect with the S-2 bar table! Here's the S-6 barstool model with a back rest by the beach. Lovely!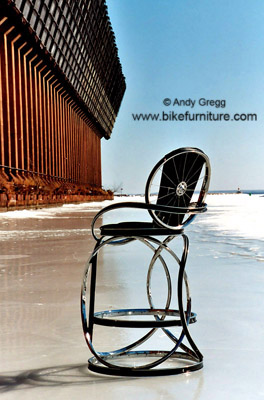 Image: Andy Gregg, used with permission
3) Loveseats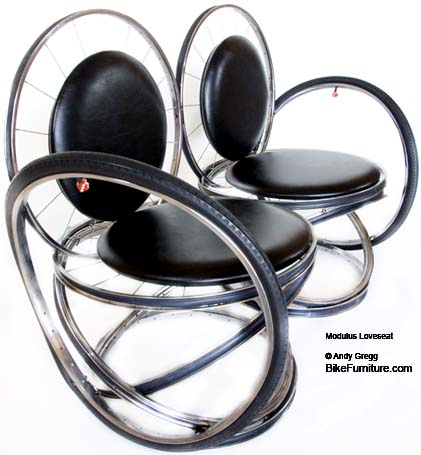 Image: Andy Gregg, used with permission
Speaking of love: what couple could say no to this cozy loveseat, perfect for romantic evenings, maybe reminiscing about bicycle tours once taken together? Oh, and the Modulus Loveseat is also available with custom-made cushions in a variety of fabrics and materials.
2) Benches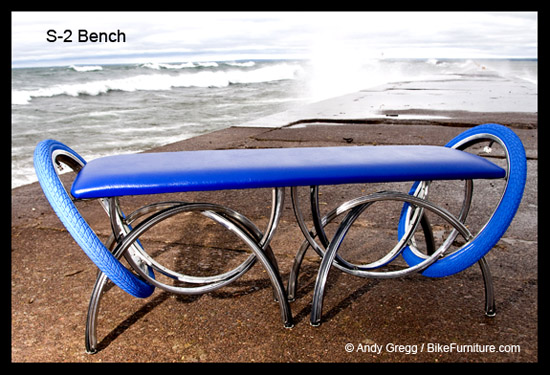 Image: Andy Gregg, used with permission
From loveseat to bench is just a small step and a few necessary modifications. We just love the model in blue, above! Or how about the custom-made one below? It was commissioned by the North Star Academy High School in Marquette, MI, where it has invited students to rest since 2005.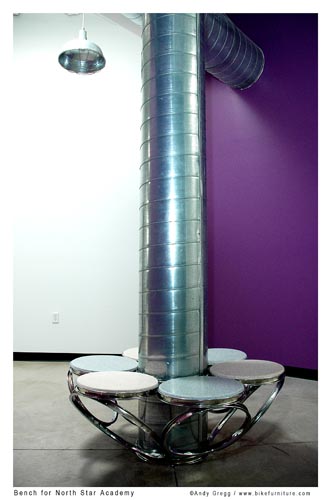 Image: Andy Gregg, used with permission
Below is another bench, on location in a shop. It was originally designed to be just the right height for putting your shoes on and taking them off after a ride.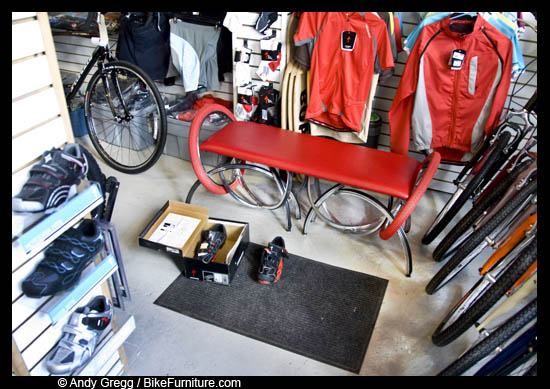 Image: Andy Gregg, used with permission
1) Chairs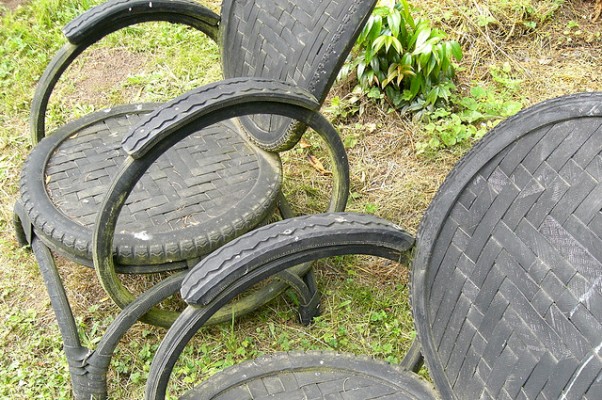 Image: Christmas w/a K
Given the size of bicycles, and their tires especially, they really lend themselves to being converted into chairs. We were able to find not just one but three talented designers making bicycle tire chairs.
Lawn chairs
The amazing lawn chairs, above, are made entirely out of old bicycle tires. Notice how the pattern of the tires seems to imitate that of wicker furniture. Very cool! These particular chairs can be found at the gardens of Sampson & Beasley in Portland. But there's a story behind them that will take us to Indonesia — Bali, to be precise. There, local groups have taken up the issue of the millions of discarded tires that are often simply left lying around (or worse, are burned) because of a lack of infrastructure to get them to landfills — or better, to be recycled. You can imagine what kind of acrid, black smoke tires produce when burned… Luckily, those initiatives employ locals and train them in making chairs out of recycled moped and bicycle tires. The finished chairs are then shipped all over the world, but with every purchase, money goes back to the families and thus the communities of those who made them.
Needless to say, the chairs are great for the outdoors — in the garden, on the deck or patio or next to the pool — because they are sturdy, long-lasting and heavier than plastic, which will come in handy when the next storm rolls around. If you are interested, you can order them here. Lounge chairs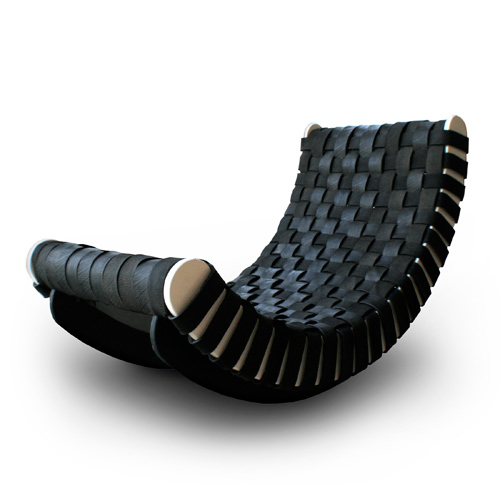 Image: Leo Kempf, used with permission
Being off your rocker — in this chair — might not be so bad. Though made out of recycled car tires and thus not really fitting on our list strictly speaking, it should theoretically be possible to create it out of old bicycle tires as well, given that the car tires are cut into smaller strips in any case.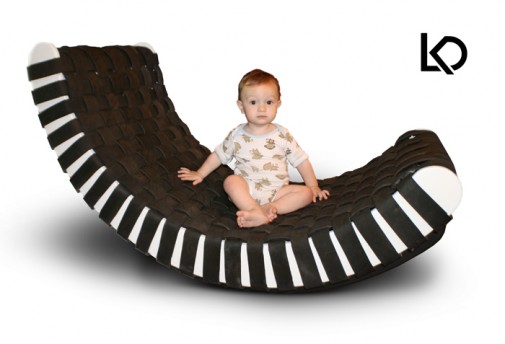 Image: Leo Kempf, used with permission
"Tired Lounge" is the brainchild of designer Leo Kempf and originates from his experiment with rubber as a material for furniture. The result? A comfortable lounge chair that sits anyone from a baby to a tall adult; the designer is 6'2″ and sits in the chair comfortably. According to a description on his website, the "soft rubber was cleaned, coated, cut into strips, stretched and woven." The simple curve shape is intended to give the chair an appearance of floating. Says Mr. Kempf: "The chair was a fun, experimental project that turned out quite nicely. Its bold shape with the tire texture make the chair really stand out."
Bike rack chair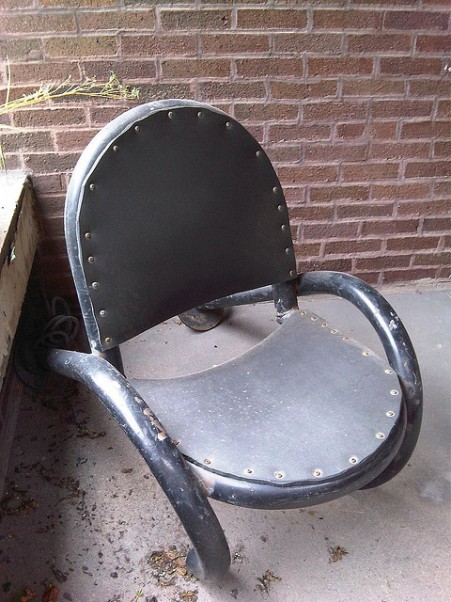 Image: Payton Chung
If you're thinking, "Hey, where's the bike?" in this photo, you have to think just a bit beyond the bicycle. The chair is made of old Chicago bike racks and is another ingenious creation by Gregg. There are many other great bicycle chair models in Gregg's shop. We especially like "Milano," shown top, because of its funky colors and the fact that it comes with a horn. You never know when that may come in handy… Meanwhile below is the "Vector" lounge chair.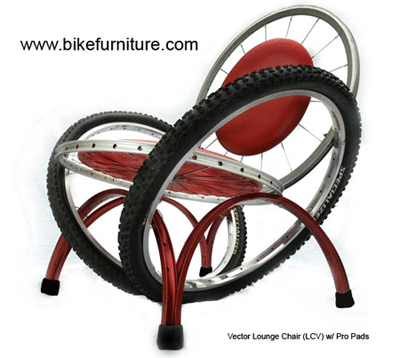 Image: Andy Gregg, used with permission
If you're working in a bicycle shop or have had enough of simply repairing old bikes, it's time to either get creative or donate some raw materials. There will surely be bike lovers who don't want to only sit on their bikes but also decorate their houses with them, especially after going through our list. There's more out there, and we're sure, more creative bike furniture and accessories to come in the future.
Special thanks to Andy Gregg of Bike Furniture Design, Remi Melander and Helbert S. Ferreira of System Design Studio and Leo Kempf of Leo Kempf Design for kindly granting photo permissions.
Sources: 1, 2, 3, 4