Ice skating is a favorite wintertime activity around the world, even in my sunny Arizona hometown. If you've wondered about the eco-friendliness of this cold-weather pastime, you may be surprised to know that the go-green movement is making its way to skating rinks across the country. From a skating rink that uses recycled water to those that don't use water at all, there is definitely an environmental focus in today's recreational skating world. Our first stop in the eco-friendly ice skating tour is Houston. Yes, Houston. This south Texas city is the home of the St. Joseph Medical Center's
Ice at Discovery Green
. The ice-skating rink uses recycled water from nearby Kinder Lake as well as renewable energy, and even offers eco-friendly treats to its guests. Visitors to the rink can sip on an organic hot cocoa while munching on gourmet popcorn while skating on recycled water turned into ice.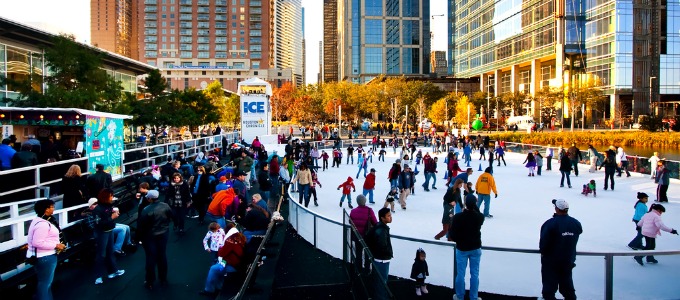 On the other side of the eco-ice-skating spectrum is the waterless ice skating rink. The ice obviously isn't really ice, but is actually plastic. Ice-skating rinks made out of plastic resin panels are popping up around the world, including the U.S., Canada, Japan and Scandinavia. Recently, Six Flags Fiesta Texas in San Antonio tried out an iceless rink as part of its holiday festivities.
These new ice-skating rinks have a few eco-benefits, including the fact that they are completely waterless, require less energy because the "ice" doesn't need to be cooled and they can be reused season after season.
Depending on the manufacturer of the synthetic ice rink, the product may be able to be completely recycled once it reaches its end of life. An ice-skating rink that doesn't use water to make the ice, a rink that uses less energy than its traditional counterparts and all of this with the ability to fully recycle the product: That's my definition of eco-friendly ice skating.