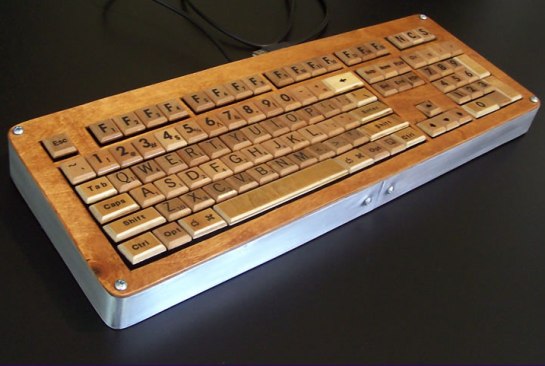 Image: Richard Nagy, used with permission.
Scrabble, the board game loved by word enthusiasts around the world, not only provides hours of entertainment, but also the raw material for some cool arts and crafts projects.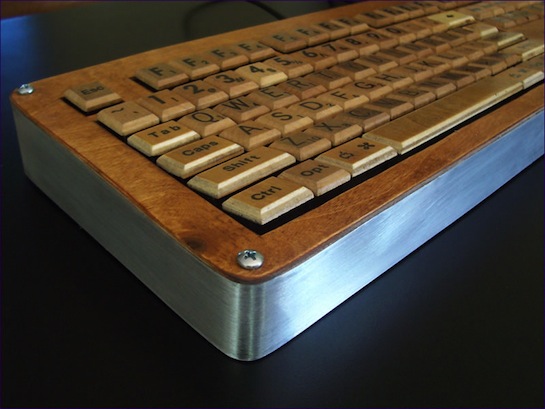 Image: Richard Nagy, used with permission.
Whether it's the Scrabble tiles or the game board, there are many ways in which a Scrabble set can be reused other than to draft a ransom note. We've picked 10 of the best.
10) Scrabble coasters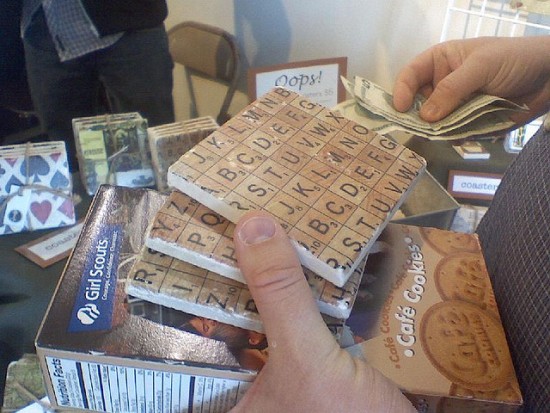 Image: Aric McKeown
If you have a whole bunch of old Scrabble tiles, why not glue them together and turn them into coasters? Apparently, they're selling like hot cakes in stores already. We love the picture caption on Flickr relating to the photograph above: "You only need three things in life: money, Girl Scout cookies and Scrabble coasters." Yup, that sounds about right.
9) Scrabble cuff links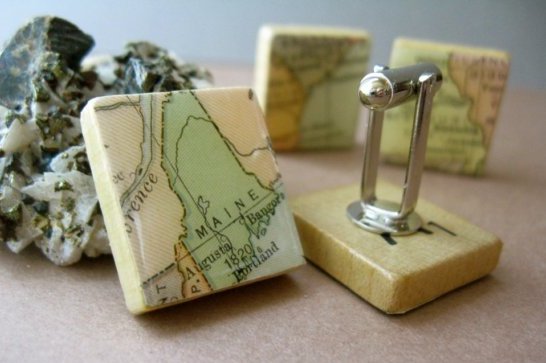 Image: PipingHotPapers
Check out these stylish cuff links. The tiles are a perfect and discreet fashion statement that goes with even the most conservative of business suits. And they can, if desired, even carry the wearer's initials on his sleeve, or a world map recycled from an old history book, as seen in the image above.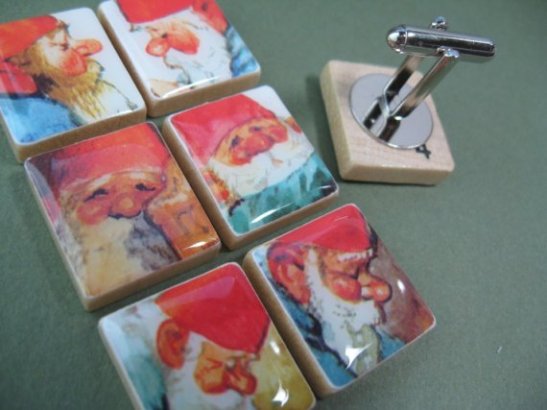 Image: PipingHotPapers
For more playful managers, there's always the gnome option seen above.
8) Scrabble tile pendant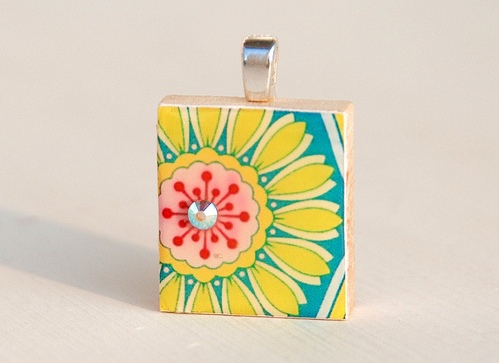 Image: AForestFrolic
From cuff links, it's only a small step to pendants. Yes, though almost too pretty to cover up, Scrabble tiles make a great background for pendants. The small wood base is just the perfect size and, covered with any pattern or material, makes for a great pendant.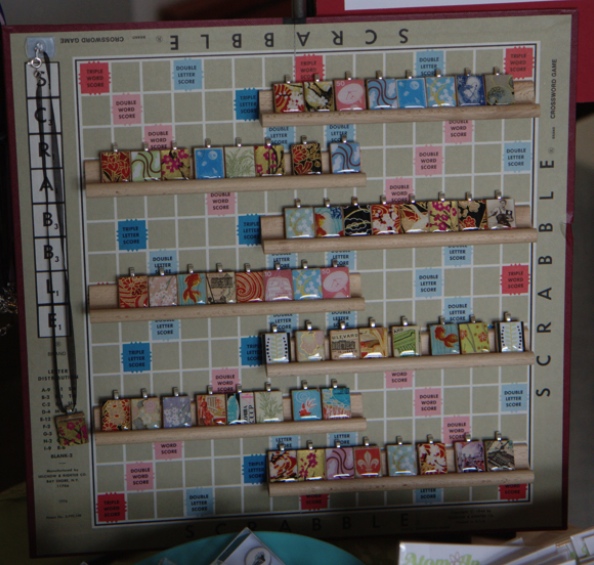 Image: R. Steven Rainwater
Above are a whole variety of them — and you can't miss the creative use of the Scrabble board as a stand!
7) Scrabble clock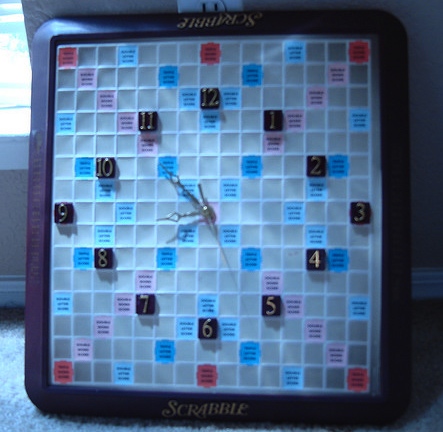 Image: Super Christie
If you don't want to miss your next Scrabble tournament, keep track of the time with this Scrabble board clock. Just use an old Scrabble board, turn some of the tiles into numbers, from one to 12, and add the hands. Done! Your mind will be on Scrabble all the time, guaranteed.
6) Scrabble earrings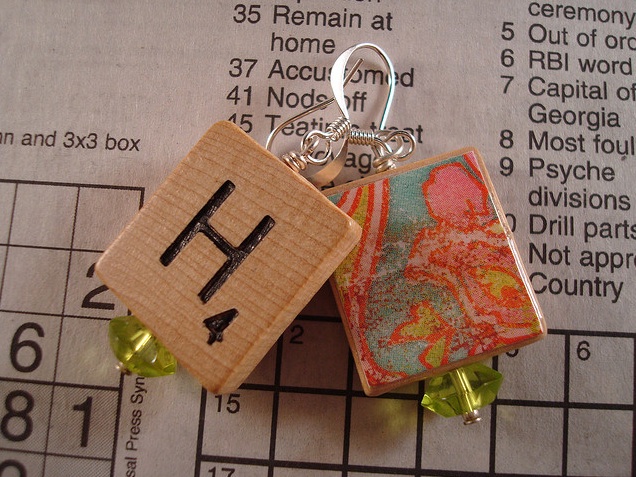 Image: Millie Hilgert at Etsy
A pair of Scrabble earrings could spell out the wearer's initials or simply be a resounding statement for the Scrabble-conscious.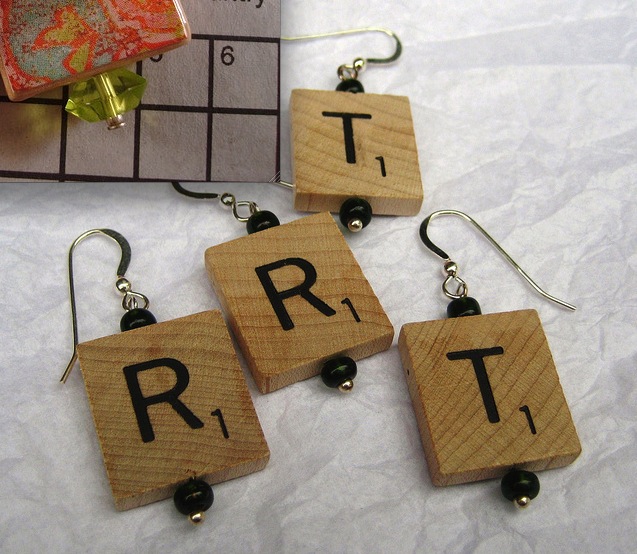 Image: Megan Maginnis
As shown in the photograph above, they can make a really nice personalized gift.
5) Scrabble bookmarks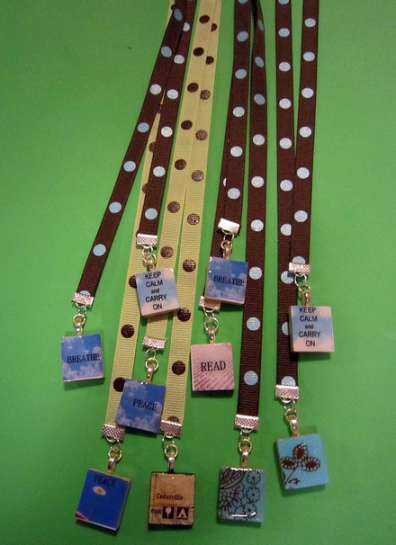 Image: Kate Ter Haar
These bookmarks made of recycled Scrabble tiles will surely inspire you to read more, and not losing track of the page you left always helps. The secret of the tile's glass-like appearance? Flickr user and bookmark creator Kate admits: "It's Diamond Glaze."
4) Scrabble tile wine charms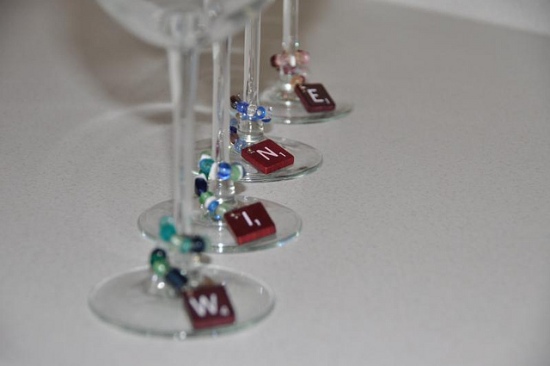 Image: Ryan McFarland
Around the world and over the years, Scrabble tiles have varied greatly in size and color. These transparent red ones make for a charming wine evening without guests losing sight of their glasses. Very practical.
3) Scrabble art

Image: Clare Graham, used with permission
Canadian artist Clare Graham uses hundreds, if not thousands, of Scrabble tiles and assembles them into sculptures that look like Scrabble skyscrapers. Though the letters are strung together randomly, who knows, there may be a hidden message in all the gibberish.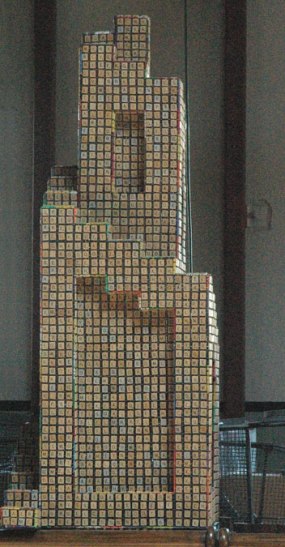 Image: Clare Graham, used with permission
The fact that reusing old materials can result in beautiful artworks definitely comes out loud and clear.
2) Scrabble keyboard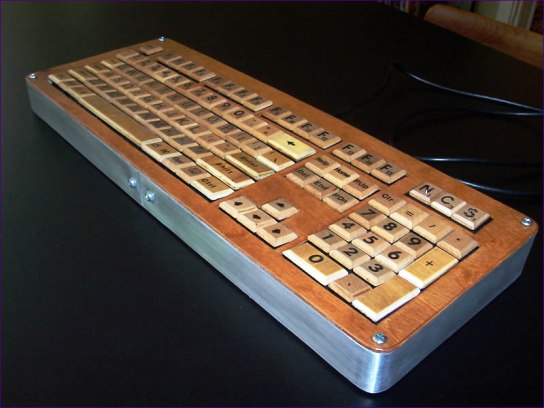 Image: Richard Nagy, used with permission
Sick and tired of the old plastic QWERTY keyboard? Why not personalize it with Scrabble tiles? The wooden letters not only give any computer keyboard a classy look, but also a vintage one.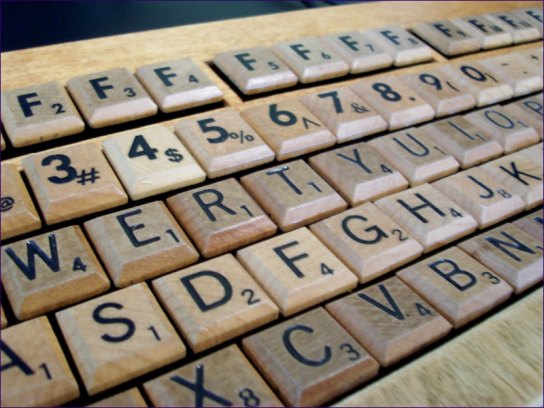 Image: Richard Nagy, used with permission
Remember way back in the '60s when the first computers came to life? Maybe keyboards looked like this one in those days.
1) Scrabble portrait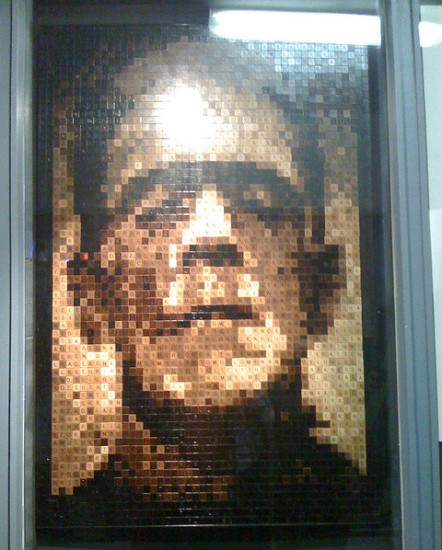 Image: Nathan Jongewaard
Our favorite is Frankenscrabble, a portrait of Frankenstein's monster recreated in Scrabble tiles. It's amazing what depth only a few shades of brown can give an image. And, surprisingly, the letters do not distract from the subject, but add to the charm of the artwork. Very ingenious! This particular piece was on display at the Lucky JuJu Pinball Gallery in Alameda, CA, in October 2009.
Bonus entry: Scrabble fridge magnets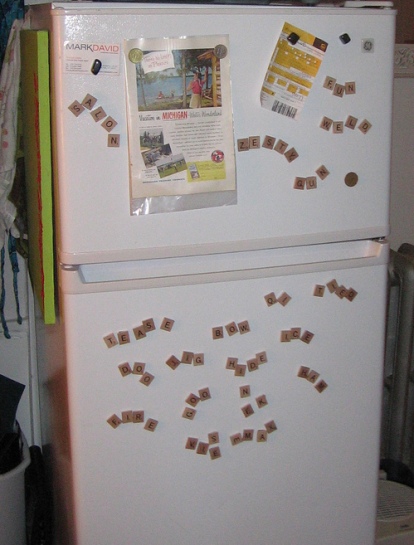 Image: Elissa
This idea is almost too simple to be true: Scrabble fridge magnets! Just glue a magnet to each Scrabble tile and get some really cool fridge magnet letters that provide a myriad of opportunities to spell out your mood or simply leave a message for a housemate. Brilliant! As these examples have shown, there is really no limit when getting creative with a game of Scrabble — and we don't mean by inventing words. If you reuse the tiles or the board, Scrabble makes for a great pastime, even on the arts and crafts front!
Sources: 1, 2