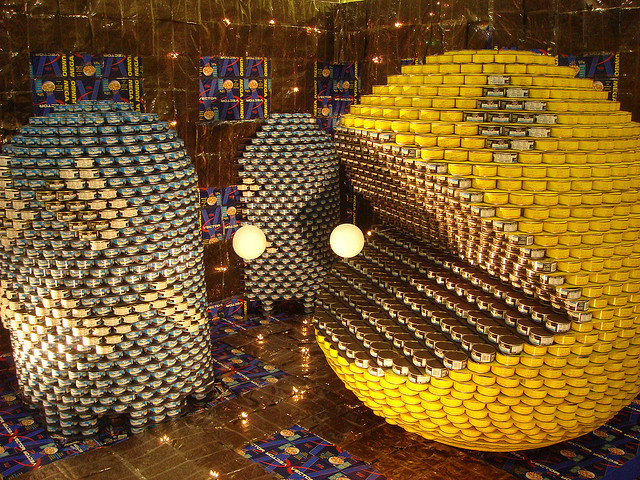 Image: Matt Boulton
Whether you think Pac-Man is a ball of fun or a rotund annoyance, you can't deny that he is one of the most iconic and most recognized video game characters ever created. Consisting of a yellow circle with a segment missing (his eye is considered optional), he's also one of the simplest characters ever created, which makes him the perfect subject for retro resurrection in all manner of forms.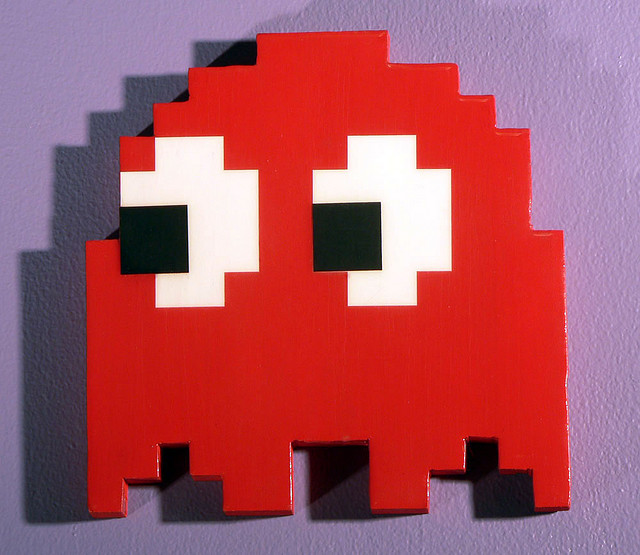 Image: Shawn Hampton at pixelparty.etsy.com
In fact, whether it's Pac-Man himself or the nefarious ghosts who chase him around the maze, recyclers can't get enough of the little yellow hero and his co-stars, recreating the classic gaming icon in practically every medium you can think of. Here are 10 of the best recycled reimaginings of the 1980s' favorite circular hero. As they show, almost anything can be turned into a Pac-Man lookalike.
10. Pumpkins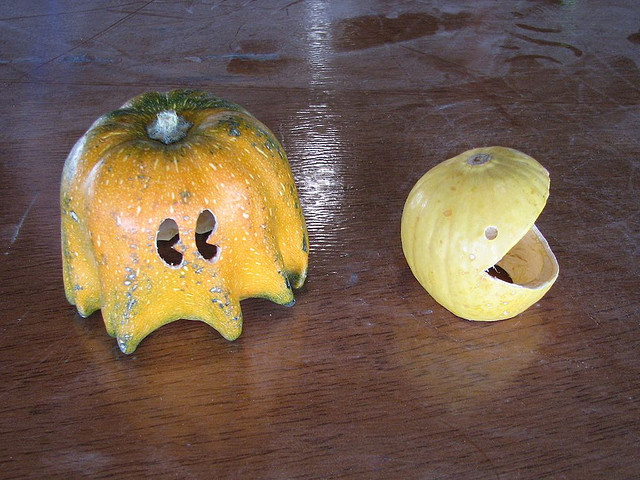 Image: Windell Oskay
While Pac-Man himself was hardly down-to-earth, he did have the distinction of being threatened by a supernatural menace, and if there are two things that the Internet's most ambitious crafters love, Halloween and retro gaming are certainly amongst them.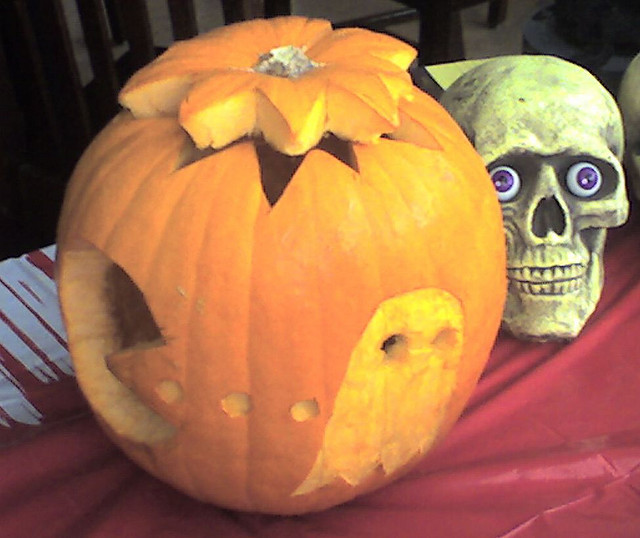 Image: Sean Ellis
This has led to the regular appearance of Pac-Man's not-terribly-terrifying ghosts at Halloween celebrations the world over, and offers the fantastic opportunity of creating the Pac-Man cast out of new materials — in these cases, old pumpkin gourds. So, once you've had your fill of pumpkin pie, time to get carving!
9. Felt Pac-Man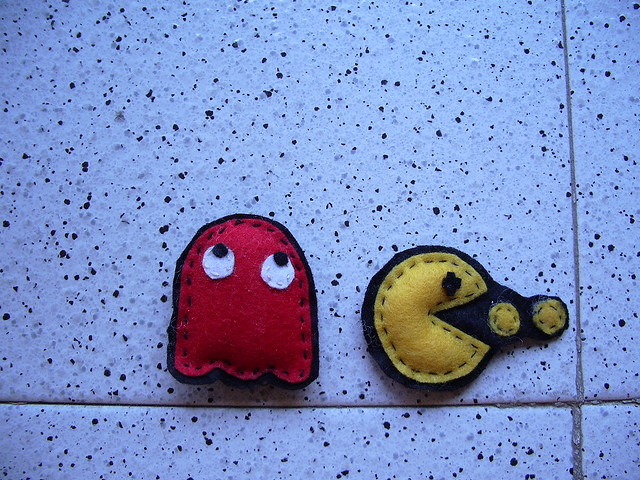 Image: Ana V
This one has it all. There's a ghost (quite possibly rolling its eyes) and Pac-Man (with eye), and in this case, our little yellow friends is even pursuing his favorite activity of eating dots. Pac-Man definitely has a thing for eating: he was originally inspired by the Japanese folk hero Paku, and his shape is at least partially derived from the Japanese character for mouth, as well as from the shape of a pizza, apparently.
8. Wooden wall hangings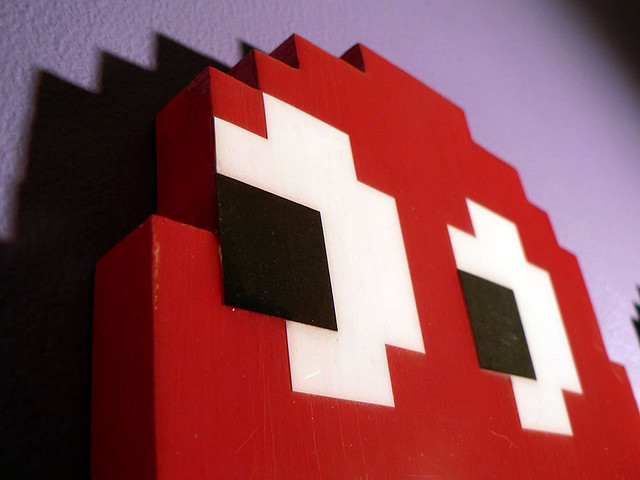 Image: Shawn Hampton at pixelparty.etsy.com
Shawn Hampton created these brilliant models of the Pac-Man ghosts by carving up an IKEA dresser that had fallen apart. Definitely a great use of some old furniture!

Image: Shawn Hampton at pixelparty.etsy.com
His series includes all four of the ghosts (that's Pinky, Inky, Blinky and Clyde) as well as a fifth covered in glitter. His other pixel art includes Mario's fire flowers (made out of wood, and presented in a vase) and a range of miniature pins inspired by the original Zelda game on the NES.
7. Tote bag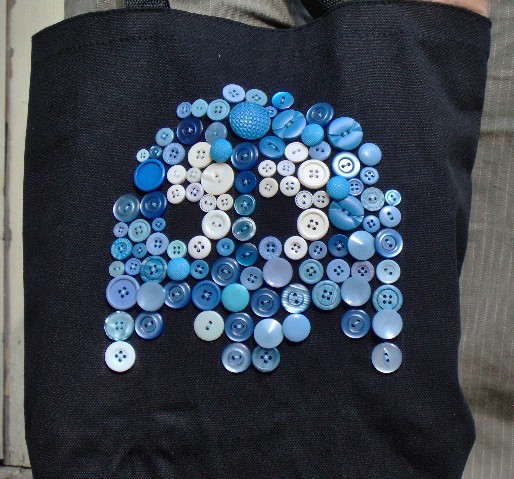 Image: HoboCampCrafts
This tote bag brilliantly uses vintage buttons to outline the features of one of Pac-Man's ghostly nemeses, Inky, the blue ghost. Each of the repurposed buttons, standing in for the pixels of the original, has been hand sewn onto the bag, perfectly capturing the ghost. And it looks like Inky better watch out, because Pac-Man could be heading for a power pellet any minute now!
6. Pac-Man ring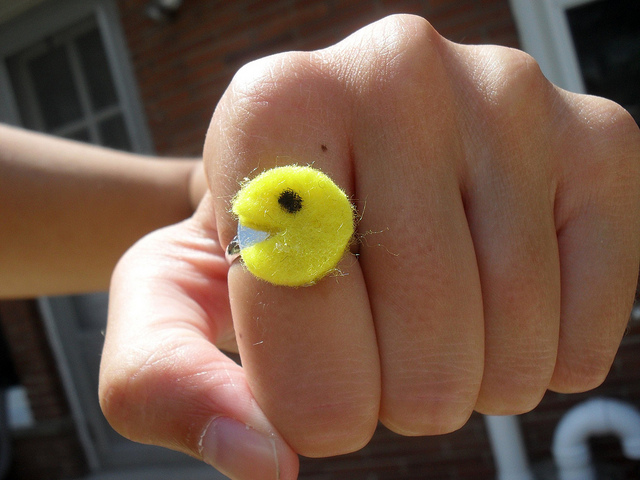 Image: Annie Pilon
This brilliant, handmade ring features a fuzzy, felt Pac-Man (with eye). Creator Annie Pilon is a self-confessed nerd, and her other work includes a Pikachu hat and a knitted R2-D2, as well a whole range of Star Wars cookies! The ring is also available as an earring — and if you have some felt lying around you can make your own.
5. Lego brooch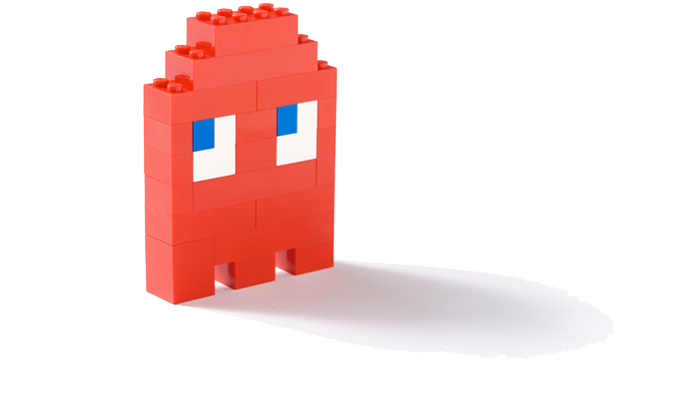 Image: Dee & Ricky
If there's one toy that fosters creativity in young minds it has to be Lego. However, once you've moved onto other things, what's there to do with it? Well, like Dee & Ricky, you can always get creative and build your own Lego artwork, recreating your own pixilated, retro heroes. Yes, this is something that's truly retro, through and through.
4. Bread and toast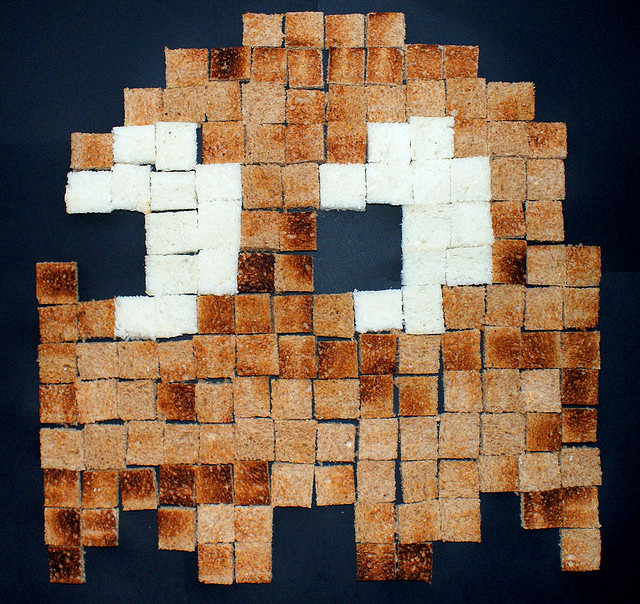 Image: Andy Powell
With a simple pixel grid and only a handful of colors, Pac-Man's creators didn't have much to work with. It's creations like that pictured here that underline just how well they succeeded in crafting truly iconic characters that can be replicated using almost anything. In this case it's some unwanted toast, laid out in a 14 x 14 grid — and if the artist gets tired of his or her work, they can always make some sandwiches!
3. Stenciled construction paper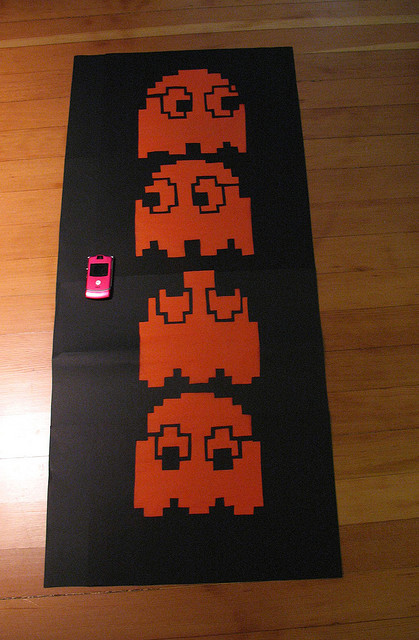 Image: Rakka
This awesome piece of art was created from recycled construction paper and orange tissues. It is part of a set of Halloween stencils, which also includes images of Alfred Hitchcock and Frankenstein, as well as a recreation of the
Evil Dead II
poster. Can you spot the ghostly theme running throughout?
2. Silver pendant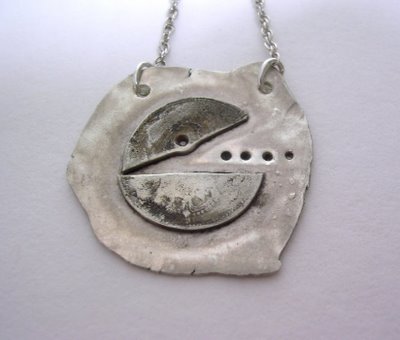 Image: Toby Attrill
It's simple, it's to the point, it's a work of art. As its creator, Toby Attrill, puts it, the piece is "98% recycled." The piece features a 1920, British 3 penny bit as the round face; scrap silver, rolled into a sheet, for the base; and a vintage sterling silver twist chain. The only things that aren't recycled are the jump rings. Toby has a passion for reuse and says that he spends his holidays combing sea-washed glass and shells to use in his work.
1. Canned Pac-Man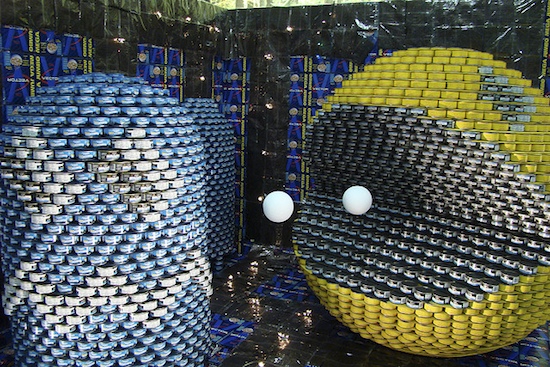 Image: Sonson
That really is just what you think it is: a gigantic Pac-Man created out of cans. The sculpture was featured at a 2008 New York event run by Canstruction in which architects, engineers and students competed to create sculptures out of dozens of cans, with constructions including Winnie the Pooh and Wall-E, as well as a Pac-Man eating a ghost. Every can donated for the construction of the pieces was subsequently passed on to charitable causes. Since 1992, Canstruction has donated more than 15 million pounds of food to community food banks, stocking up emergency feeding programs and ensuring that food gets to where its needed. In the meantime, the cans take some amazing shapes, publicizing the good cause and encouraging people to contribute. What could be a more appropriate mascot than hungry, hungry Pac-Man?