During the offseason, baseball stadiums become dormant and unoccupied until training begins — how efficient is that? Dedicating large areas to one activity isn't efficient, and it only gives reason to destroy more land to create space for a different attraction. In northeast Ohio, the Cleveland Indians created a first-of-its-kind winter sports event right inside Progressive Field, which makes the stadium great for baseball and ice skating. At Progressive Field, the new attraction called "
Snow Days
" has brought a 10-lane snow-tubing hill, a quarter-mile ice-skating track, an ice-skating rink and a 3,000-square-foot snow maze to the residents of Cleveland.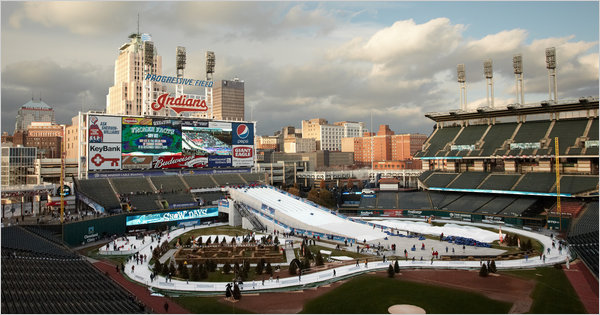 This innovative thinking turned the field, which is traditionally used for summertime baseball games, into a winter wonderland. It's a unique idea that other stadiums might find profitable. But, while this is a viable option for reusing baseball stadiums during the dormant season, is it really an eco-friendly idea? In order to transform into a
winter sports arena
, Progressive Field requires 150 tons of snow per day, or more than 5,000 tons of snow for the duration of the event (about five weeks). This is in addition to what Mother Nature provides, which can be a substantial amount, depending on the lake-effect snow. Along with the resources and energy required to make fake snow and ice, the field also needs to provide lighting for safety and decoration purposes. Without a doubt, this is a unique way to reuse baseball stadiums in the wintertime. However, it does require different resources such as inner tubes, infrastructure, decorative lighting and electricity to run. Perhaps transforming a baseball stadium into a winter sports attraction may be more of a profitable than eco-friendly endeavor. What do you think?