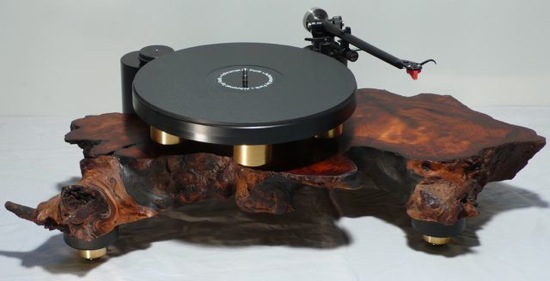 All images courtesy of Joel Scilley, used with permission.
Joel Scilley is one of the first audio retailers to really focus on green products. He uses wood that is reclaimed, recycled, sustainably harvested or, at the very least, non-endangered for his turntables, thus producing stunningly beautiful and functional pieces of audio equipment that are easy on the environment as well as the eye.
Scilley explains the motivation behind his Grand Ridge, FL-based retail company, Audiowood: "Audiowood is the strange convergence of passions for design, music and nature. It is the unpredicted culmination of years of study of aesthetics, design and art, listening to hundreds of live concerts and a long-established interest in natural forms and environmentally sustainable living." Scilley's labor has certainly paid off. Here are seven turntables that especially catch the eye:
1) Big Red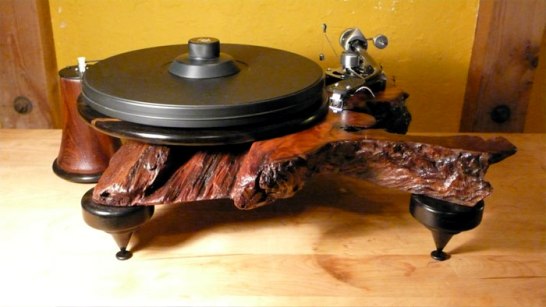 As the name implies, this turntable features a beautiful slice of an old redwood. It stands on solid Gabon ebony feet and features solid-brass cones.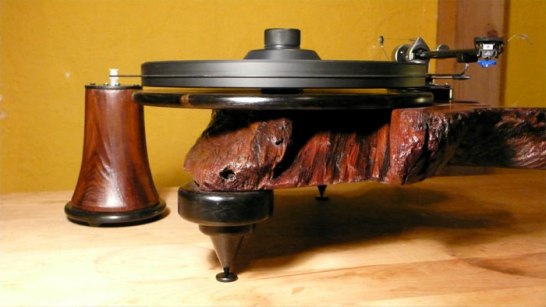 Audiowood's amplifiers are generally low-power tube or high-efficiency class D.
2) El Diablo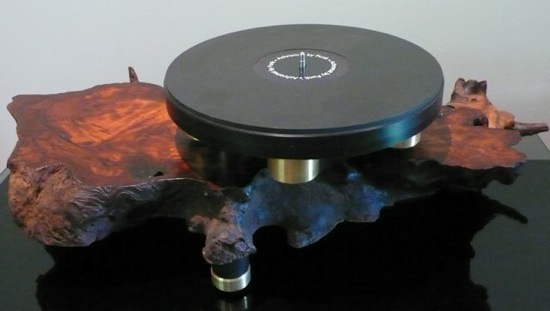 Looking at the image above, one might get the feeling that a monster's head is peeking out of the gnarled wood on the right. Maybe that's what inspired the name "El Diablo." It is a solid redwood burl table with ebonized maple legs and solid lead-free brass spike feet. Most components used for Audiowood's turntables are eco-friendly, using lead-free brass, nontoxic, low-VOC finishes and plant-based composites.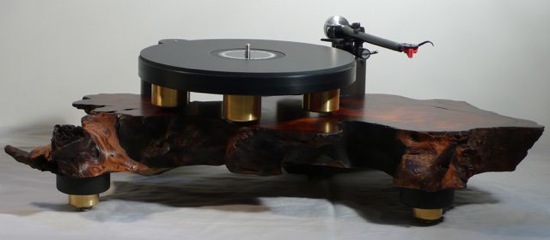 In addition, any scrap wood is repurposed, and packaging is recycled, recyclable and/or biodegradable, whenever possible. Even Audiowood's choice of suppliers is partly determined by their environmental policies and practices.
3) Barky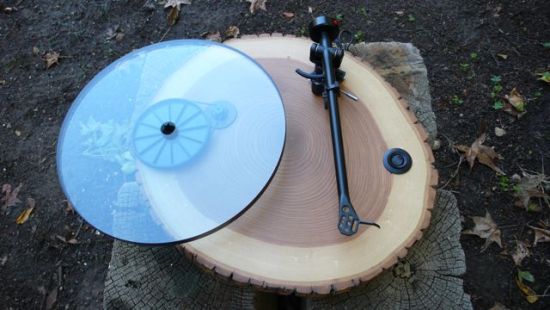 If you're looking for a stylish way to play your records, "Barky" is it. It features a raw-edged wood round whose growth rings clearly imply their similarity with a record's grooves. Outfitted with a Rega RB251 arm, Premotec motor and a glass platter, and then poly-sealed and paste-waxed, "Barky" is one cool way to let those old records go round once more.
4) Lacey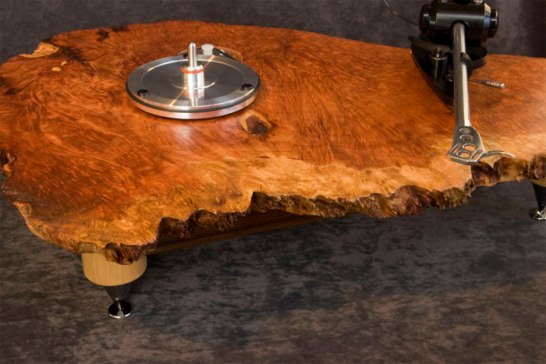 "Lacey" (here shown without its glass platter) is a minimalist's dream come true. Though stylish, no snazzy accessories will distract from the redwood lace burl top and the record you are going to play.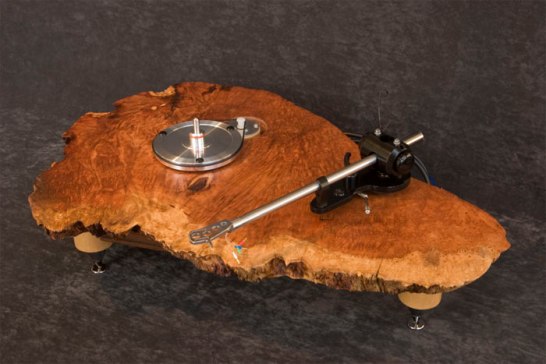 The base is made from reclaimed redwood and maple. Nice.
5) Knobby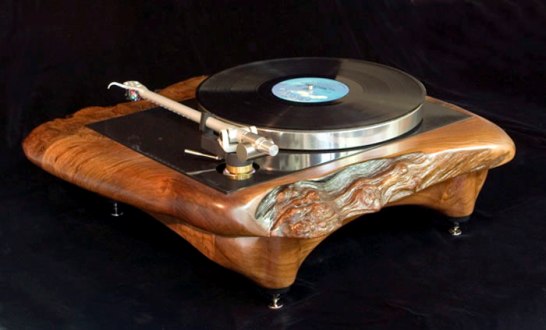 "Knobby" is another piece of amazing turntable art. A walnut burl top has been fitted for Rega arms with Michell VTA adjusters. The character of the wood shines through, making you want to go around it like a record so you can see it from all sides.
6) Pod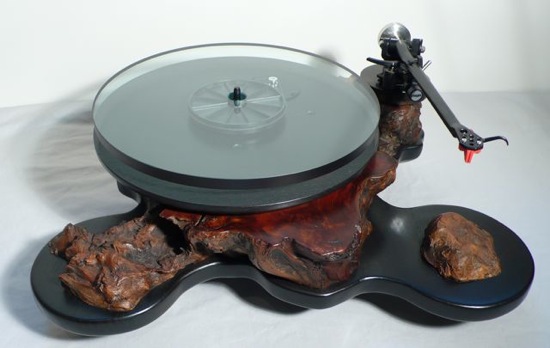 Before the iPod came the wooden pod, as this classic model demonstrates. "Pod" is made from solid redwood burl with an ebonized walnut subchassis and solid Gabon ebony legs and armboard.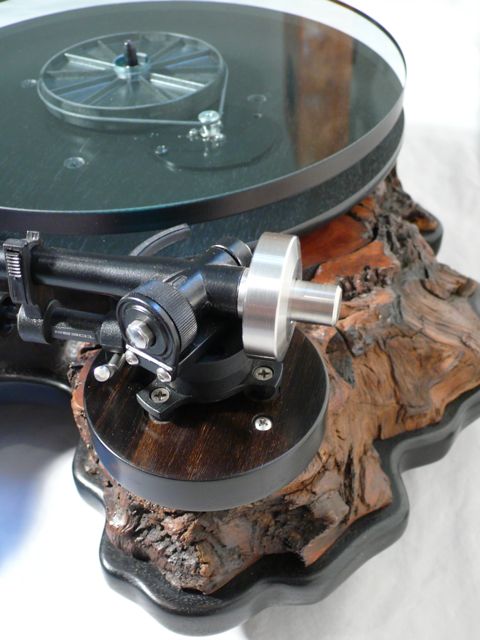 We like the little wooden "island" on the right and the fact that the wood has been left as it is, just polished and waxed. We're wondering if records played on this turntable will suddenly inspire visions of the forest?
7) Thor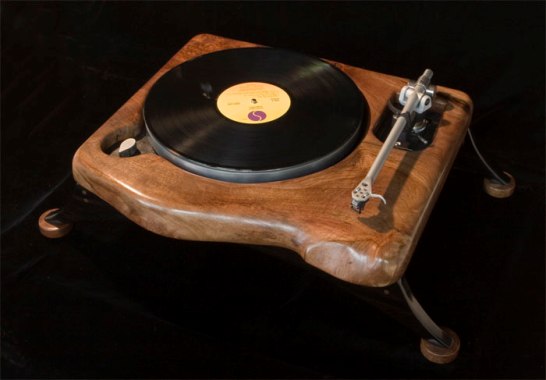 "Thor" is made from a solid walnut burl piece and, like its Nordic namesake, is sturdy and compact. Well, actually it got its name from the Thorens TD 160 MKII turntable, which it was modeled after. This turntable has been fitted for Rega arms with Michell VTA adjusters. As for his future plans, the sky's the limit for this creative inventor. Scilley says: "If I had more money to invest in this endeavor, I think I could really assemble a collection of cutting-edge environmental designs in this area. For now, I'm cobbling together what I can, in addition to designing and making things myself." Here is "Thor" on "Pecky", an Audiowood console  made of solid American Walnut and reclaimed Pecky Cypress (a regional wood), perfect for records and CDs: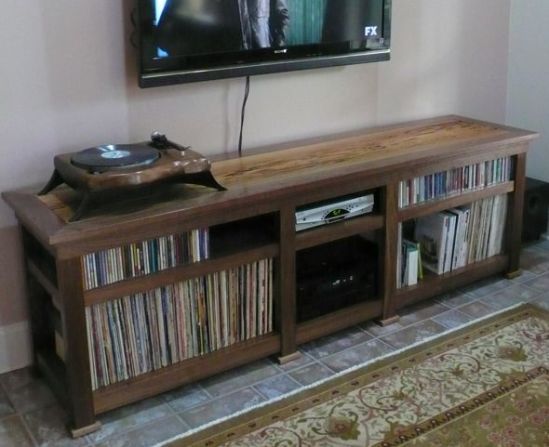 For one so talented, "cobbling together" means creating a state-of-the art line of environmentally friendly electronic products. His latest work features designs created from sustainable bamboo, and includes Glow audio stands, a bamboo iPhone "nest," a modern home theater console with built-in quality speakers and possibly even some floor-standing speakers. For images of these products, other turntable models and customization options, visit
Audiowood's website
.
Special thanks to Joel Scilley for providing images and information.