What do you do with an old shipping container once it's reached the end of its life? Simple: You turn it into an eco-friendly house. While shipping container houses are popping up across the world, most are fixed installs. Ecopods, on the other hand, are designed to be a bit more portable so you can take them with you when you move. In fact, Ecopods are perfect for a vacation home.
What is an Ecopod?
An Ecopod is a prefabricated house made out of an old shipping container. The
Toronto
-based company managed to turn the used shipping container into a bastion of recycled goodness that is also safe, secure and homey.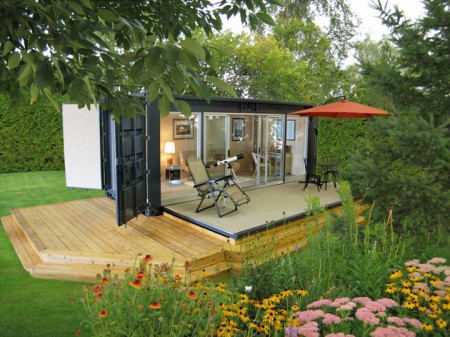 Eco-interiors
The primary ingredient, so to speak, in an Ecopod is a recycled shipping container. However, the company doesn't stop there, and focuses on the use of environmentally responsible or recycled content throughout. Here's a list of some of the eco-friendly interior products used:
Flooring made of post-consumer tire rubber
Paperless interior walls made with magnesium oxide compounds (MagnesiaCore)
Interior wall finish that increases the pod's insulation factor
Soy-based insulation
An optional SUN-MAR composting toilet
A watermill that can provide your drinking water
More than a home
The fact that these shipping-container homes are extremely secure and can be left unattended for months makes them perfect for a vacation home. However, Ecopods has identified other uses, including a mobile product showroom or even an accessory building. The unit can be powered with an 80-watt solar panel, so no electrical infrastructure is needed to get the Ecopod up and running. Shipping container homes have been around for ages, but as more people begin to focus on environmental sustainability, shipping container homes are taking on a new, more eco-friendly look. The Ecopod is just one example of how an old container that would otherwise take up space can be turned into an off-the-grid home or workspace.