By choosing eco-friendly jewelry, you're accessorizing without causing more pollution and waste, but what about your method for organizing necklaces, bracelets and rings? How sustainable is your jewelry box? The place where you store your jewels can be made from recycled materials, too. Fortunately for jewelry-obsessed fashionistas, there are several earth-friendly ways to store your prized possessions. From basic necklace boxes to earring displays, there is a recycled jewelry organizer to fit your needs.
Wood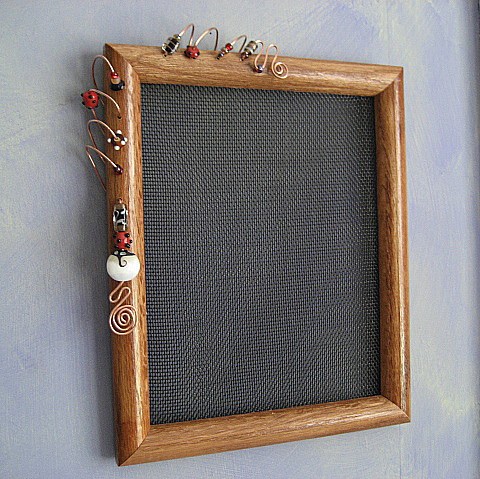 Recycled wood can be just as beautiful as new wood because it's so durable. Overstock.com has a
teak wood jewelry box
fit for a princess. It's made from recycled teak wood and is handcrafted from artisans in northern Thailand. This hand-carved piece is amazing and shows how versatile wood can be. On Etsy, ConvolutedNotions drew on creativity and made a handcrafted
recycled jewelry frame organizer display
by reusing elements of a picture frame. This organizer serves as a piece of art, and you can hang your earring collection all in one convenient place.
Glass
For a more colorful way to store your treasures, try a
recycled glass jewelry box
. This one from Acorn is constructed from parts of glass bangle bracelets, which have been repurposed to create a gold-flecked glass lid and base. This handmade item is made in India.
Paper
When purchasing jewelry at a store, it's common for the store clerk to box it up in a plain white box. Well, you can buy 100%
recycled paper jewelry boxes
from Nashville Wraps. These are made in the U.S. and are comprised completely of recycled fiber (about 80% is post-consumer). These are nice for gifts or for separating good jewelry from costume jewelry. Or, you can keep treasured pieces from ones you love in a
L'Amour recycled rice bag jewelry box
. These Valentine's boxes are crafted from rejected rice bags that come from a factory in Thailand. The most sustainable choice is selecting a recycled jewelry box that doesn't have to travel far to get to you. However, from wood to paper, there are many recycled options for keeping your treasures safe and organized.