Do hard drives, motherboards and CPUs fill your every thought? Just because you're obsessed with technology doesn't mean you can't find jewelry to match your passions.
Zelle
created a recycled jewelry line for the geek at heart that features actual computer parts, including diodes, floppy disk hubs and fuses.
Liz McLean Knight
is the lead designer and founder of Zelle. Since 2003, she has been developing minimal jewelry collections that feature style and sustainability. The necklaces, bracelets and earrings are all made from the inner workings of computers, and these pieces are perfect for eco-conscious individuals with an inner geek.
Zelle's collection for women
features flowing necklaces made from tiny glass diodes and resistors. In addition to bright, fun colors, the asymmetric designs and meticulous "bead" work are admirable. The 1337-01 Necklace has an elegant style and features green resistors and multicolored diodes, while the 1337-03 Necklace has a punk rock feel from the charcoal-colored capacitors — this piece is comprised of 98 capacitors and diodes woven together.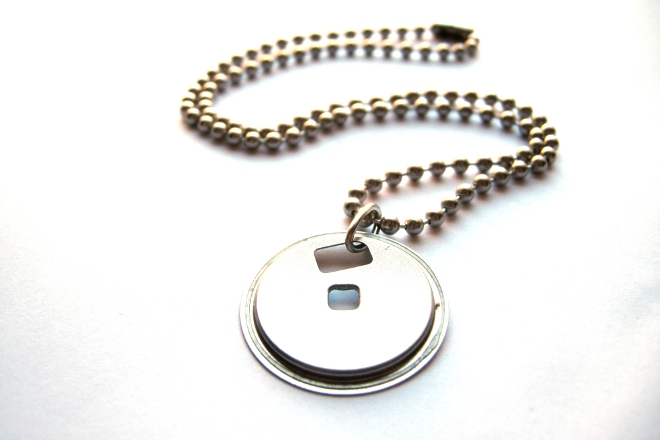 There are also strong
pieces for men
to wear. The Floppy Disk Necklace features the floppy disk hub, which is used as the pendant on a ball chain necklace. Floppy disks are an electronic file storage device of the past, but it's a retro and nerdy way to accessorize your wardrobe. The Terminal Necklace has an industrial look and features flange terminals and black rubber tubing, which makes this piece stretchy and comfortable to wear. In addition to recycled jewelry for men and women, Zelle also has a couple
purse options
. The Diskette Handbag features six 3.5" high-density 1.44 MB diskettes on each side and has interior pockets to keep your belongings organized. For guys, the Silver Wallet is an aluminum housing unit for all of your important credit cards and there is also a money clip. All you have to do is load your cards into the wallet and press a button (ATM, Visa, MasterCard, etc.) and your card is nudged out the top. In a world where technology dominates, diversifying the management of e-waste is crucial, and recycled geek jewelry is one fashionable way to prevent obsolete technology and old computer parts from going to landfills.