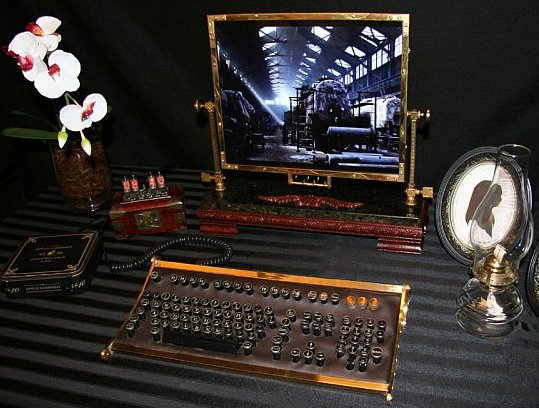 Image: David Veloz
All images courtesy of the artists and used with their permission.
Steampunk, firmly located at the intersection of futurism and romance, is at its best when applied to current technology — marrying Victorian steam power with science fiction technology that has become an everyday reality.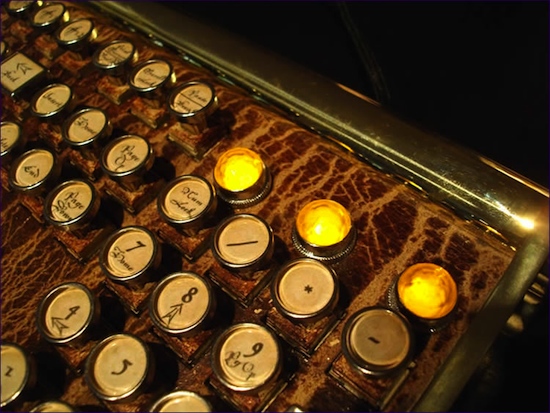 Image: Richard Nagy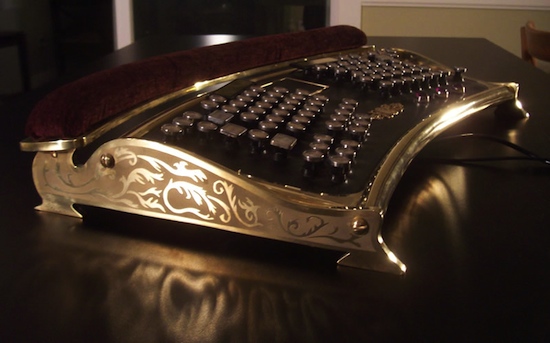 Image: Richard Nagy
In the case of computers, Victorian-era keyboards are currently the latest trend. And after seeing some truly amazing steampunk keyboards and speaking to their creators, we can easily see why.
10. Steampunk workshop keyboard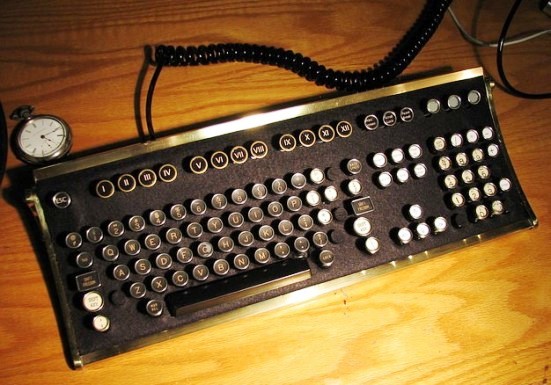 Image: Jake von Slatt
Massachusetts-based artist Jake von Slatt is a Linux system administrator by day and a steampunk creator by night. From light switch plates and Altoids tins to computer monitors to even cars, there is nothing he will not consider steampunking. Jake explains the driving force behind his steampunk keyboard: "My goal with this project was to build a retro keyboard that was fully functional and of a sufficient quality that it could be used every day by a touch typist."
Image: Jake von Slatt
For Jake, who runs the
Steampunk Workshop
— a blog about current events in steampunk fashion, style and science — steampunk is, "[The] intersection of technology and romance. It's fashion, an aesthetic, a genre of fiction, a musical style and a burgeoning subculture which delights in making things that are a blend of the modern and anachronistic." For his steampunk keyboard pictured above, he started out with a standard, 1989 M "Clicky" keyboard made by IBM, which many of us have used at some point in our (office) lives. Why this one? "One of the things that makes this keyboard particularly good for such a mod is the fact that it has removable key caps and the under-cap has a flat surface ideal for affixing a new key top," he explains. After removing all the key cap skirts and cleaning any excess plastic off the key bottoms, Jake reassembled them into the keyboard and started with the brass work for the keyboard cradle. He also cut out a felt background.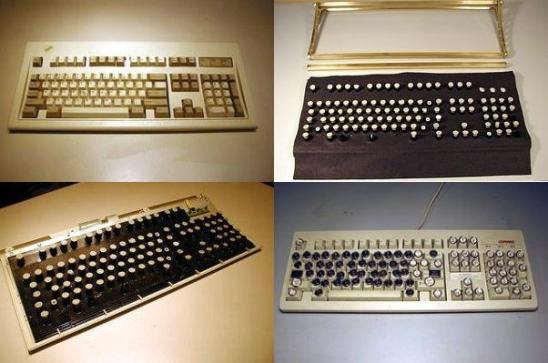 Images: Jake von Slatt
Probably the most tedious part for anyone wanting to upcycle an old keyboard is the keys. Typewriter keys work best, and though Jake had an old typewriter already lying around, things didn't work out as planned. "I have an old Royal typewriter that I had planned to cut the keys off of but I made the mistake of showing it to my daughter, who instantly fell in love with it. So, these keys were ordered from eBay. There are plenty of people offering these since they are popular among crafters. Depending on shipping cost, it is sometimes cheaper to by a whole typewriter and cut the keys off yourself."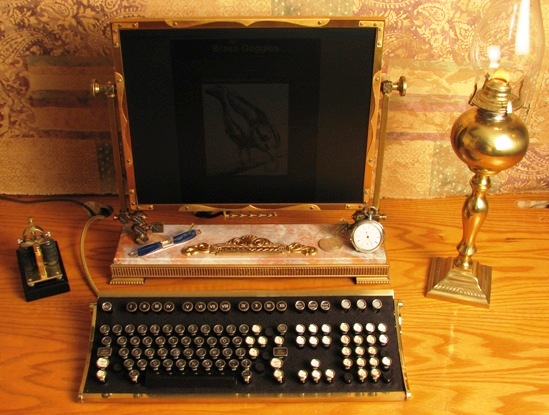 Image: Jake von Slatt
Then came the positioning and gluing of the new keys, but it turned out that two old typewriters did not actually supply enough keys for the keyboard! Tip: Some nice ordinary buttons can double up as keys. Finally, after adding the status lights and painting the keyboard and many hours of labor, the piece was done. Now the monitor is a whole different story…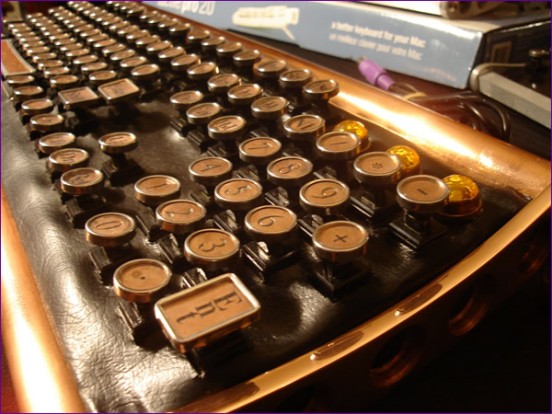 Image: Richard Nagy
California-based artist Richard "Doc" Nagy, aka Datamancer, is a former Web designer originally from New Jersey who now steampunks things for a living as a full-time, professional commission artist. From the amazing keyboards featured here to whole computers, scanners and more, electronic devices are in good hands with Nagy.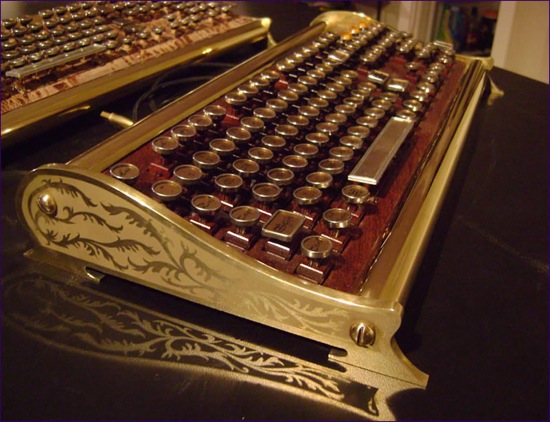 Image: Richard Nagy
But that's not all. He can also turn cars into steampunk vehicles and occasionally makes steampunk jewelry and costumes. But most impressive is his range of steampunk computer keyboards, some of which we've taken a closer look at.
9. Marquis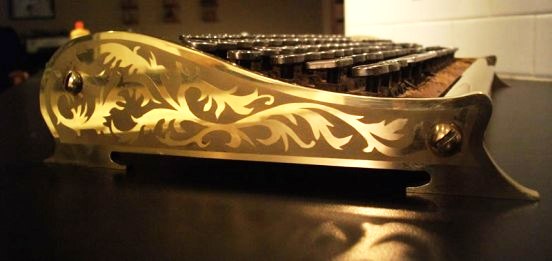 Image: Richard Nagy
"The Marquis" is a truly elegant and eye-catching keyboard whose design features an acanthus-leaf engraving on polished brass, while the key lettering is engraved on a mirrored gold acrylic, making this keyboard a real gem for steampunk fans.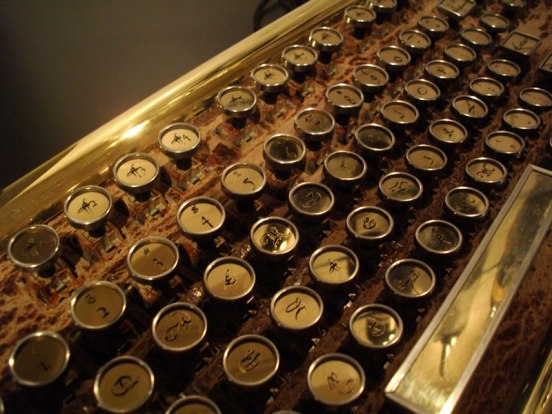 Image: Richard Nagy
8. Datamancer Ergo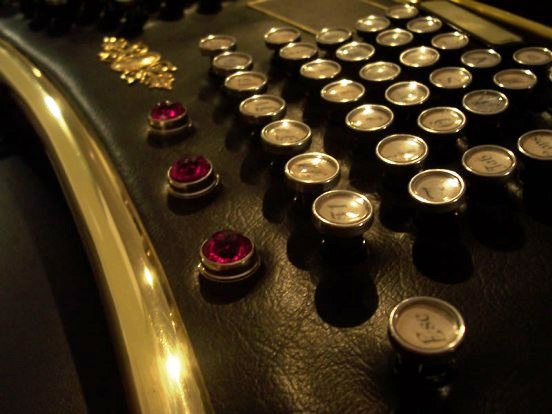 Image: Richard Nagy
The design of "The Marquis" was inspired by the "Datamancer Ergo," a steampunk masterpiece recycled from a rare yet rather ordinary IBM Model M15 split ergonomic keyboard. Designed for a female client who wanted something wrist friendly, Nagy created a forward-slanting keyboard with "some elegant, feminine design features."
Would you believe that this…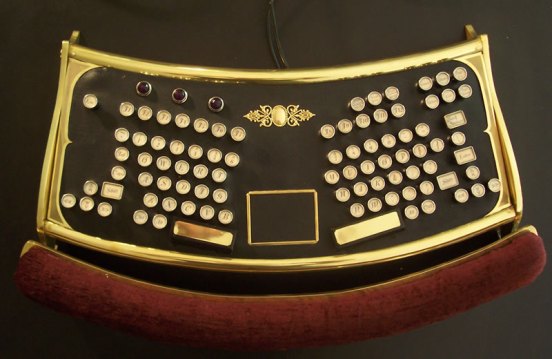 Image: Richard Nagy
…Was once this?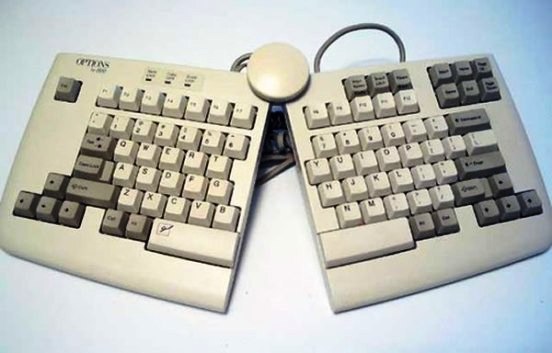 Image: Richard Nagy
7. Datamancer steampunk laptop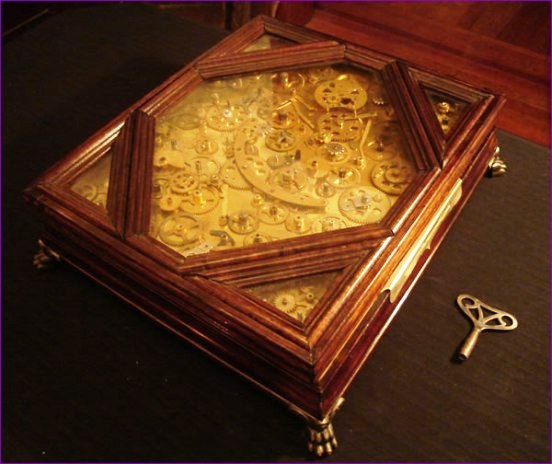 Image: Richard Nagy
This amazing machine is not an old Victorian music box but Nagy's own steampunk version of a laptop, namely a Hewlett-Packard ZT1000 that runs both Windows XP and Ubuntu Linux. Under the glass plate of the hand-crafted wooden case, we find an elaborate display of clockwork that seems to be powering the machine.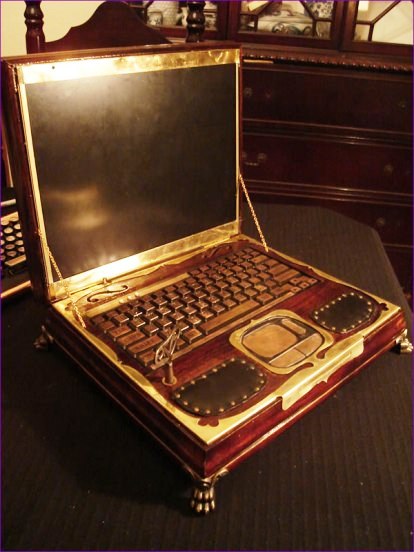 Image: Richard Nagy
But actually the computer is switched on by turning an antique clock-winding key, a custom-built ratcheting switch made by Nagy from old clock parts. Starting work was never so much fun!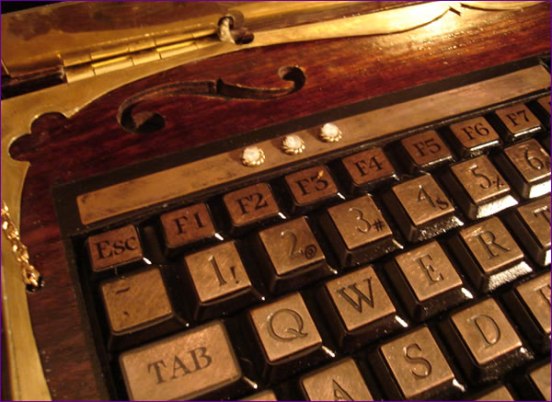 Image: Richard Nagy
The laptop also features engraved brass accents, claw feet, an antiqued mouse, leather wrist pads and a customized wireless network card. Each copper keyboard key was carefully stuck to the original keyboard to achieve the antique look. The original keyboard LEDs shine through small plastic gems.
6. Reliquary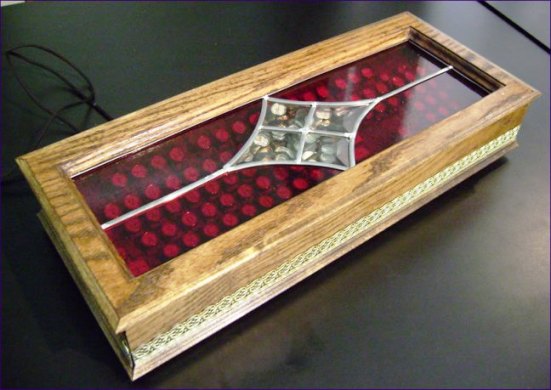 Image: Richard Nagy
Our personal favorite is the "Reliquary." Who wouldn't like a computer keyboard that looks like this? Through the beveled, stained-glass lid of the brass-banded wooden box, one can see the keyboard keys. Once the lid is removed, it reveals a marvel of steampunk engineering.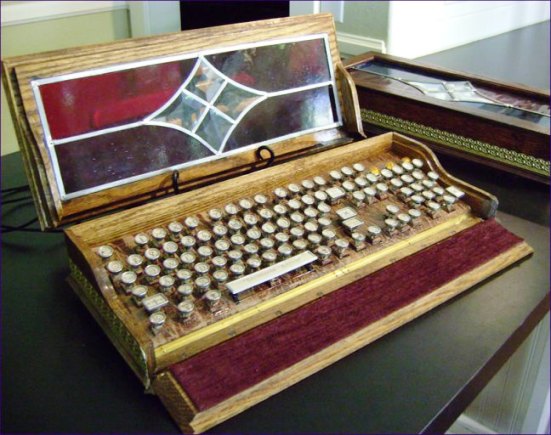 Image: Richard Nagy
In a special nod to carpal tunnel-plagued users, the fold-down front panel reveals a padded wrist rest. Going full steampunk ahead doesn't mean skimping on comfort!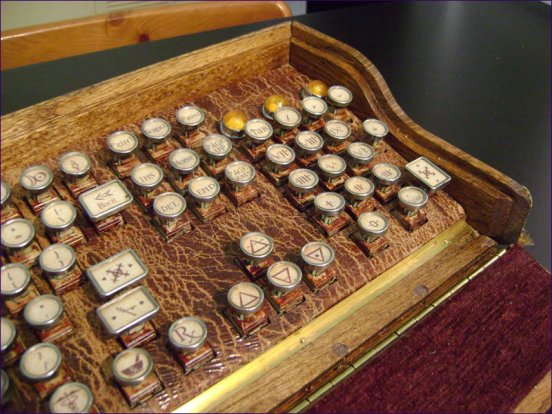 Image: Richard Nagy
Looking more like the keys of an old typewriter, the "Reliquary" is a keyboard that helps us envision the journey from the first typewriters to our modern keyboards.
5. Alchemist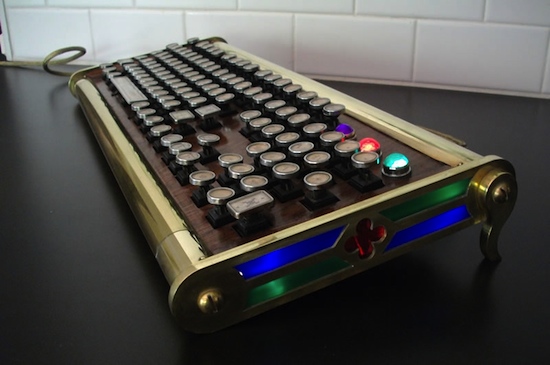 Image: Richard Nagy
Those who liked the letters and symbols of the previous keyboard will love the "Alchemist," as it inspired the keys of the "Reliquary." Originally designed for a pharmacist, the keyboard features a wide variety of alchemical symbols. We love the stained-glass-styled inserts on top!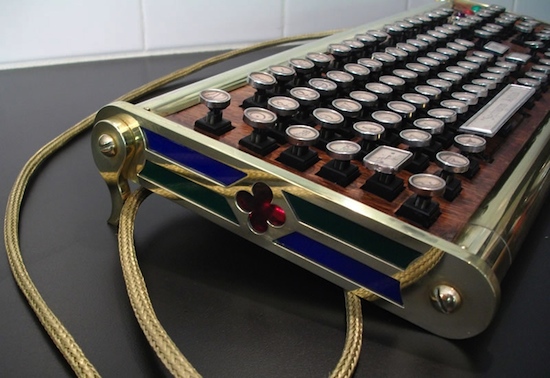 Image: Richard Nagy
If you want to know which metals Nagy used in the keyboard's construction, just follow the F1-F12 function keys: they display the elemental symbols of the different metals used plus a few others. The sun, moon and planet keys stand for the number keys and the tilde.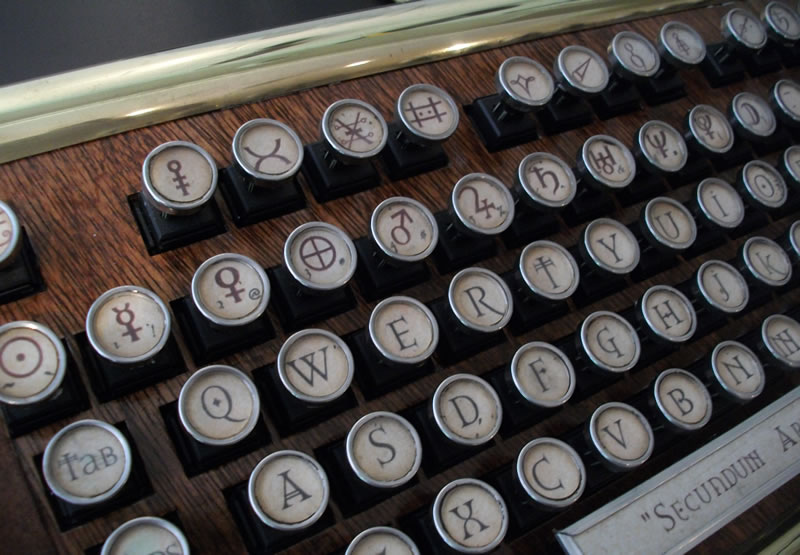 Image: Richard Nagy
Nagy explains the phrase on the space bar: "
Secundum artem
is a Latin phrase meaning 'according to the art.' It is frequently used to describe doing something in the accepted manner of a skill or trade; in medicine, it is often taken to mean 'use your skill and judgment.'"
4. Sojourner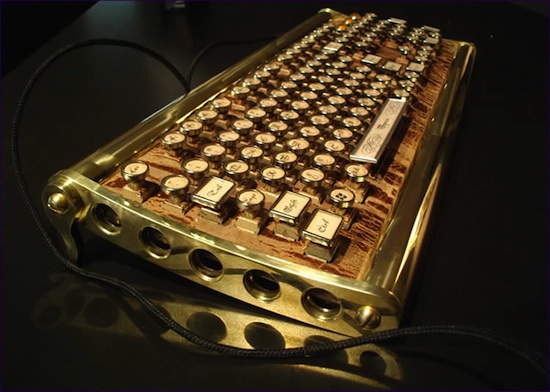 Image: Richard Nagy
If you ever thought a keyboard could have a weathered look, then the "Sojourner" would epitomize it. It was achieved by artificially tarnishing the polished brass, using an aged leather faceplate and parchment key inserts with a beautiful ornamental font.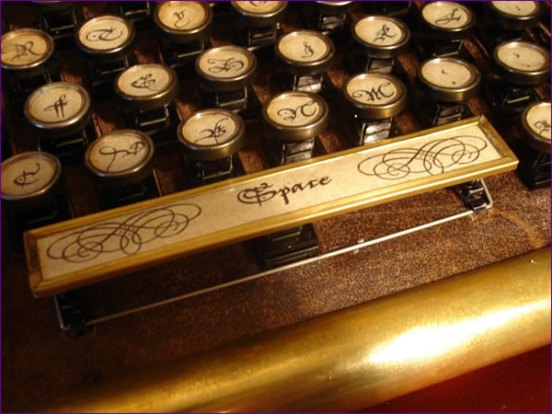 Image: Richard Nagy
3. Industrial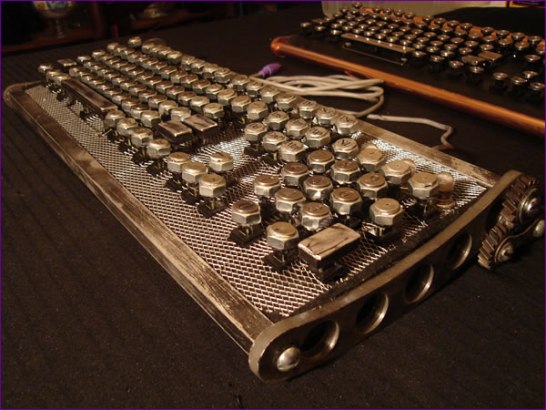 Image: Richard Nagy
According to Nagy, the "Industrial" is a "good, old-fashioned, dirty steampunk" keyboard. And indeed, more like any of the others portrayed here, it seems to embody the gritty, raw nature of the age of steam power. Its aluminum frame is combined with an aluminum mesh faceplate, giving the whole design a true industrial look.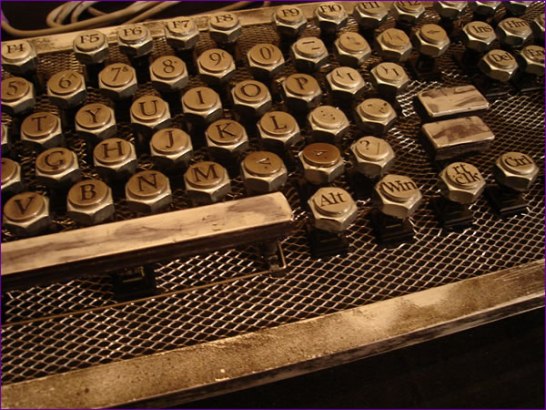 Image: Richard Nagy
The keys are made of hex nuts to complete the look. The two feet at the back used to be transmission planetary gears. Nagy sliced them in half and welded them together. It is this attention to detail that makes each steampunk keyboard so special.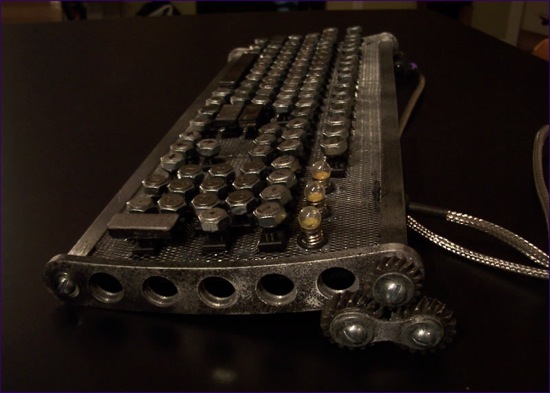 Image: Richard Nagy
2. Mini Mac mod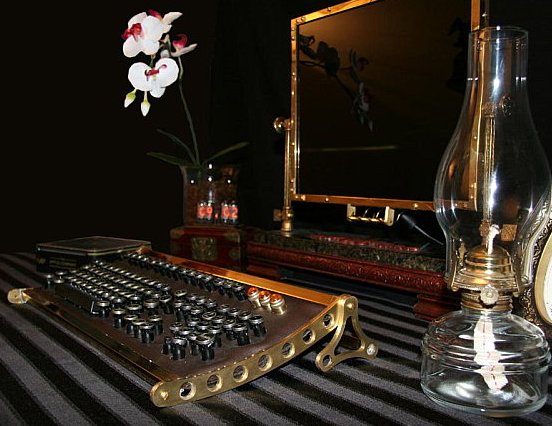 Image: David Veloz
California-based computer engineer David Veloz used his steampunking skills for a very romantic personal project: He transformed a Mac mini, including monitor and keyboard, into a Victorian computing machine that displayed engagement photos at his wedding reception back in 2008.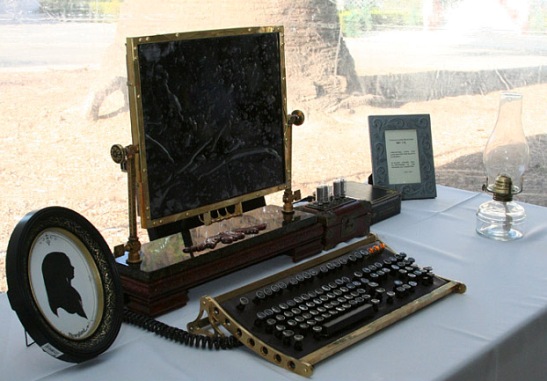 Image: David Veloz
The attention to detail is phenomenal (the inscription on the old tin that houses the Mac mini reads "The Apple Company") and the color choice gives the whole ensemble an elegant look. The keyboard is similar to Jake von Slatt's design shown above, but as a background Veloz used a dark leather rather than black felt.
1. German steampunk keyboard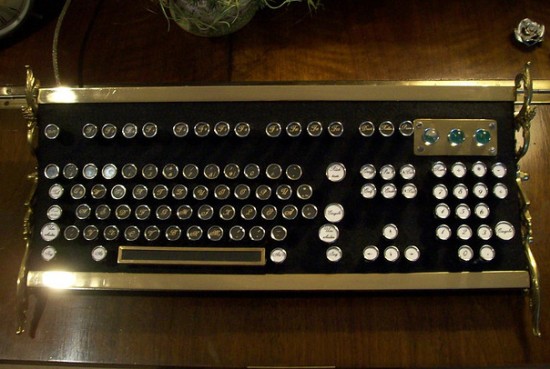 Image: Kay Mesko
The keyboard seen here was made from a recycled IBM Model M keyboard. The keys follow the German layout, meaning the keyboard will have the umlaut keys ä, ö and ü, and z and y are exchanged, amongst other differences. The keys were recovered from two old AEG and Triumph typewriters.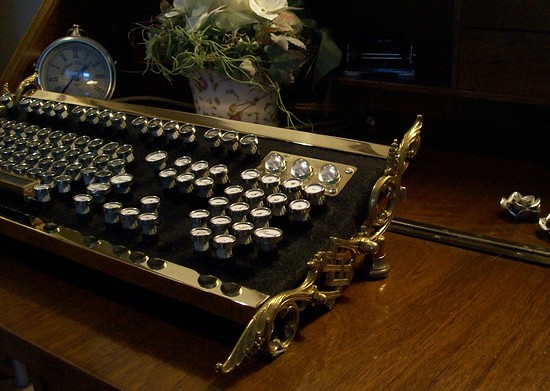 Image: Kay Mesko
The keyboard even has a PS2 port and its background is made of black felt on a wooden base. The most remarkable thing about this keyboard is its intricate brass frame design. The combination of leaves and flowery designs, with stricter geometrical forms, make this keyboard a true work of art.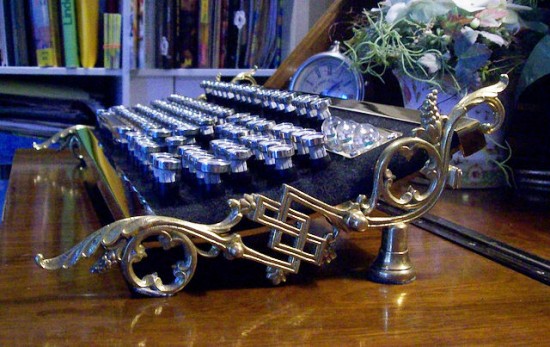 Image: Kay Mesko
With so much of love for technology and admiration for the age of steam power, upcycled keyboards show steampunk at its best. We're surely going to think twice before throwing out an old typewriter or keyboard ever again!
Special thanks to Kay Mesko, Richard Nagy, Jake von Slatt and David Veloz for providing information and images.
Sources: 1, 2, 3, 4, 5