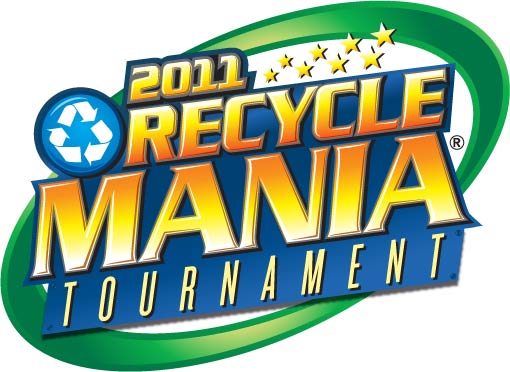 The greenest collegiate competition is back for another season! Universities across the U.S. are once again in the midst of a 10-week recycling competition called
RecycleMania
.
The competition is a friendly one, where the focus is recycling, composting and raising awareness on waste and how campuses can reduce it.
RecycleMania 2011
This year's RecycleMania contest kicked off on February 6 and will run through April 2. The trial period started January 23, and according to the unofficial results of that trial period, the top five schools in the Gorilla Prize are Rutgers University, University of Michigan, Stanford University, University of California – San Diego and University of Maryland. The Gorilla Prize goes to the school with the highest volume of recycled materials, regardless of population.
Different competition areas allow for more winners and more flexibility in focus. The Grand Champion prize goes to the school with the highest recycling rate compared to its waste. The Stephen K. Glasi Per Capita Classic rewards the university with the most recycled materials per capita. The school that records the lowest total waste per capita, including trash and recycling, receives the Waste Minimization award. The Targeted Materials prize involves four categories of specific materials. Schools can win in the following areas: most paper recycled per capita, most corrugated cardboard recycled per capita, most bottles and cans recycled per capita and most food service organics per capita (including compostable dinnerware, pre- and post-consumer food waste, etc.). This year, RecycleMania held a video competition for participants to show their recycling love. The deadline was February 14, and the videos are now being judged, with a winner to be announced soon. Another new feature this year is the
RecycleMania store
, where schools can personalize and purchase recycled products to raise recycling awareness on their campuses.
A little bit of history
RecycleMania started at Miami University and Ohio University in 2001. These two schools, rivals on the playing fields, began a friendly recycling competition, and Miami triumphed. Each year the competition grew, and in 2004 RecycleMania partnered with the EPA's WasteWise program, further increasing its popularity. Last year's competition saw 607 school participate, and this year 630 schools have signed up to fight it out for RecycleMania's top title. You can find all the schools participating in this year's competition
here
. In 2010, participating schools collected a total of 84.5 million pounds of compostable organics and recyclable materials, which, according to this year's press release, saved the equivalent of 137,500 metric tons of carbon dioxide from entering the atmosphere. For more info about RecycleMania, "like" the competition on
Facebook
or follow its
Twitter feed
. Is your school participating? We'd love to hear how your school is recycling, reusing and spreading the green love!