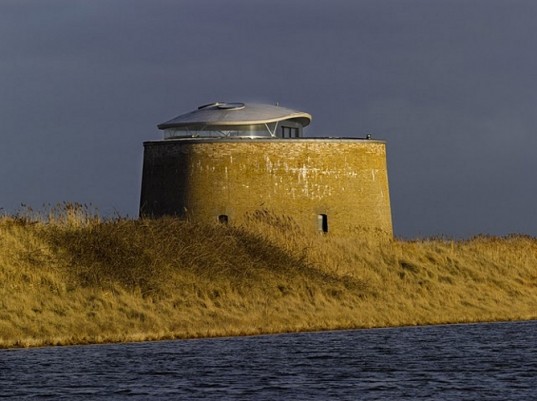 Image: Edmund Sumner, used with permission
From shipping containers and pallets to entire ships, we've featured many a project where an unusual object was turned into a house, even a home. When this is done with old bunkers, our first reaction is of disbelief. Can this work? Can a concrete structure that was used in war ever be cozy and inspire warmth?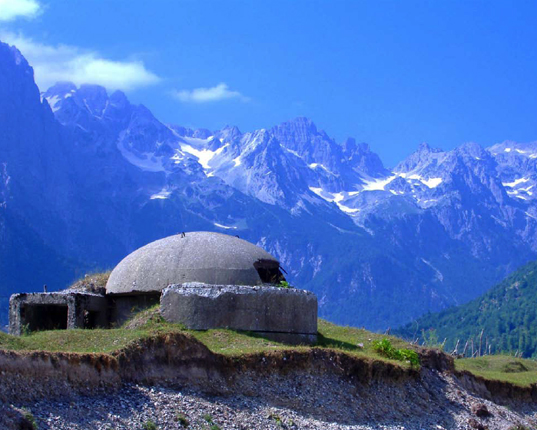 Image: Concrete Mushrooms Project
Individual defense shelters, so-called pillboxes, are small bunkers, constructed mainly during World War I and World War II (but also before and after). They dot the landscape in many scenic locations around the world, from France and Albania, to England. Despite the negative images they conjure, they make amazing homes, restaurants and hostels, and inspire many other uses.
7) Bunker home, Kodiak, AK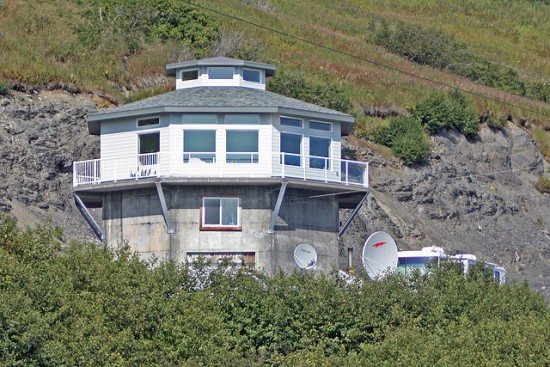 Image: Tanya Impeartrice
This beautiful home is a bunker topped up with a hexagonal house and porch to match. It can be found in Kodiak, AK, overlooking the sea. Despite satellite dishes, a parked RV and the white exterior, the advantage of converting a bunker into a house is that if you do it right, it will remain integrated into the landscape quite nicely because of its location and inconspicuous design…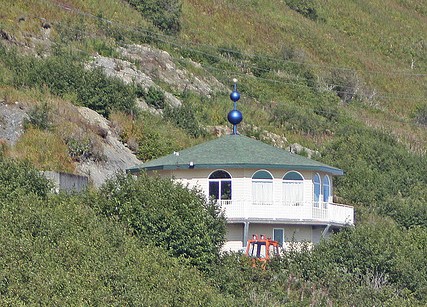 Image: Tanya Impeartrice
Look at the house above, also in Kodiak, to see what we mean.
6) Concrete shelter #1, outskirts of Paris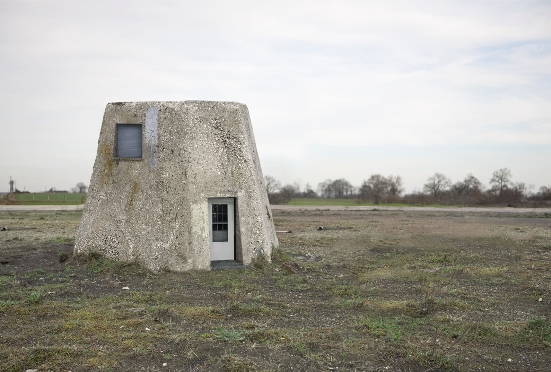 Image: Eric Tabuchi, used with permission
French photographic artist Eric Tabuchi never strays far from the place where he lives, Paris, to capture everyday life in the form of gas stations, restaurants, road signs and concrete shelters like the following two. He says about his art: "I take pictures of deserted places because they emphasize form. Away from the hustle and bustle, each site, each subject turns into some sort of character, as if [it] had been artificially placed there, almost a logo."
5) Concrete shelter #2, outskirts of Paris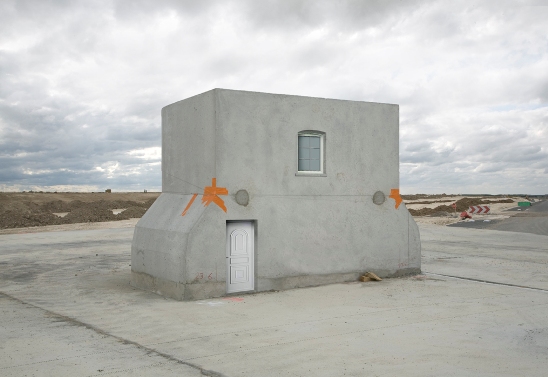 Image: Eric Tabuchi, used with permission
Though Tabuchi is usually in the process of documenting building sites or ruins to preserve them on film, the two concrete shelters shown here, somewhere in the vicinity of Paris, have themselves been saved from oblivion by repurposing. Both shelters have been adorned with modern doors and windows that may seem out of place, yet lend the structures a familiar feel. Suddenly, we recognize the block of concrete as a house, with only a pair of curtains missing to make it a home.
4) Martello Tower Y, Suffolk, England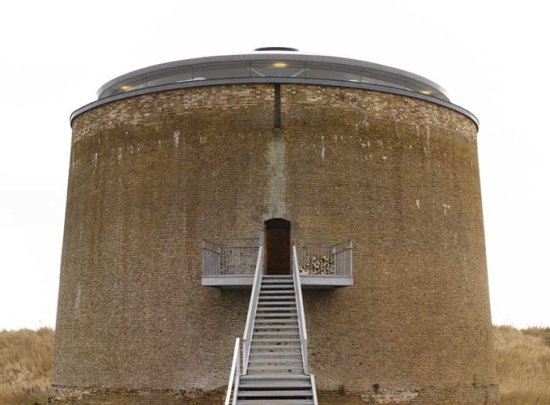 Image: Edmund Sumner, used with permission
The Martello Tower in Suffolk, England, is part of a series of round defense towers that dot the coastline, built in the early 1800s to protect the British Empire. It was constructed in 1808 and was last inhibited in the late 19th century, after which it fell into disrepair. Designer Duncan Jackson of Billings Jackson Design fell in love with the tower and decided to make it his family home. Piercy Conner Architects were appointed to remodel the tower with minimal impact to the outside structure and brickwork as it was on the historical society's "at risk" register. Now, can you see how the inside looks like a face?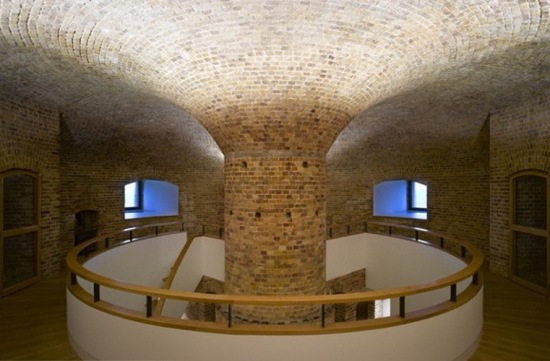 Image: Edmund Sumner, used with permission
The architects added one spacious room on top of the tower, protected by a curved, light metal roof with skylights and a circle of windows discreetly tucked beneath, hardly visible from below. Naturally, this was to be the living area, while the bedrooms are located inside the tower, providing sound(proof) and undisturbed sleep behind 12-foot-thick walls.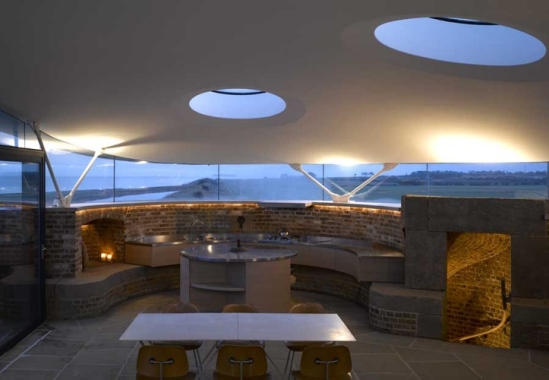 Image: Edmund Sumner, used with permission
Believe it or not, this round room with the stunning 360º view is a kitchen, as well as a dining room and living room. The combination of bricks, windows, skylights and earthy materials give the open room a homey feel that is a far cry from the building's original purpose. The only entrance is via a slim white staircase on the first floor (pictured above). The firewood on the landing will make sure the tower's always nicely warm. And should a storm brew on the horizon? Who cares? You can't even feel it inside this cozy fortress.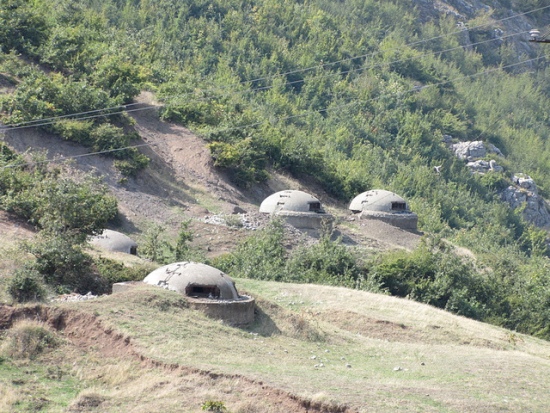 Albanian bunkers. Image: Jeanie Mackinder
In Albania, more than 750,000 small, dome-shaped bunkers dot the landscape, all built in the '70s and '80s and all witnesses to dictator Enver Hoxha's reign. That's about one bunker for every four Albanians! Once meant to protect easy-to-access places like open fields and beaches, the shelters lay unused for many years. Not anymore! The Concrete Mushrooms Project is the work of Gyler Mydyti & Elian Stefa, two Albanian students from Italy's largest technical university. It began in October 2008 as a research project and has since morphed into a nonprofit organization. The aim is to repurpose not only the hundreds of thousands of bunkers, but also the idea behind them. In this way, objects of war and fear are transformed into symbols of not only peace, but also hospitality — places where people can relax, chill over a drink, sleep or even get a tattoo.
3) Bunker restaurants, Bunec, Albania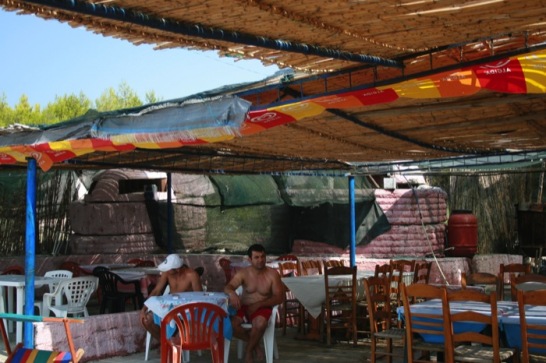 Image: Concrete Mushrooms Project
The beach is one place where small, easy-access spaces are needed for changing, bathing and eating, and creativity knows no bounds. Many of the shelters have thus been converted into little eateries like this one, functional and painted a happy orange on the inside. On the outside, they pretty much keep their unassuming personalities, only betrayed by the hustle and bustle of happy beachgoers around them.
2) Tattoo parlor, Shkoder, Albania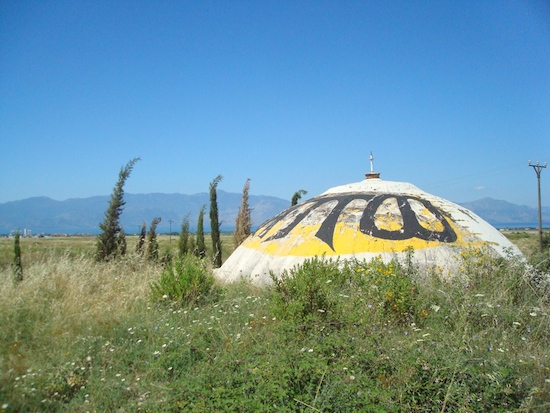 Image: Concrete Mushrooms Project
Tattoo artist Keq Marku Djetroshan has set up shop in one of these "concrete mushrooms," but only after decorating it with graffiti inside and out. What better way to advertise one's artistic talents?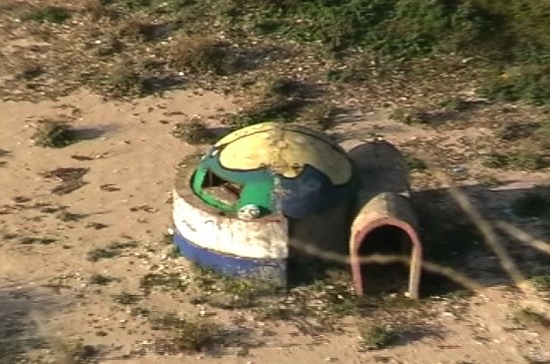 Image: Concrete Mushrooms Project
In the summer season, Djetroshan now serves Albanians and Montenegrins who cross the border near this tiny northern Albanian town.
1) Bunker hostel, Vlore, Albania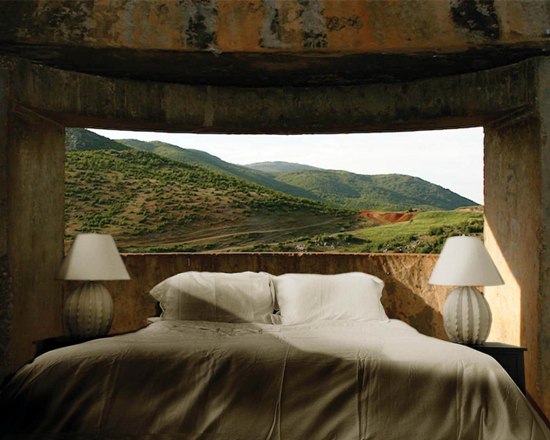 Image: Concrete Mushrooms Project
What better way to chase away the ghosts of the past and turn xenophobia into hospitality than by converting an old bunker into a hostel? Though small from the outside, the bunkers are actually roomier inside, as most of the area is underground. This makes them perfect for a sound sleep and also provides natural air-conditioning in the hot summer months. Size wise, the bunkers are just right for fitting a double bed and a nightstand inside, but they can also be extended through the use of a tent to store luggage in or utilized as a porch in which to relax (as seen below).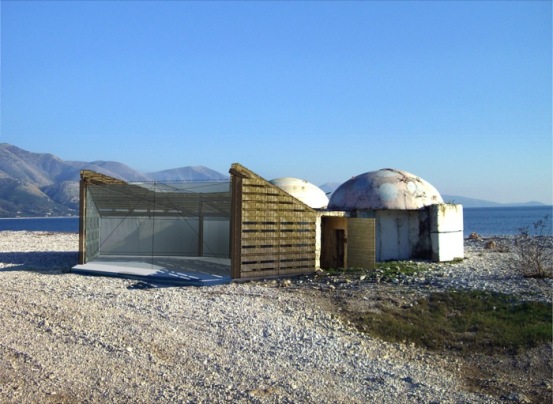 Image: Concrete Mushrooms Project
If you still haven't had enough after this little excursion into purposeful repurposing, here's a video of more creative bunker uses in Albania, accompanied by some upbeat music.
Bonus entry: Bunker 599 + 603, Diefdijk, The Netherlands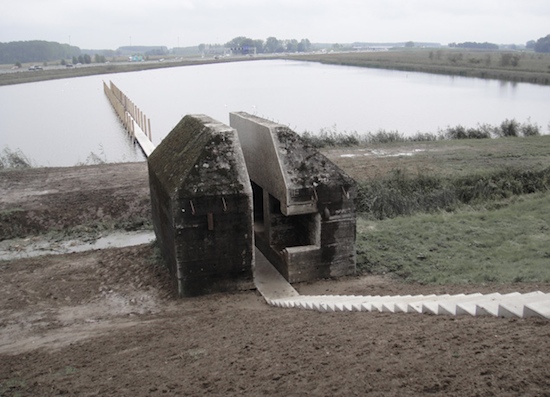 Image: Rietveld Landscape | Atelier de Lyon, used with permission
Last but not least, we've got a bonus entry. Though not actually a structure that's lived in, this cut-in-half bunker, called Bunker 599 and located in Diefdijk, The Netherlands, has been attracting its fair share of visitors since it was finished in 2010. The boardwalk, smack through the middle of the bunker, not only reveals what is usually hidden of the 700 such bunkers along the New Dutch Waterline, but it also turns it into a pleasurable object — one to be visited while on an outing. We love it!
Sources: 1, 2, 3, 4, 5, 6