There are a variety of ways to recycle or repurpose your old silverware, including one way that has been around for decades (if not longer): jewelry. Yes, your old spoons, forks and knives can be twisted and contorted into stylish jewelry. In fact, when I was in grade school, I had a jewelry set made of repurposed silver spoons. Although my spoon jewelry set was very basic — a matching bracelet and ring — you can also find very ornate pieces.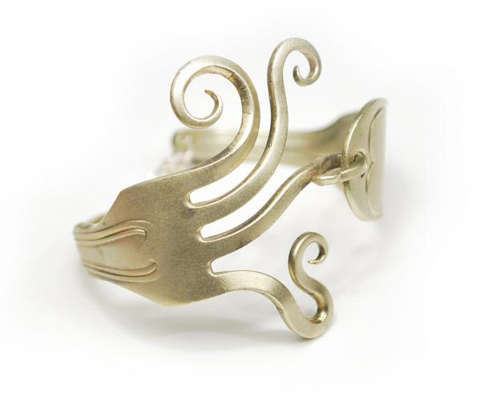 Jennifer Northup, owner of Southern California-based
Silver Spoon Jewelry
, turns antique silverware from the late 1800s and early 1900s into gorgeous pieces of jewelry. Her collection includes bracelets embellished with pearls, a variety of watches and even a large selection of cross necklaces. Of course, jewelry made from silverware is not restricted to spoons. Forks and knives can also be crafted into items, even in nonconventional ways. While the majority of silverware jewelry is made from the handle of the piece, the tongs of a fork can be twisted into an eye-catching conversation piece of jewelry. Don't worry about your safety or that of others, the sharp ends of the tongs are often curled or otherwise dulled to prevent injury. Knives can be rolled up and used as rings or necklace charms. If you're interested in buying silverware jewelry for yourself or a loved one, it is relatively easy to find today. If you take a trip to your local arts and crafts fair, you have a good chance of finding an artist with silverware jewelry for sale. There are also several stores on Etsy.com selling the products. Even Amazon.com is getting in on the trend, with several merchants offering silverware jewelry for sale on the site.