Make a valentine with recycled appeal
Let a local florist know that you'll happily recycle a few sprigs of unwanted greenery — intentionally seek out stems with thick, glossy leaves because they'll serve as the canvas for a hand-stitched love note from you to the apple of your eye. If you want to keep it simple, you can emblazon the letters L-O-V-E on random leaves as Camilla Fabbri has done so brilliantly, but you may consider expanding the text to include other words that resonate deeply. If you're really skilled with a needle and thread, then embroider hearts, hugs and kisses in a contrasting thread color!
Another interesting, textural option might be to peel back the exterior layers of an onion,
using the thin skin as a natural collage-type material
on the front of a handwritten card or journal that you intend to present to your love. You could also embellish it collage style with select phrases or images from old magazines, greeting cards, ticket stubs, fortune cookie sayings and any other ephemera you've collected from dates together. Time to get familiar with a glue stick!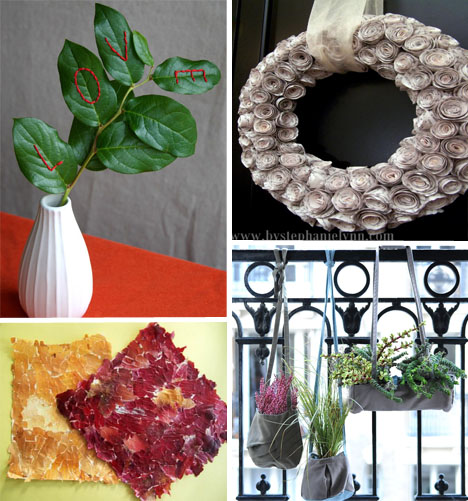 Help your sweetie breathe (naturally) easier
There's a certain enchanting, albeit predictable charm to presenting the love of your life with a bouquet of flowers. The clear drawback of your glorious gift is that, in many cases, after just one week, it becomes a gnarly, withered shell of its former self. Not so with potted plants, though. Imagine the look on your main squeeze's face when you "up" the eco-ante this year by transforming several rooms of their personal space into a green dream. NASA conducted a comprehensive study analyzing the natural filtration effect of a vast collection of common
household plants
and found that particular varieties such as the date/bamboo/lady/Areca palm, mother-in-law's tongue, Chinese evergreen, Boston fern, Dracaena, English ivy, rubber plant, split-leaf philodendron, peace lily, Pothos and Ficus Alii work extremely well at removing indoor volatile organic compounds like trichloroethylene, benzene and formaldehyde that are typically emitted from furniture and other household décor items. Now
that's
the type of gift that keeps on giving! Wouldn't you breathe easier, too, knowing that your special someone was surrounded by carefully selected greenery working overtime to filter the bad stuff out of his or her personal environment? (Bear in mind that a modest house plant growing in a 6- to 8-inch-diameter pot filters 90 square feet of space like it's nobody's business.)
Earn extra "green" brownie points by…
repotting your entire Valentine's Day botanical menagerie
inside unique upcycled planters
such as recycled hardcover books, stacks of old magazines or even old telephone books. If money is no object and you're partial to modernizing your presentation, then
hanging soft-sided planters
may just take it up a few notches!
If flowers are your thing, make 'em über green
To each his own. If flowers float your boat (not to mention the boat of the person on the other end of your Valentine's Day gesture), floral expectations can still be fulfilled without heading out to the store for chemical-covered greenhouse versions. Instead, plow into your recycling bin, closet or rainy-day materials stash for everything necessary to craft a highly personalized, wilt-free bouquet.
Your blooms
can be made with recycled sweaters, fabric, books, magazines, plastic bags, etc. — pretty much any raw material that reflects your sweetheart's personal interests. Do you heart a computer techie? Then make your bouquet out of recycled computer parts. Love a bookworm? Then fashion flowers out of recycled book pages.
Earn extra "green" brownie points by…
placing a few well-chosen blooms inside a
handcrafted recycled book vase
.
Revamp your love's living space with eco-nuances
If it's true that actions speak louder than words, then your budding eco-love's heart will leap for joy when you green small portions of his or her household. When he or she is busy at work or out on the town with friends, roll out the green carpet with one, a few or all of the following:
Install four recycling bins for glass, plastic, metal and paper that are customized to reflect his or her personality and interests.
Mount a mini coat rack right outside the front door that is reserved specifically for recyclable bags and any other reusable items he or she might regularly use (water bottles, washable utensils/food containers/napkins, etc.). If they're always within reach, your main squeeze might be more likely to remember them.
Gift them with green household cleaning supplies fit for an eco-king or queen, including stacks of hand-cut T-shirt rags, assorted containers of homemade dirt/grease cutters and planet-friendly laundry detergent.
Replace conventional, petroleum-based candles with cleaner-burning soy wax versions.
String festive, twinkly LED lights around a window or piece of furniture in the living room for a year-round reminder of your love. Your valentine will go gaga for your energy-saving efforts!
Remove every last plastic shopping bag from the house and recycle the material into a handcrafted Valentine's gift. A thoughtful and practical bonus: leave five to 10 reusable bags to use during their future shopping excursions.
Replace bedding with greener versions made with 100% organic cotton, bamboo or recycled materials. For the budget compromised, hunting down a vintage bedspread from a thrift store and crafting a one-of-a-kind duvet cover for your Valentine would also fit the eco-bill. For an ever-enduring option, borrow several beloved T-shirts (that he or she no longer wears) and fashion a bedspread, rug and pillows out of them.