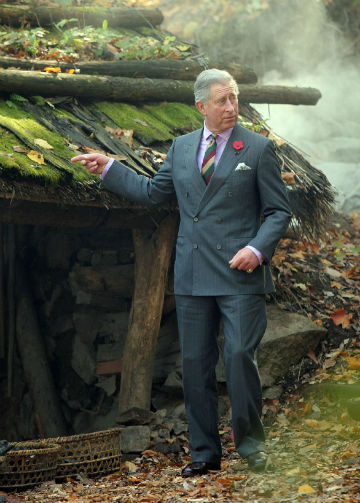 There are very few members of royalty who bother sharing their
perspective of eco-fashion with Vogue
, nor do they typically make a habit of hosting
sustainability festivals in their own back yards
or touring their homelands via
recycled cooking fat-fueled train
. In a class entirely by himself, Prince Charles of Wales has made it his personal mission throughout the last several decades to spread the good green word to his fellow countrymen in countless original and inspiring ways. From his organic, sustainably produced line of food,
Duchy Originals
(the profits of which support a long list of environmental and human service-related charities), to the
installation of his own photovoltaic array
(a feat that even
the USA's own renewable energy-cheerleading president couldn't match
), the Prince has proven that he most certainly walks the walk where the future of the planet is concerned. A longtime proponent of sustainable design, it's interesting to note that he first conceived of an idyllic community located in Dorset, England, that would abandon modern cookie-cutter-like housing developments in favor of the quaint and pedestrian-friendly neighborhoods of yesteryear. Rather than echoing the urban sprawl of our modern world, his project, dubbed "Poundbury," would instead offer its residents an eco-haven of distinctive dwellings, conveniently walkable amenities and copious amounts of greenery intended to help it become one with Mother Nature. The unique village, located on the outskirts of Dorchester, even adhered to 13
optimum design principles
outlined by his
Foundation for the Built Environment
charity in an effort to ensure that its environmental impact was as minimal as possible. On the heels of its completion, the exceedingly eco-minded prince has once again been given the green light to erect an even more
planet-friendly settlement in Devon
, called Sherford. Its anticipated 12,000 residents will obtain at least 50% of their energy needs from a combination of wind turbines and photovoltaic arrays, plus they'll enjoy personal homesteads crowned with living roofs and a centralized, organic community farm — all by the end of this decade. But wait, there's
more
! It seems that one Poundbury eco-village isn't nearly enough for the world.
A new Ayrshire, Scotland, incarnation
, called Knockroon, will break ground this spring, ultimately taking an anticipated 25 years to come to fruition. Consisting of 770 renewable-power homes,
the development will be
"linked by a network of roads, footpaths and cycleways." Prince Charles is even venturing beyond his own turf by creating an updated Poundbury model village a full 5,000 miles away in the outskirts of Bangalore or Calcutta that will accommodate as many as 15,000 low-caste individuals. The archaic sanitation system that India's shantytowns typically employ will be but a distant memory in the Prince's vastly improved yet still dense development, slated to begin construction in autumn of this year. Among the notable eco-features of the
Slumdog Millionaire
-inspired settlement: natural ventilation and palm tree-shaded roofs that make the most of passive cooling — a major bonus given the oppressive heat that residents usually endure in that region. Additionally, a rain harvesting system will satisfy household water requirements before being relegated to landscape irrigation.