For those fortunate enough to enjoy a well-deserved vacation, the main objective while sightseeing and soaking up the local culture is oftentimes to get, well, trashed. This seemingly universal party time urge might, however, be lost on patrons of
The Beach Garbage Hotel
since their accommodations are all together sobering. Anyone who's had the pleasure of staying in a five-star "home away from home" might beg to differ, claiming that absolutely nothing about living in the lap of luxury — even for a brief week — could possibly be a downer. Clearly, they haven't witnessed Madrid's spectacle firsthand. Conceived by German conceptual artist Hans-Jürgen Schult — the same mastermind behind a
public installation of 1,000 life-sized trash people
that continues to travel the globe — the Beach Garbage Hotel is precisely what it sounds like.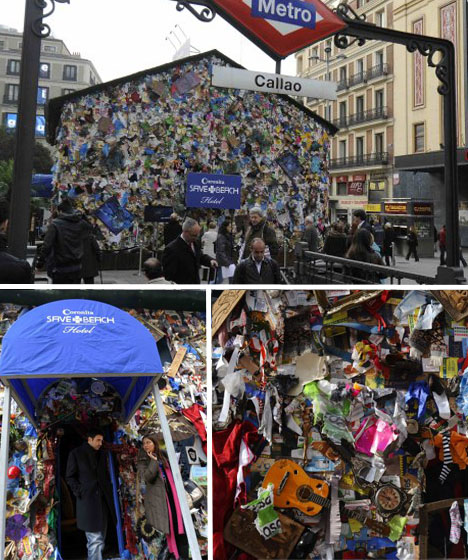 Imagine walls studded with 12 tons of handpicked and artfully arranged post-consumer waste, up to 40% culled from European beaches, and you'll begin to get the picture. Rounding out the positively trashy display are infinitely disposable flea market and landfill items, including weathered picture frames, unwanted clothing, balloons, food packaging, toys and plastic bags galore. Why erect a verifiable eyesore such as this? Schult, long regarded as an eco-awareness pioneer, has explained that
his motivation behind the project stems
from the fact that our global oceans have become "the biggest garbage dump." By highlighting trash in a way that forces us to scrutinize our rampant consumerism, rather putting it out of sight and out of mind, perhaps visitors and hopefully even the international community will be shamed into making positive lifestyle changes that make recycling and repurposing the norm rather than the exception. With just five rooms for guests, the waste-studded structure, which closed its doors on January 23 following the conclusion of Madrid's International Tourism Fair, was designed more for shock and educational value than for overall guest comfort. While patrons did enjoy the convenience of eco-friendly low-flow toilets, the hotel actually lacked bathing facilities outright. Cautionary eco-statistics emblazoned on signs offered patrons an even more eye-opening décor touch, reminding them that the ocean trash that we've all generated for decades upon decades has resulted in a bleak future for marine life and the state of our beaches. Schult has earned a reputation as being a master "waste manipulator" in the same way that some artists dominate oil paint and canvas or clay, however, his mixed media of choice happens to come directly from our global shorelines. This certainly isn't the first time that he's stuck a bunch of junk on a hotel to draw attention to the plight of our environment. Some may recall a smaller-scale Rome-bound waste-studded building that he created last year, but if you're scratching your head and saying, "Huh?!," perhaps supermodel, photographer and newly dubbed eco-activist Helena Christensen's highly publicized stay will bring it all back into focus. See? Works like a charm every time. If you're interested in getting up close and personal with Schult's unique eco-art, it's quite possible that you may have an opportunity to do so in the near future. His Trash People installation has traveled for the past 15 years to locales as exotic and culturally distinctive as Antarctica; Brussels; Paris; Beijing; New York City; and Al-Jizah, Egypt, and shows no signs of slowing down. Given our society's continued pace of buying and purging — along with the artist's perspective that "we produce trash" and ultimately "become trash" — sadly, he'll likely have plenty of food for his eco-artistic fodder for many, many years to come.