Nothing is built to last forever — not our cars or household possessions or (
sigh
) even our bodies. Despite our grandest intentions to gingerly handle the most frequently used material goods in our lives, they inevitably still suffer from the unforgiving hands of time until that fateful day when we're about
this close
to giving them the old heave-ho. This article is for all of the curbside chuckers who end up hanging their heads in shame, knowing full well that there must be a reasonable alternative that will result in landfill liberation but don't quite have the creative wherewithal to dream up unique DIY ideas on their own. Read closely and learn!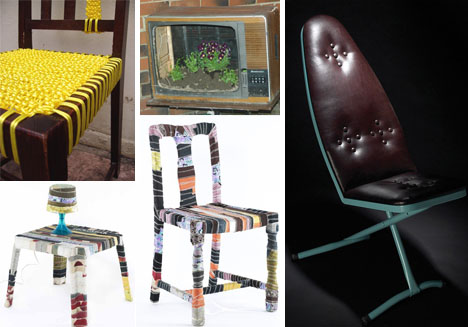 Maybe you have a rambunctious clan of kiddies that regularly rumble with your furniture or you have a bunch of hand-me-downs that have been passed so far down the line that even
they
are begging to be put out of their misery. Conversely, you could be one of those "someday" people who cruise curbs on garbage night, rescuing pieces that are ripe with crafty potential but never quite getting around to making your restoration visions as reality.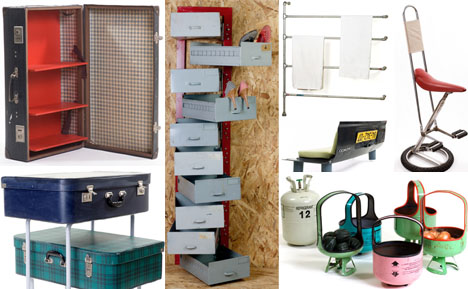 British artist
Donna Walker
waves her magic wand over ailing plastic patio furniture, mismatched chairs and lamps simply by wrapping strips of fabric around them, resulting in a wonderfully coordinated bohemian look that might easily command top dollar at a yuppie palace like Crate & Barrel. She is also the brains behind a hand-knitted seat pad, ironing board-turned-chair and gutted television planter.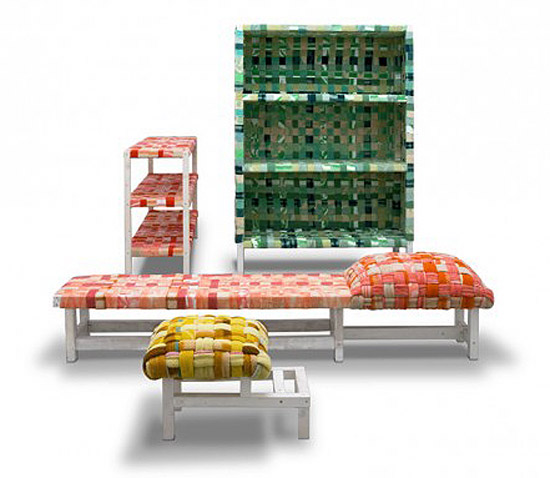 Israel-based repurposing company
Junk+ion
literally bends over backwards, sideways and upside down while gazing at society's cast asides to come up with new configurations that are almost always fresh and unexpected. In their hands, trashed kiddy bicycles become novelty seating, old suitcases can live on as nifty medicine cabinets with the addition of a piece of mirror on the front, old wooden shipping palates harbor multiple pairs of shoes in no-nonsense style and worn-out house shutters take on new life as automatically ventilated chairs.
The next time you find yourself contemplating what to do with a pile of spare blankets and random scrap wood, why not take a page from Netherlands'
Studio Jo Meesters
and try weaving on for size? With very little investment of time or energy, they were able to create great-looking, highly functional furniture staples just by making frames out of 34 pieces of painted wood and attaching woven strips of coordinating blankets to them. The result, titled "Odds & Ends, Bits & Pieces," demonstrates that with the right dose of imagination, even the most humble supplies can be transformed into stylish, one-of-a-kind practical pieces.
For some, the idea of refinishing battered and abused wooden furniture sounds positively dreamy… and yet for others, it's fodder for their worst nightmares. Even if you know what you're getting into, stripping off old surfaces and reapplying complementary stains can be a messy prospect that inevitably chews up whatever precious free time you might have.
Mo Man Tai
has come up with an intriguingly slick option that takes the DIY out of the formula altogether. Consumers can instead rely on them to put the
va-va-voom
back in their beloved wooded pieces since the company uses stainless steel resurfacing (rather than chemicals) to get the job done. By applying random, intricate lace-etched patterns to the top of each piece of metal and securing the final glitzy product onto formerly worn-out wooden table surfaces, the result is a sheik makeover that will have visitors oohing and aahing for decades to come.
Back in the United States, architect and former construction worker
Will Holman
uses his curiously unique background to reenvision the tools of his former trade — namely wheelbarrows and signs, along with other quirky materials — to create incredibly unique chairs to rest your weary bones on, as well as other eye-catching household items. How about a recycled wooden crutch seat that happens to offer particularly effective lumbar support, a surprisingly snuggly looking wheelbarrow chair or a brilliant orange traffic cone that takes on new life as a lamp that radiates a polka-dot-studded glow? His furniture is perhaps a little rustic and rough around the edges, but it definitely puts the "fun" back into "functional." LA-based multimedia visual designer Ramon Coronado explores the repurposing possibilities of the humble abandoned shopping cart with his
Mercado Negro Furniture
, which, while perhaps being more dorm room than living room, is still a phenomenal example of creativity melding with eco-innovation. Using nothing more than imagination, a hand saw and a few carefully placed cuts, he literally removes all of the telltale signs of each shopping carts' former checkered past (aside from their literal open weave plastic design) and transforms them into outdoor furniture, lamps and even recreational swings!