Nothing is more frustrating than a disorganized closet where garments, coats and accessories are all jumbled together. Storing your clothes properly helps them from becoming worn or damaged, and can actually extend the life of a garment.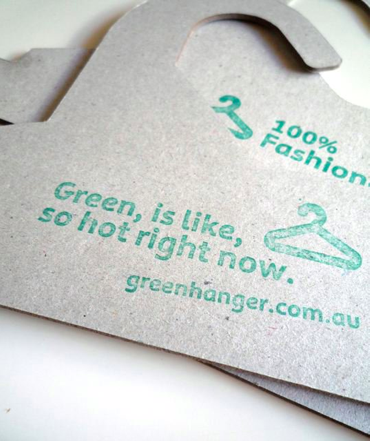 Hanging clothes in an organized manner can save you money and reduce your environmental impact because garments last longer and require fewer turns in the washing machine. Until recently, the only hanger options were resource-intensive
metal hangers
and environmentally hazardous plastic, but an innovative Australian company is ironing a new crease in the hanger industry.
Green Hanger
designed the first fully recyclable and biodegradable cardboard coat hanger made from 100% recycled materials. Unlike wire hangers, Green Hangers won't get tangled together or create sharp lines in your heavier garments, and are gentler and more supportive for delicate fabrics. According to the company's website, "around 80 percent of the cardboard is post-consumer waste meaning our hangers are mostly made from old phone books, junk mail, printing off-cuts and newspapers. No trees are cut down specifically for the production of the Green Hanger." Green Hangers contain no inks or glues, so they are safe for use by those with allergies or sensitive skin. And unlike the millions of wire and plastic hangers that end up in landfills each year, these cardboard alternatives are easily recyclable through existing municipal recycling programs. These eco-friendly hangers are available in both adult and kids sizes, although there are no options for pants or ties at this time.
Learn more at
greenhanger.com.au
or on
Facebook
!