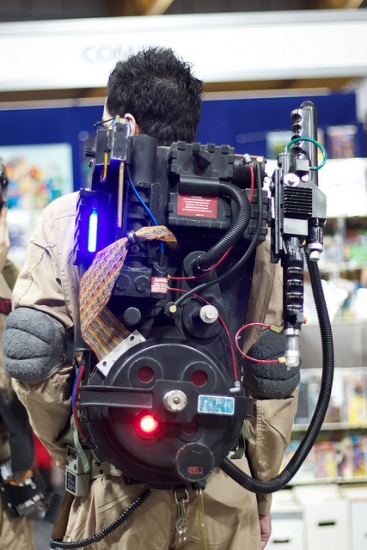 Image: Nick Ayre, used with permission
Egon: There's something very important I forgot to tell you. Peter: What? Egon: Don't cross the streams. Peter: Why? Egon: It would be bad. Peter: I'm fuzzy on the whole good/bad thing. What do you mean bad? Egon: Try to imagine all life as you know it stopping instantaneously and every molecule in your body exploding at the speed of light. Ray: Total protonic reversal… Peter: Right, that's bad. Important safety tip. Thanks, Egon.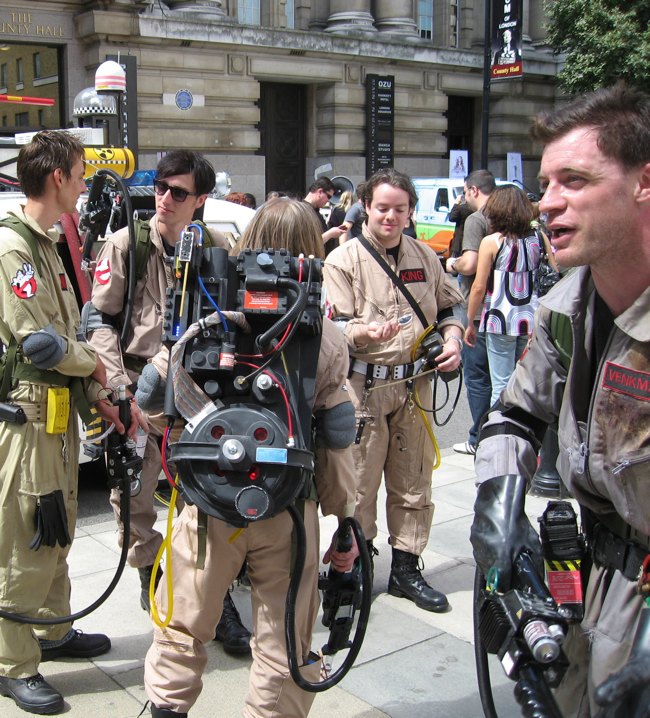 Image: Jay Bergesen
This dialogue has haunted
Ghostbusters
fans ever since it was first heard in 1984, and the Proton Pack in particular has kept young and young-at-heart minds occupied since then (and rightly so, as it's a piece of equipment that truly captures the imagination).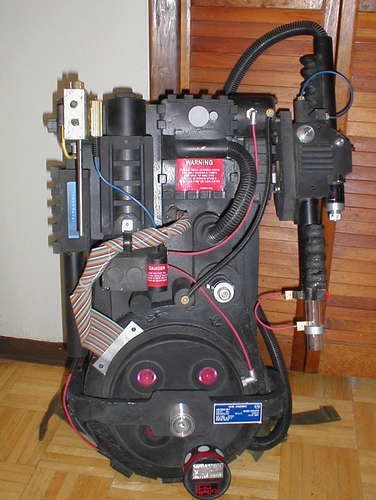 Image: Honus
Yes, since the iconic films were released in the '80s, busy tinkerers have been making their own versions of the Proton Pack, and as we will see, no effort has been spared in recreating this famous piece of nuclear accelerative machinery (complete with Neutrona wand and particle accelerator for a fully equipped ghost-hunting experience). Here are 10 of the best out there!
10) The 'functional' version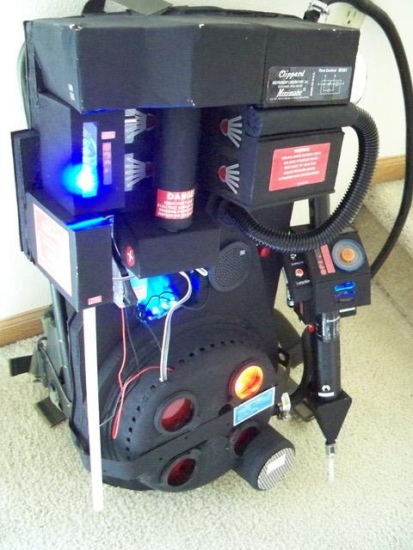 Image: Dustin Westaby, used with permission
This Proton Pack by Dustin Westaby is fully functional, with sound and light animations (though it unfortunately cannot lasso the spirits of the departed). All the external wires are actually operative components for the device, adding to the pack's sleek look. As many recycled materials as possible were used for this pack, including old Tupperware, medicine containers and an old can. The black twin tubes used to contain plastic glue. If you want to create your own version, many of the components can be readily found in hardware stores — or better, a yard sale — and you can see how Dustin's built his
here
.
9) The Lego version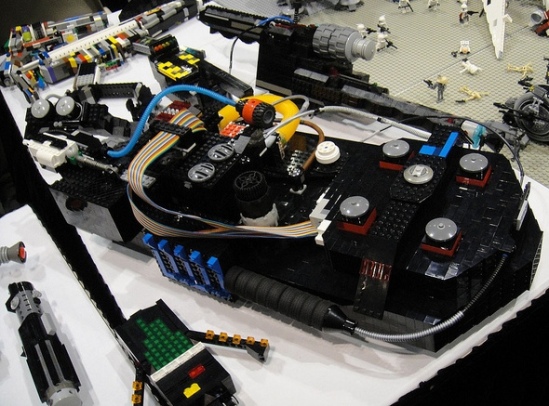 Image: popculturegeek.com
You really, really have got to admire this Lego builder's enthusiasm and attention to detail. It takes some planning (not to mention digging into the Lego collections of friends and supporters) to put together a Lego Proton Pack as awesome as this. And it's all there: gearbox, spacer, cyclotron and power cell, not to mention the Neutrona wand.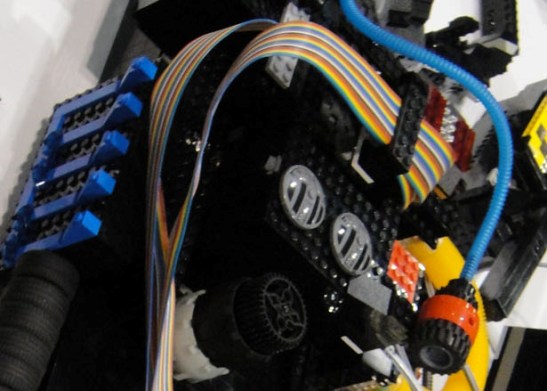 Image: popculturegeek.com
Especially impressive are the injectors and the cyclotron. Above is a close-up of the awesome creation, showing excellent use of Lego tires.
8) The historic replica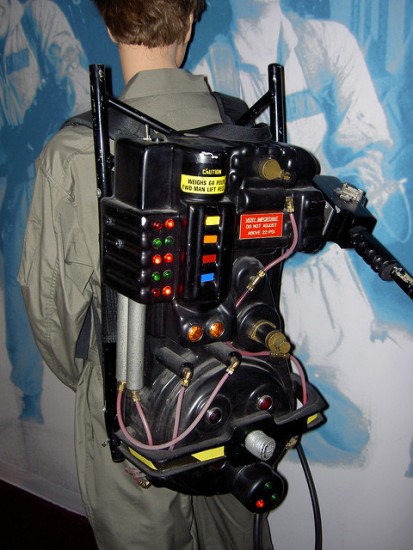 Image: Adam Lautenbach
This stunning replica version is on display at the Historic Auto Attractions museum in Roscoe, IL, which also features a fully fitted out Ecto-1 recreation. It was apparently created by George Barris, the man who created the originals for the movie. Spook-takular!
7) The almost there version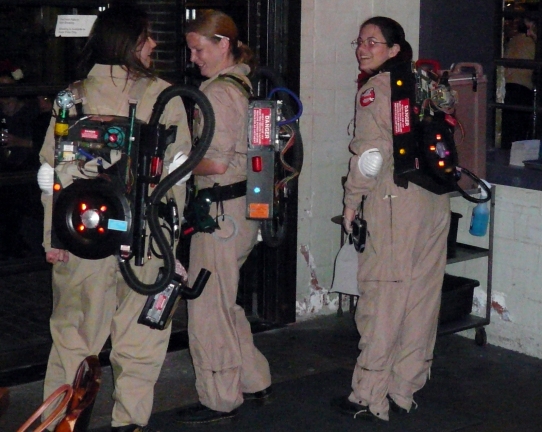 Image: Cory Doctorow
These three female Ghostbusters have really gotten creative with their homemade Proton Packs. We can spot old vacuum cleaner tubes, wiring, all kinds of boxes and old tools that make up the ion arm, crank generator, power cell, cyclotron and more. Don't miss the respiratory masks used as elbow pads!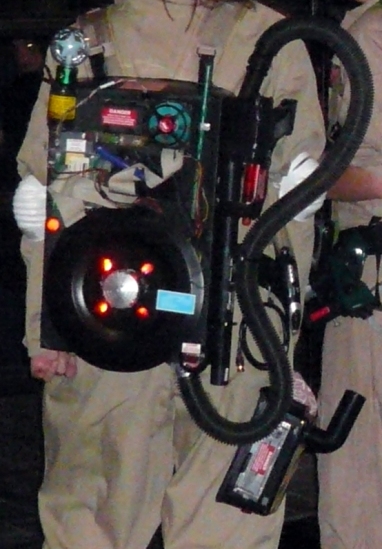 Image: Cory Doctorow
Above is a more detailed view, showing the effort that's been invested into making this thing.
6) The rubber version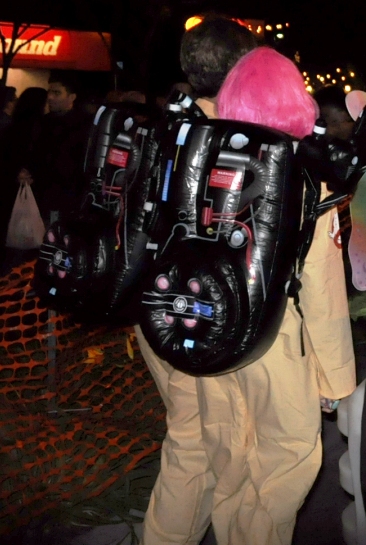 Image: Clinton Steeds
If you've got an old rubber toy, preferably in black, which is approximately the size of your back, you're all set. That'll be your motherboard. Just add a few buttons and tubes with duct tape, glue on a lightweight frame and your Proton Pack is ready. These two sure provide lots of inspiration.
5) The recycling pro version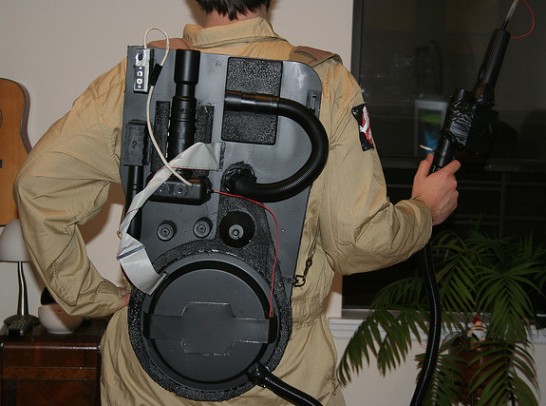 Image: Aaron Williamson
As much as we love all other versions for their creativity, precision, diligence and attention to detail, this recycling champion is our secret winner, as nearly all of its parts have been repurposed. It consists of spice bottles (the booster), an old Atari switch (the ion arm), a flashlight (the particle thrower), an umbrella handle found on the road (the injectors), a curling iron (the particle thrower), a dishwasher exhaust hose (the tubing) and Styrofoam and cardboard boxes from old packaging used for various parts. In other words, all the stuff you have lying around at home could make an awesome Ghostbusters pack.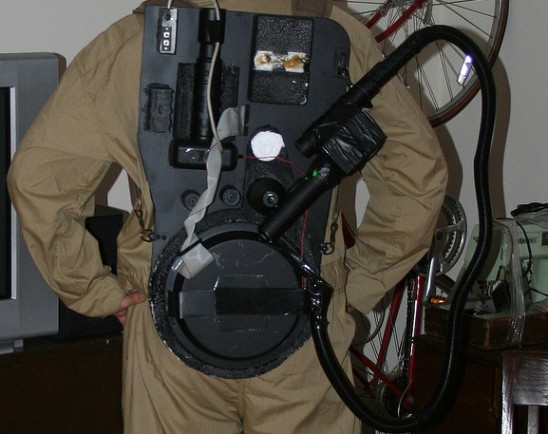 Image: Aaron Williamson
Click
here
to see which repurposed item was used for each part. Above is a picture of the pack after "being used."
Image: Matt Clark, used with permission
Matt Clark's Proton Pack was based on those seen in
Ghostbusters II
, which used less detailed but lighter packs. Matt explains the evolution of the packs in the movies: "The original packs had extensive detailing, as well as electrical and mechanical features. These heavy, bulky props were disliked by the actors (Murray especially), and so were largely replaced by much less functional, sloppy fiberglass casts for the second film. Although it's difficult to spot on screen, the GB2-made packs have a much duller, less detailed appearance and are somewhat 'wonky.'"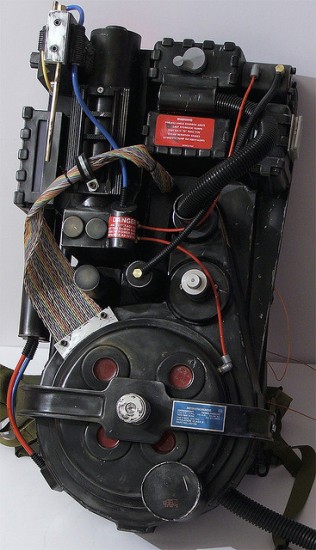 Image: Matt Clark, used with permission
For the tubular details, a standard PVC plumbing pipe will work. For a real and weathered look and to test the pack's resistance, it might help to bang it a few times. Rust-colored dry powders may do the trick for the rusted parts, but natural dust and grime is best for the rest.
3) The deluxe version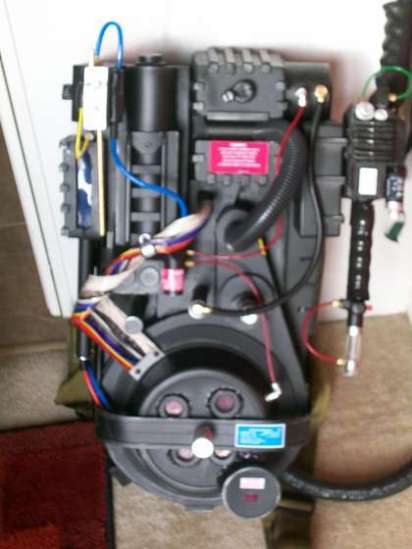 Image: Doug Hogan, used with permission
This version, though made from scratch at home, does not come cheap: it cost about $200 in material and many hours of labor. It's all fun, though, and you can't put a price on that. Here's what you'll need if you're inspired to make a pack yourself: a carbonite board (the stuff that clip boards are made of) as the motherboard, some insulation foam, a plastic bowl and plastic folders, ribbed tubing, LED circuits and some odds and ends that you may have lying around in your garage.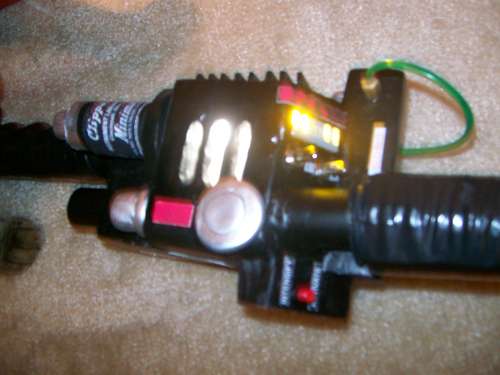 Image: Doug Hogan, used with permission
To cut the foam and make it resemble working parts, builder Doug Hogan shares his tricks: "[We] went one step further to really get things smooth and the corners sharp by coating each piece with spackle and then sanding it down. This really is the key to getting a foam pack [to] look like machined parts. It even leaves a very nice and subtle texture that really feels like steel machined parts." The original ALICE frame for the pack actually came from a military surplus store:
Image: Doug Hogan, used with permission
Doug tried to recycle whenever possible, and repurposed many items to create something completely different. His special tip: Pringles cardboard tubes make for great circular pieces on the pack and the cyclotron. Here's the Proton Pack in action: Now, just get yourself an old flight suit, spice it up with a paratrooper belt, boots and a couple of patches, and you're good to go.
2) The 'original'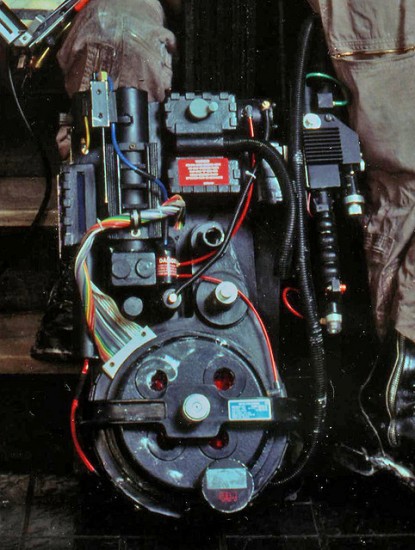 Image: Matt Clark
Given that the Proton Pack from
Ghostbusters
was custom-made for the movie, it deserves a mention in the list, as the "original fake," so to speak. Speaking about the original pack, seen here in a still from the first
Ghostbusters
movie, Matt Clark says: "The basic shape was sculpted from foam and then a rubber mold was made of it, from which fiberglass shells were pulled. The gun had an extending barrel mechanism and the electronics were quite advanced for the time. They were then finished with various surplus 1960s resistors, pneumatic fittings, hoses and ribbon cables, as well as surplus warning labels and custom-made metal fittings. The overall weight of these props is rumored to be around 35 pounds-plus." When the second
Ghostbusters
movie featured simplified, fiberglass versions of the packs, which were considerably lighter and easier to move about with, the originals were retained for close-up scenes.
1) The authentic DIY version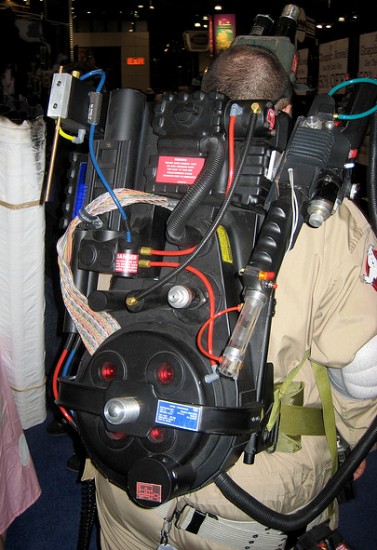 Image: darkever, used with permission
This Proton Pack is the clear winner, as the attention to detail is really remarkable, especially its LED elements. In fact, it looks so real we're wondering if a few ghosts actually got busted with this!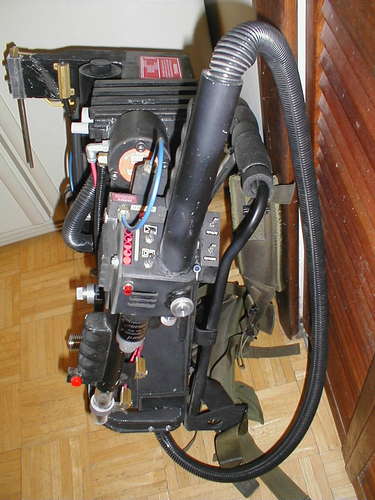 Image: Honus
Though Instructables builder Honus has provided very detailed instructions and plans, the whole pack plus accessories will take a great deal of planning and concentrated work to recreate, with components including insulation foam, MDF wood, pressboard and lots of glue. You will start by making the individual parts and pasting them onto the motherboard.
And the other side: Doesn't it look a bit like a ghost vacuum?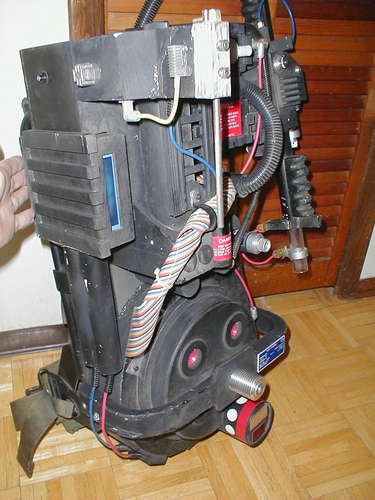 Image: Honus
Done? Wait a minute, the proton wand!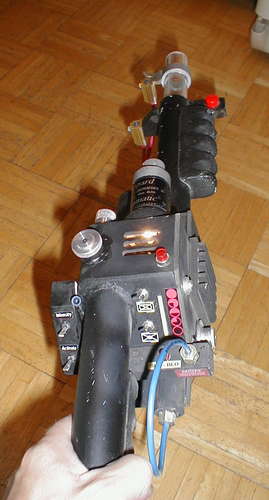 Image: Honus
Honus describes the process: "This is made mostly from 1/8″-thick board. The grips were carved from blue foam and the handles are PVC pipe. The clip that is mounted on the underside of the proton wand body hooks onto the proton pack so it can be removed, just like in the movie. I made the side plate removable and stuck a lamp in there — it's turned on by one of the toggle switches on the wand body. I also added lights to the powercell and cyclotron in the proton pack."
Done now? No, there's still the trap and pedal…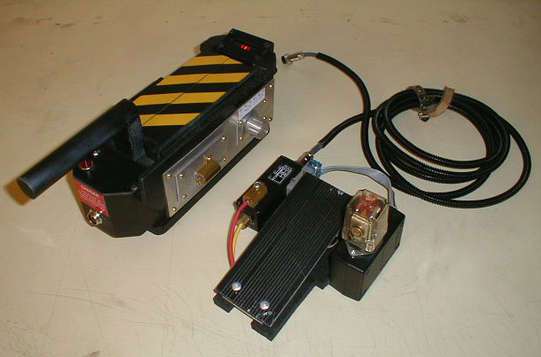 Image: Honus
… and these amazingly authentic goggles: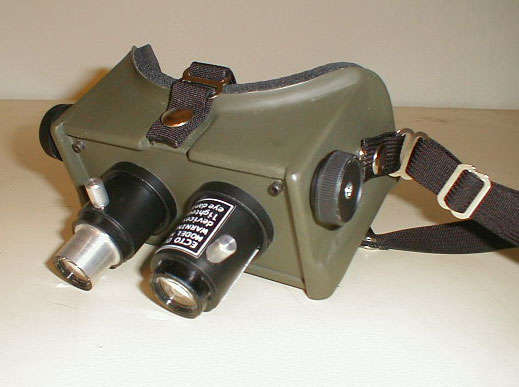 Image: Honus
Click on the image links to see exactly how these amazing replicas were made. We're still stunned (or shall we say charged?) by so much awesomeness, and the dedication the went into making all the entries seen here. For those who'd like to start a project that's a bit easier and less time consuming, here's our bonus entry: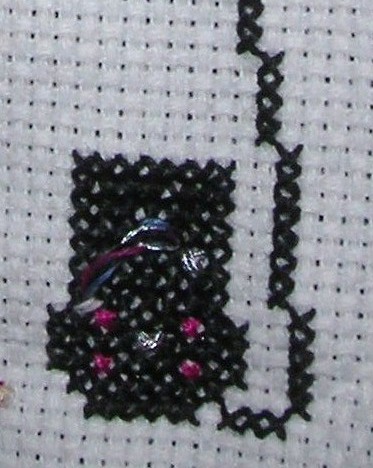 Image: Mary Sue
Perfect to practice your cross-stitching while also using up your old yarn (without just spinning one), you can copy this design of a Ghostbusters pack. Hint: metallic thread will make it all the more realistic!
Sources: 1, 2