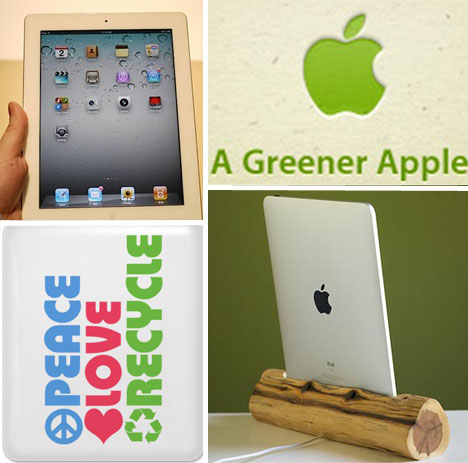 It's lighter, thinner and faster, but do these three little upgrades automatically elevate the next-generation iPad to
must get me somma that
status? According to electronics geeks from all corners of the Internet,
Apple's shiny new model is well worth purchasing
, not only because it operates more efficiently, but also because it boasts several bells and whistles that will undoubtedly answer the prayers of legions of multimedia addicts. How about being able to reach out to family and friends located all around the world via
FaceTime video calling software
and the iPad's new front-facing camera? With its higher-resolution screen, the conveniently portable device will likely ensure that users have a true-to-life chit chatting experience, facilitating the type of visual and auditory connection that was once merely conjured up in cartoons and sci-fi movies. (Plus, its back-mounted camera, 10-hour battery life, 1-GHz dual core A5 chip, high-def video-to-television capability, 65,000+ apps and well-priced status make it all the more desirable among electronics enthusiasts.) The new pad on the scene is also
leaner and greener than ever before
, from its highly recyclable glass and aluminum enclosure to the fact that it lacks several seriously harmful environmental pollutants. Gone are the days that iPad users will inadvertently absorb brominated flame retardants, mercury, polyvinyl chloride and arsenic through their nimble fingertips (it's well worth
exploring Apple's sustainability policy
for additional eco-efforts). If you're itching to get your hands on the iPad 2, that means that many still perfectly usable yet sadly unworthy first-generation models will likely be left in the dust. Can't a less-than-year-old hunk of plastic catch a break? Heck yeah! With the following tips, at least your unwanted e-gadget will have the opportunity to live on in some practical capacity (rather than suffering the fate of a smelly landfill burial):
Sell it via Craigslist, eBay or a used electronics website
You
may think that it's undesirable, but there are a bunch of other people out there who would be happy to take that iPad 1 off your hands at somewhat less than retail price. Some are shrewdly awaiting the day that the iPad 17 is officially launched, or maybe they want to tide over their bright-eyed electronics-obsessed kiddies for a moment. Either way, secure your highest earning potential by posting a photo and comprehensive description of your device on Craigslist and/or
eBay
— you can garner
as much as 80% of your original purchase price
by choosing this route. If you want to streamline your effort and don't mind waiting at least a week for a final pay day, consider working with used electronics websites such as
Gazelle
,
BuyMyTronics
,
TechForward
,
Tech Twurl
or
NextWorth
. With
payouts on those sites
ranging from the high $200s all the way to $450, your e-trash will definitely end up yielding a bona fide shiny treasure!
Get store credit when you trade in your first-generation iPad
Ailing electronics retailer Best Buy
(who might in fact
supply its sales staff with iPads
in the near future so it can elevate its "hip" vibe) will offer those who hand over their old devices
a gift card worth $10
(which offsets the $10 fee that is charged in certain regions for responsible processing). Every little bit helps, especially if last year's model took an accidental dive underneath a Mack truck. Recycling is recycling, right?
Participate in Apple's iPad recycling program
If your old version is tattered and battered but still potentially usable, you can also drop it off at one of Apple's brick-and-mortar locations and they'll
responsibly recycle it on your behalf
. For the eco-geeks out there, it's worth noting that the cutting-edge retailer
does not transport toxic waste to Third World nations
! For your conscientious eco-effort and time, they'll offer you a 10% discount on a replacement. OK, so it least it'll cover the sales tax on your newbie iPad.
Get a $100 refund if you recently bought a first-gen iPad
For the unfortunate few who literally just bought a new yet woefully "old" first-generation iPad, this is somewhat good news: Apple is at least softening the blow by
offering a $100 refund
, so you'll only be down $300 plus tax. Yup, it still hurts, but at least the company is doing something to soothe the pain.
Donate it
Feeling charitable? If you have money to burn (you lucky duck, you) then imagine how awesome it would be to post an ad on Craigslist or Freecycle offering your first-generation iPad to someone with no strings attached… or give it to a school, a library or a senior center. Just knowing that others will leap for joy while using something that you've outgrown should be payment enough, but if that's not enough to motivate you, then do it for the eco-glory!