Mankind has known for a very long time that there's no need to cry over spilled milk, especially when we can use perfectly absorbent cotton textiles to wipe away all traces of the mess. It's not a stretch to say that the entire population can vouch for the moisture-slurping properties of
Gossypium hirsutum
, or cotton. After all, it's formed the fabric of our lives and the canvas for an endless array of totally irreverent graphic T-shirts. Those fluffy little puffs, upon being woven into flat fabric, have also played a starring role in our domestic spaces, drying off generations upon generations of dishes with the greatest of ease. We're a forward-moving society innately drawn to technological advances, so when we heard about the groundbreaking emergence of
Arthur Scott's indispensable, garbage can-worthy paper towels
in 1932, our cultural perspective of waste was forever altered. Despite the fact that Scott's first run of Sani-Towels were somewhat eco-friendly (since they were made with upcycled toilet paper that failed inspection tests), his invention ended up partially contributing to the disposable mentality that has taken such a great toll on our planet. Chastising fingers should be pointed in other directions, too. For far too long, many of us have been clueless about carbon footprints, landfill capacities and global warming. Scrubbing, soaking and wiping away the fallout from various cooking experiments with basic disposable kitchen resources like sponges and towels just seemed… convenient. No fuss, no muss. Our better judgment may tell us that killing trees in order to make one-time-use items that are swiftly disposed of is a bad idea, but paper towels are so conveniently addictive. They wipe away all evidence of the dirty business that we really don't want gunking up our sponges or our cute little printed tea towels. But you're a conscientious consumer who craves greener solutions and you know that cloth is far better than paper any old day (for its reusability factor alone). Good thing your eyeballs have come this far because you can now feast on a bevy of eco-alternatives that will make your kitchen zone radiate with planetary responsibility!
Organic cotton dish towels
Cotton is an ideal and readily available eco-friendly textile that also happens to be naturally biodegradable, but organically grown cotton earns major green points because it has to be cultivated without the use of toxic pesticides or fertilizers (both of which cause great detriment to local ecosystems, wildlife and even the workers that harvest it). These days, finding dish towels made with 100% certified organic cotton is surprisingly easy, whether you visit brick-and-mortar locations of major retailers like
Sur La Table
and
Crate & Barrel
or you support green-centric online shops such as
Abe's Market
,
Rawganique
or
EcoKitchen
.
Sustainable linen or hemp dish towels
Dirt- and stain-resistant linen, made from flax fibers, is up to three times stronger than cotton (plus it's bacteria/fungus repellent), while fast-growing hemp thrives without the use of herbicides, requires very minimal pesticide application and has a durable, linen-like texture upon being woven into fabric. Flax linen towels can be purchased from
Linen Studio
and
Healthy Linen Products
, while hemp versions can be found at
EcoKitchen
and
Compostable Goods
.
Rawganique
carries both varieties!
100% viscose wood pulp or bamboo towels
Similar in appearance to silk in its raw form, wood pulp viscose can soak up 10 times its weight in liquid, but upon being wrung out completely, it dries in a flash.
EcoHousekeeping
sells a two-pack of infinitely reusable viscose towels for $6.95, while
Organic Bamboo Clothing
offers a bamboo-cotton version in a diverse range of colors, but just two 20" by 28" squares will set you back $26! Conversely, save some cash by visiting your local Trader Joe's, where you'll find a two-pack of aptly dubbed
Super Amazing Reusable Kitchen Cloths
for the low price of $3.99. The viscose beauties may not look like conventionally glamorous supermodels, but they work like a dream.
Worn-out or just plain orphaned socks
Even if they've already been around the block more than a few times and have become annoyingly "air conditioned," your thread-bare or hole-covered socks can easily be kept out of the garbage can while making your domestic cleaning ritual a lot easier. Slip your hand inside and you'll discover just how handy they are when you tackle unsavory messes. A word to the wise: if you plan on drying off dishes, bowls, cups or utensils with retired footwear, be sure to wash your seen-better-days castoffs thoroughly prior to using them!
Hole-ridden clothing
Super absorbent cotton garments (such as retired T-shirts) work exceedingly well at drying off freshly scrubbed dishes, glasses and silverware. You can even cut them into tidy little uniform squares so you don't feel as though you're rocking the hillbilly lifestyle or take them one DIY step further by binding the edges with a stylishly contrasting fabric.
Skoy cloths
Greenies from all corners of the planet continue to sing the praises of these
perfectly absorbent chlorine- and toxin-free, biodegradable cotton-wood pulp cloths
that happen to be sold in an eye-catching palette of colors and designs. Capable of absorbing 15 times their weight in liquid, each Skoy cloth dries rapidly and can actually be laundered and even microwaved to zap germs into oblivion.
Make your own towels with organic fabric!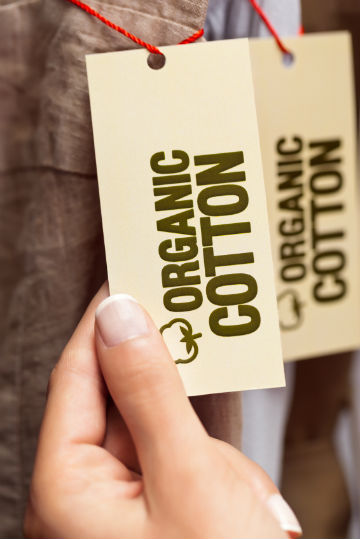 It's not that hard, really. First, peruse a few online organic fabric purveyors such as
ModGreenPod
,
EcoButterfly
and
Near Sea Naturals
in order to purchase your ideal fabric and pattern. Then, decide which type of handmade towel you want to craft. Here are at least 19
tutorials to consider
, which require nothing more than the sewing skills of a sixth grader (since you're merely just tackling a square).