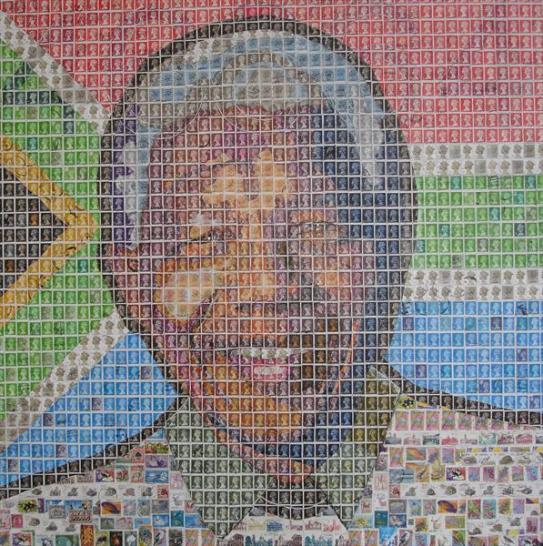 Nelson Mandela — 36" x 36", 3,000 U.K. and African stamps All images courtesy of Peter Mason
Peter Mason, or the "Post Pop Art Man," as he calls himself, creates portraits of famous people by recycling postage stamps into pixellated images, using the stamps' colors and designs to contribute to richly evocative portraits. Each artwork is made of thousands of used postage stamps, from 3,500 for a typical 4' x 3' canvas to 22,000 for the larger pieces.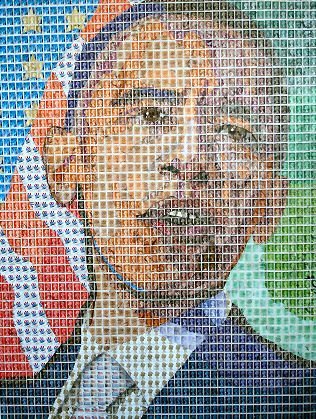 Barack Obama — 26" x 34", 4,000 U.K. and U.S. stamps
As one can imagine, the preparations for each stamp portrait are extensive. First, Mason draws the portrait onto a canvas or a huge piece of paper; then, he divides the image into stamp-sized squares — his pixels.
William and Kate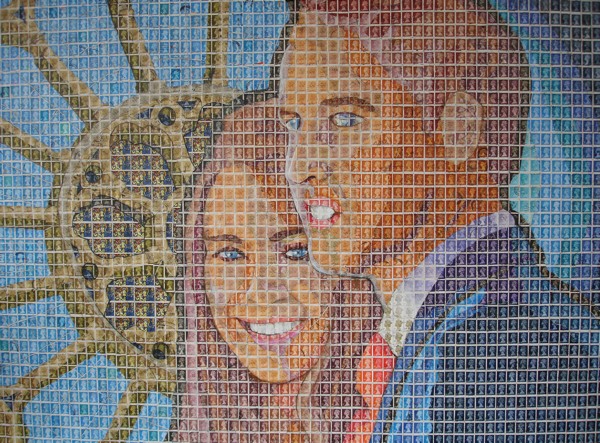 Where does one get so many stamps? It all started with a few students at one of the schools Mason was working at as a teacher at the time. He remembers getting his first stamps: "Pupils and parents used to collect them and bring them into school, but soaking them in the bath took ages and… well, I'll not go into that. I did manage to get a dealer to sell me three black bin liners full of 'off paper' stamps for £300 several years ago, and I am only about halfway through." Going at the rate he does, they'll not last long, as he's used close to 1 million stamps already!
Dr. Martin Luther King, Jr. — 36" x 48", 4,000 U.K. and U.S. stamps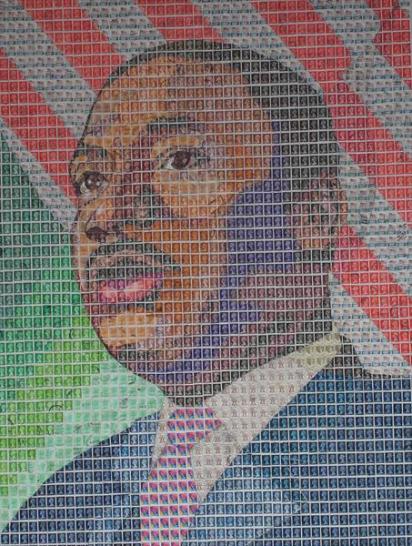 Mason has created portraits of all kinds of contemporary and historical figures, from President Obama; to Prince William and his fiancée, Kate Middleton; to Dr. Martin Luther King, Jr., seen above. Mason explains his use of stamps in his MLK portrait: "Symbolism runs through the design but is especially seen on his shirt where the 'Liberty Bell' 'proclaims liberty throughout all the land.' A colorful tie is made from the Statue of Liberty stamp, while the shadow on his shirt collar is made up from a stamp depicting a ballot box 'to cast a free vote, the root of democracy.'"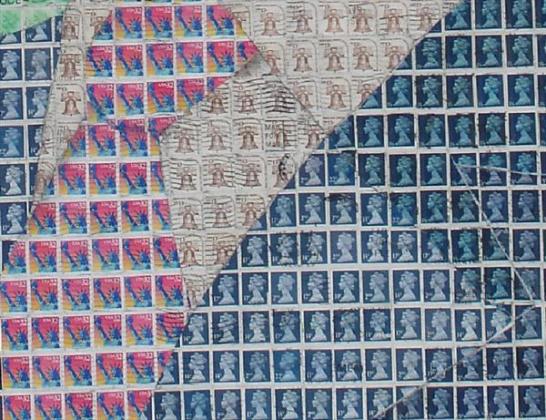 For the tribute to Diana, Princess of Wales, on the 10th anniversary of her death, seen below, more than 100 stamps of a set of five featuring Diana's portrait were used on the candle alone, symbolizing Elton John's memorial song "Candle in the Wind." A huge amount of thought went into the creation of the portrait and its use of symbolism: "The earrings on the picture were designed as triangles to represent Diana, Charles and Camilla Parker Bowles on one hand, or Diana, Charles and Dodi Fayed on another, yet can also be interpreted to relate to her roles as mother, wife and icon."
A Candle in the Wind — 84″ x 144″, 22,000 stamps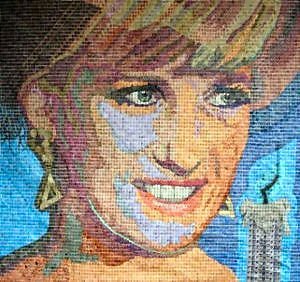 Ode to Diana (detail) — 108" x 36", 9,000 stamps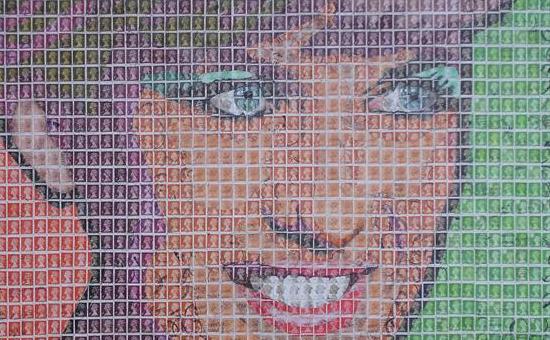 He continues: "Black stamps used around the edge of her sad eyes add to her very English peaches-and-cream complexion; her hair is graphically well coiffured. In contrast, the dark corner of the picture and the haphazard cutting of the strands of hair were created to express storm clouds, the impending gloom of her failed marriage."
Nelson Mandela — 36" x 36", 3,000 U.K. and African stamps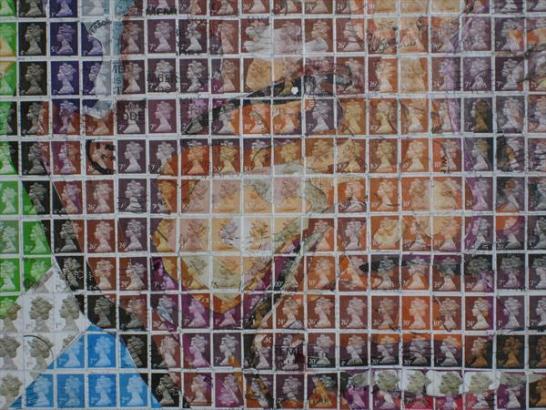 African postage stamps create a riot of color on Mandela's shirt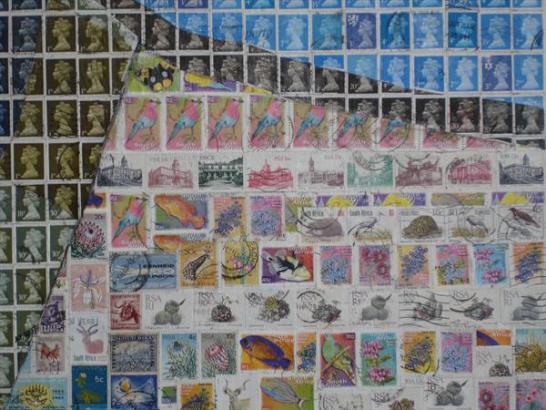 Each stamp has to be soaked to remove the envelope backing and then dried. All of Mason's stamps are next sorted by color, design and postmark pattern, and kept aside. For each project, the artist has to scout for the right stamps, which might not only be chosen according to the aforementioned parameters, but also their motifs and symbolism.
Simon Cowell — 84" x 144", 21,000 stamps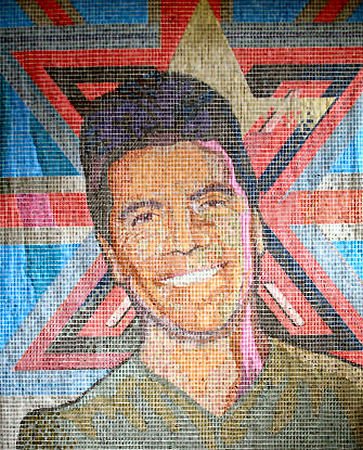 Once selected, each stamp has to be cut and shaped before it can be stuck onto the appropriate square in the portrait. Often, more than one stamp is needed per square. Though time consuming, Mason's attention to detail and the lengthy preparations pay off when, slowly but surely, each grid area takes shape and connects to form the portraits' striking resemblances, full of shape and depth.
Elizabeth II — 48" x 36", 4,000 stamps bearing her face, £1,300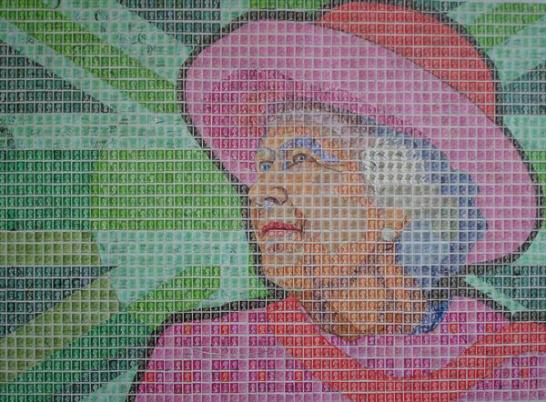 Talking about his portrait of The Queen, Mason says, "It depicts her as she is now, older, wiser and still much loved in the later years of her long reign. Behind her is the Union flag in shades of green representing her commitment and… her son Charles' commitment to green issues, sustainable development and care for the environment."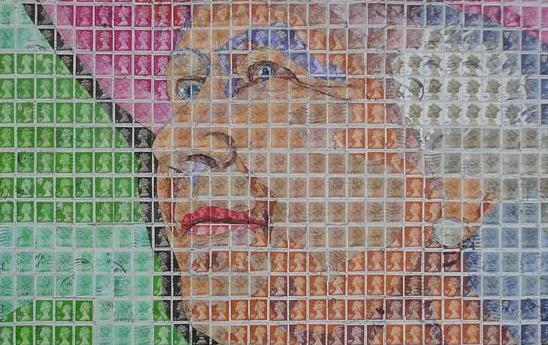 One can easily see that Mason was influenced by the 1960s pop art movement — a time when he attended university and found his bearings as an artist. He particularly admires the works of Roy Lichtenstein and Andy Warhol.
Morrissey — 36" x 48", 4,000 stamps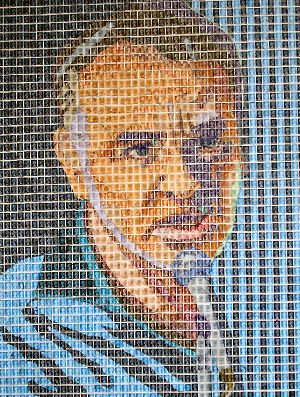 With so much work and effort going into each piece before and during the actual assembly, how long does each artwork take? It all depends on its size: the 3' x 3' portraits take about a week, the 4' x 3' ones take eight to 10 days, and bigger portraits like the Lady Di or Simon Cowell images take five or six weeks.
Margaret Thatcher — 36" x 48", 4,000 stamps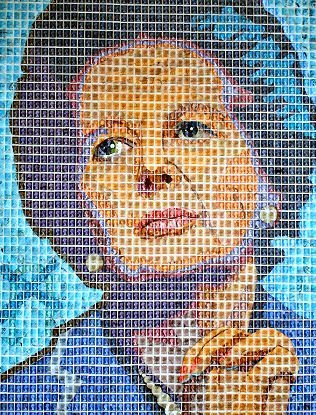 As a former art teacher, bringing art closer to his audience is a goal very dear to Mason. By choosing postage stamps as his materials and well-known celebrities as his subjects, he connects with his audience on one level yet allows it to see art with new eyes.
David Frost — 48" x 36", 4,000 stamps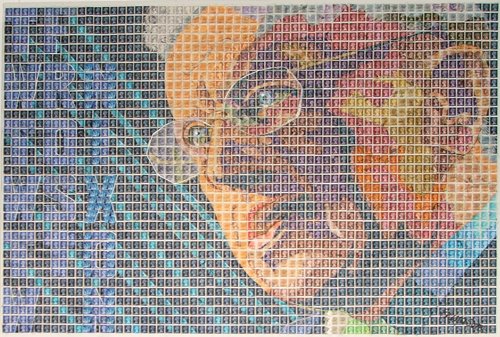 Peter Mason was born in Brownhills in the West Midlands, England. He graduated from Stafford College of Art in 1962, and was awarded the National Diploma in Design in painting and lithography. He continued his studies at the University of Leeds and the University of Birmingham, and obtained his master's degree in 1977.
Richard Branson — 48" x 36", 4,000 stamps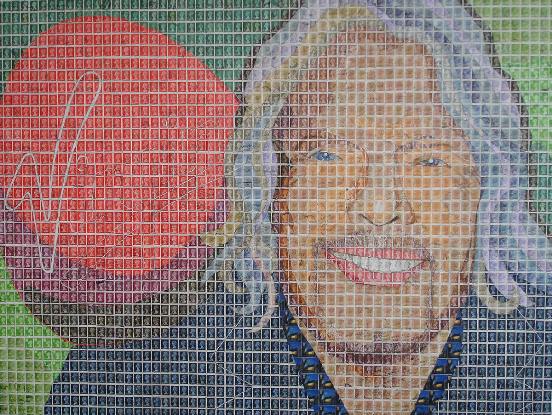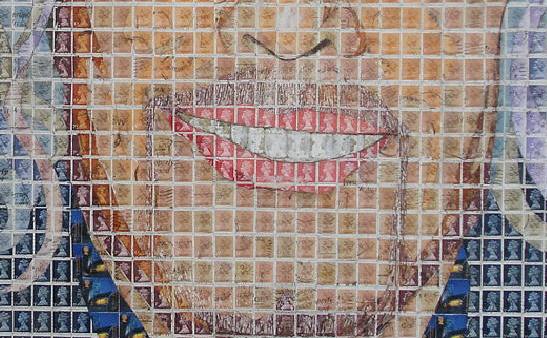 After a fulfilling career teaching art and design in secondary schools and in evening classes for adults in Staffordshire, Liverpool and Walsall, Mason now concentrates on his own artwork, such as the stamp portraits, but also on drawings and other projects. His stamp portraits have been widely exhibited across the U.K. and online, and have a worldwide fan following. Make sure to visit
Pete Mason's website
and
gallery page
if you'd like to buy one of his artworks; prices range from £1,300 ($2,114) to £5,000 ($8,132). A nifty tool lets you "test drive" the artworks before buying to see how they would look in your living room or office.
Special thanks to Pete Mason for sharing information and images.