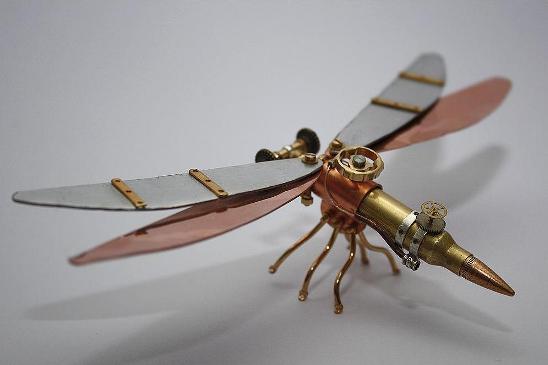 All images courtesy of Tom Hardwidge.
English artist Tom Hardwidge has an unusual specialty: creating steampunk insects from old, inactive ammunition and pieces of clockwork. Each piece is so delicately and masterfully crafted that it is sometimes hard to even imagine what the recycled components might once have been, or to decipher where one part ends and where the next begins.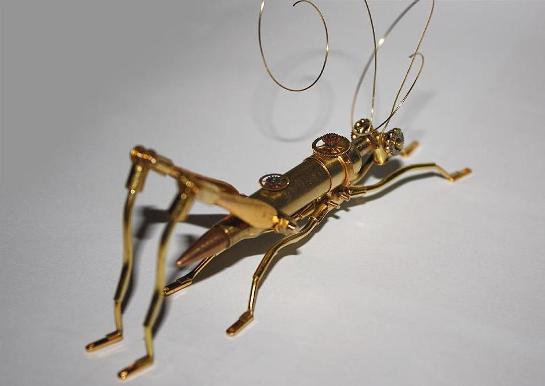 Even harder to believe is that Hardwidge creates steampunk insects only as a hobby; he is a digital designer by day and gets time to work as a creative insect maker only at night. Apart from old bullets, discarded pocket watch parts make up the bulk of his little insects.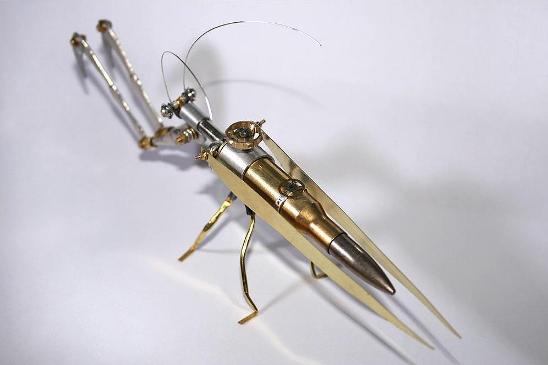 Most of the pieces are supplied by local company, The Watch Lab, who sift through their rubbish bins to find parts for Hardwidge.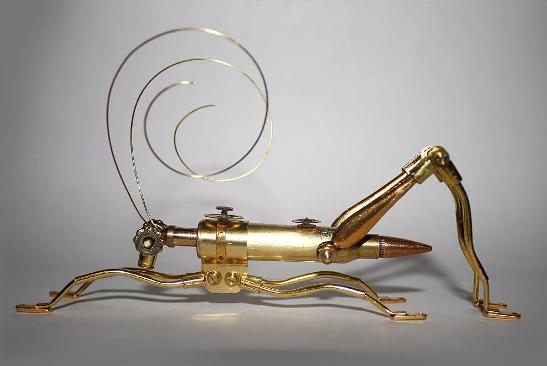 All the insects start with a set of preliminary sketches in Hardwidge's steampunk sketchbook, inspired by nature of course. While some insect parts may turn out exactly the way he envisioned them, others may not work in real life and need to be scrapped or adapted. Every new project is a learning experience.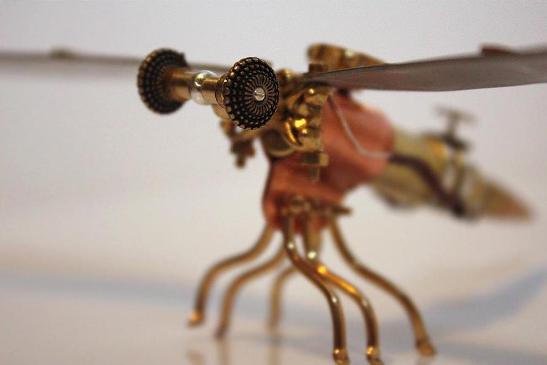 As far as recycling goes, Hardwidge repurposes as many parts as he can, and the basis for the insects showcased here is always a piece of inactive ammunition.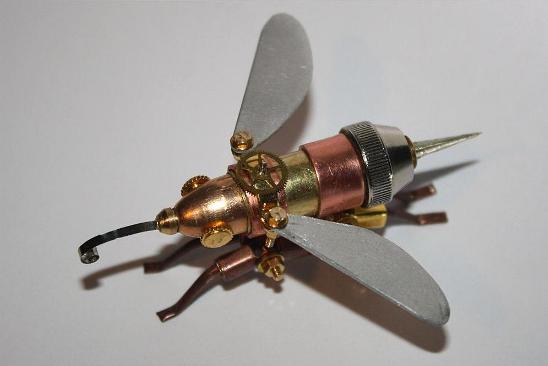 Hardwidge says, "Although the cogs and gears are recycled from old, broken pocket watches and the bullets are deactivated rounds, a lot of my other materials aren't recycled. There's no reason why I can't source more recycled metals in the future and I intend to do so." A good resolution that we fully support!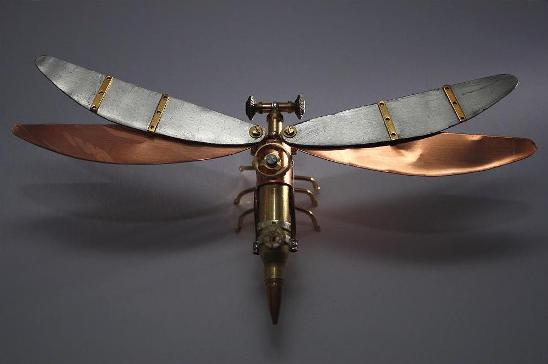 Hardwidge created the main part of the dragonfly's body (above and top) from a piece of inactive ammunition. Its thorax, or upper body, is made of sheet copper, and so is the second set of wings. The first set of wings are made of aluminum. The whole sculpture is only 2.9 inches long. And in case you were wondering, it belongs to the class of
machinsecta
in the order of
mechanisoptera
.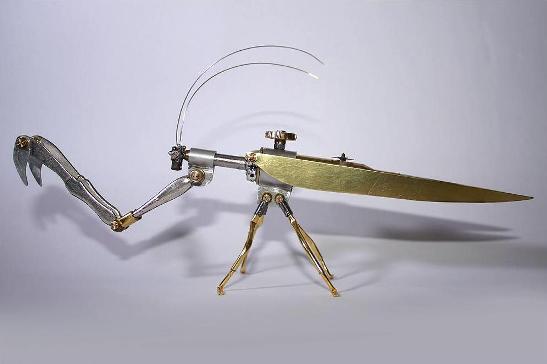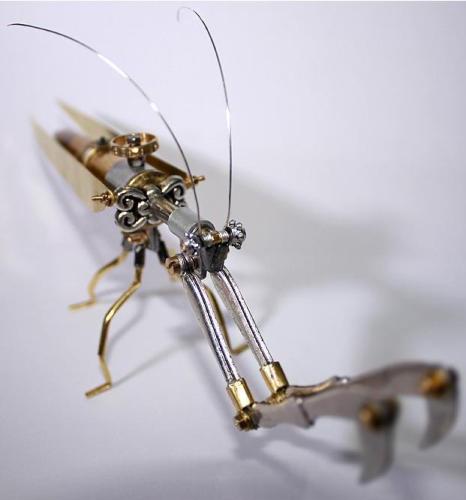 This golden grasshopper (
Roborthoptera aurum duo
) has long legs, curly antennae and no wings. Its mantis-like appearance inspired the mantis that Hardwidge created soon after. As we can see below and further up, the mantis is a true beauty in silver and gold that's a proud 7.8 inches long.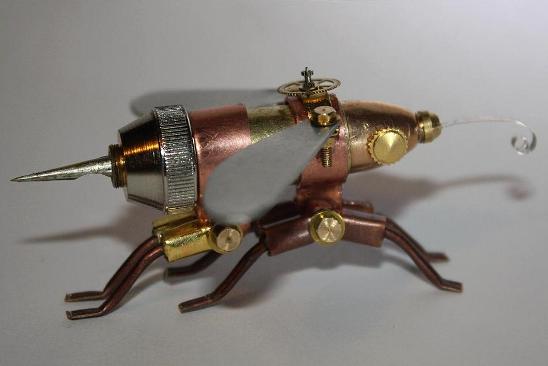 The steampunk bee above and below measures only 2.5 inches from the tip of its stinger to the end of its tongue — a creation that was "strangely satisfying to twang," according to Hardwidge. Together, bullet, cog wheel and pointy stinger make for the most lovable, rotund little insect.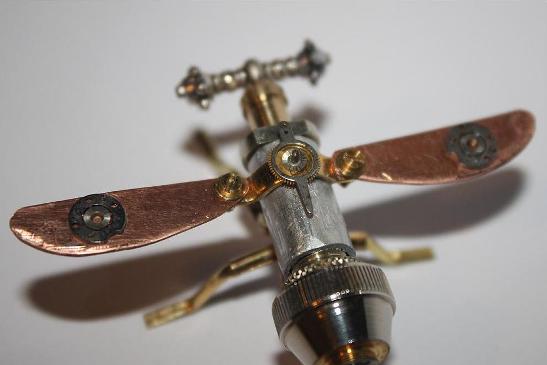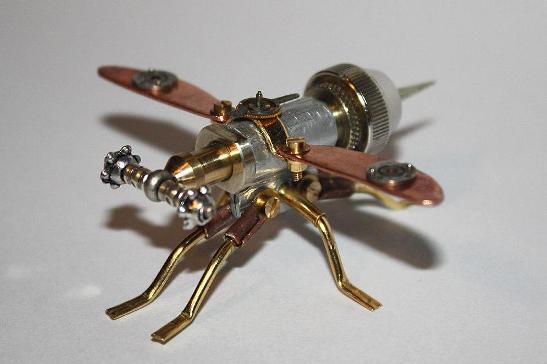 Here are some of Hardwidge's designs for his masterpieces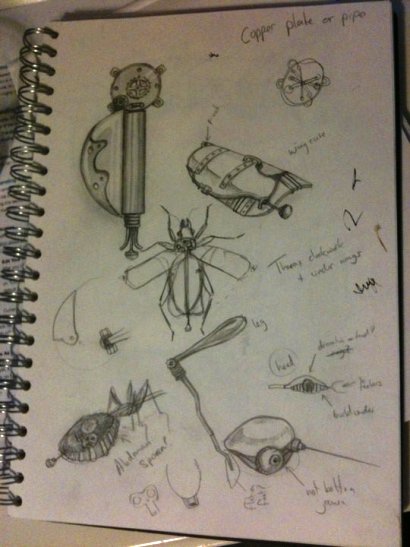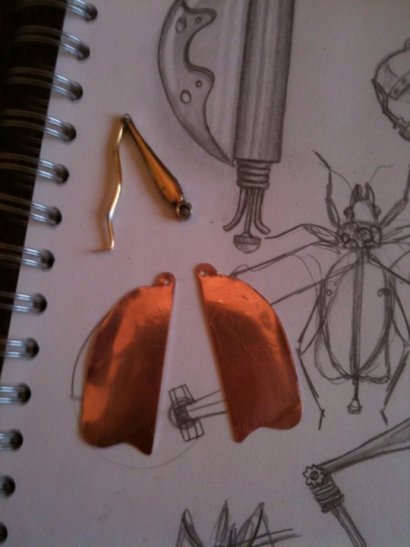 Hardwidge studied law, psychology, English and fine art at West Herts College in Watford, England, and from 1999 to 2002, animation and multimedia at Wrexham University in Wales. After working for digital design agencies in London and Manchester, he and his wife, Emma, started their own boutique digital marketing agency in 2010, called
Considered Creative
.
… and here are some of his raw materials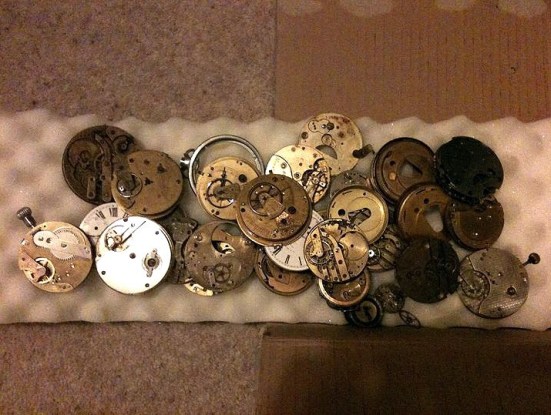 Do make sure to check out
Hardwidge's website
and
blog
to find out more about his amazing steampunk insects — and he's started working on arachnids, too! Most all of them are for sale and come in wooden boxes that are not only functional, but also cute. For each sculpture, Hardwidge adds some of the preliminary sketches plus a leaflet detailing the name, phylum, class and order of your purchase.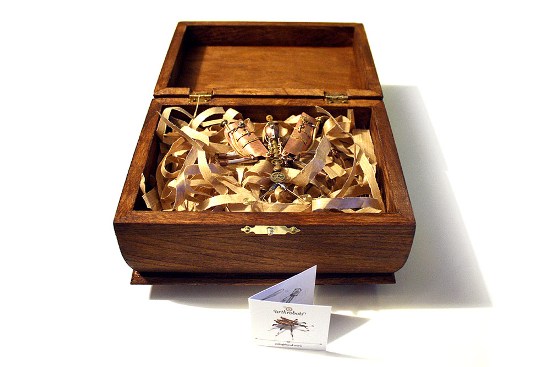 Special thanks to Tom Hardwidge for sharing information and images for this article.